5 Subtle Things That Are Stressing You Out At Home — And How To Fix Them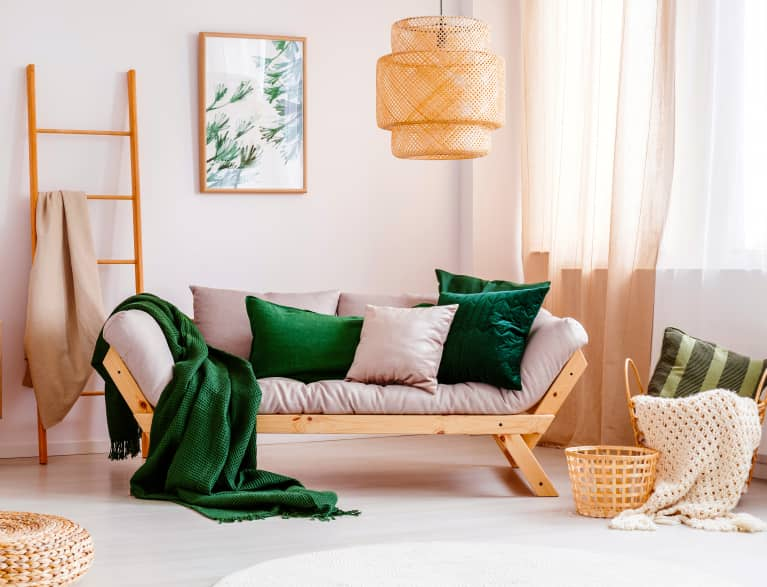 The home should be a retreat, but sometimes outside stressors can make their way into our private sanctuaries. Clutter, toxic products—these are sources of stress at home that we're familiar with. But there are also a handful of subtle stressors that could be throwing off your space and your mood. Carolyn DiCarlo, an interior designer and student of meditation, ancient mind-body practices, and sacred architecture, is adept at using new and old philosophies to create outer spaces that promote a peaceful inner landscape. Although everyone needs something a little different, DiCarlo says she's noticed five unconscious points of stress that throw off homes across the board. Here's how to tweak them and create an easy, breezy space:
1. The furniture placement is off.
DiCarlo says that having too many items in your path as you walk through a space—be it clutter or pieces of furniture—can induce stress. "Circulation though a home should flow almost like a river rather than a straight line," she tells mbg, recommending that you space out belongings to make way for a little winding. She believes the direction your furniture is facing matters, too. For instance, a bed facing north can help promote clarity and vivid dreams. "In some indigenous thought, the north is a place of stillness and wisdom—which, of course, is where you'd want to sleep."
2. The light isn't optimized.
"Lighting and the quality of light can be a cause of stress," DiCarlo explains. You want to take advantage of as much natural light as possible, so if you live in a space with limited windows, think carefully about what you place next to them. "Run through your day and consider when the light enters that space." For instance, if you're contemplating where to put a reading chair, consider placing it next to a window that gets the most light during the time of day you tend to sit down with a book.
Too much echoing can disturb a space, DiCarlo says, so you'll want to make sure that there are plenty of soft materials to absorb sound—especially in rooms meant for relaxation like the bedroom.
Sometimes what's unseen can have the biggest influence at home.
4. The colors are too flat.
When it comes to choosing a color scheme for your space, consider how each shade is thought to influence our mood. Oranges and reds tend to be best for stimulating social spaces while muted grays and blues create more of a calming sense. Whichever shade you choose, DiCarlo recommends making sure it transforms when the light hits it. "Colors that can change tone from day to night make the room into a different experience and subtly allow for new feelings. Sometimes colors that are too flat don't lend themselves to the same depth of experience." When choosing paint colors in particular, she recommends choosing a color that is a touch lighter and grayer than what you might think, since when you cover a whole room in a color it reflects and intensifies.
5. There's lingering negative energy.
"Sometimes what's unseen can have the biggest influence at home," she says. One way to bring more positivity and openness into a space is to use biophilic design and find objects that mirror the patterns in nature. And busting through negativity is about more than just saging. "You can sage something to death, but sometimes you just have to get rid of it."
Wondering what negativity needs to go from your home? Check out this approachable decluttering advice.