paid content
 for

Overwhelmed About Money? You're 5 Steps Away From More Financial Confidence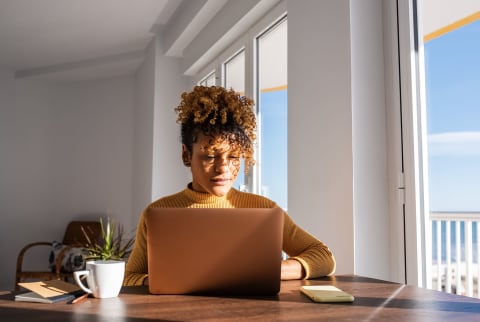 Image by Milles Studio / Stocksy
March 9, 2023
Whether it's an unexpected bill, a tight budget, or chipping away at a long-term financial goal—we all know what it's like to feel overwhelmed by money. Money may take care of things on a physical level, but it's also directly connected to our mental and emotional state…which is why we consider finances an important (and often underestimated) aspect of well-being.
Cultivating financial confidence: It's easier than you think.
We may not realize it, but in the big picture of our well-being, financial wellness is right up there next to exercise and nutrition. Money is something we interact with every single day. And yet, a recent study by the American Psychological Association reveals that 65% of Americans consider money a source of stress. However, with intention, we can approach money with calmness and confidence. Whether it's setting new goals or simplifying your finances by choosing one multifaceted financial institution like Bank of America, financial confidence is easier than you think. To prove it to you, we've compiled five steps you can take today. So, let's dive in!
1. Get clear on your beliefs about money.
We all have a different relationship with money, which likely started in childhood. Growing up, we took on certain beliefs about money, influenced by environmental factors like what our parents said about money and/or what our financial circumstances could or could not afford. These are often referred to as "money scripts." Whether we have a subconscious belief that money is destined to be stressful or that money grows on trees, financial wellness starts by recognizing the strengths and obstacles derived from our money mindset.
Try this: Use your journal to map out your money beliefs. Jot down the things you currently believe about money, and be honest with yourself! If nothing comes to mind, try answering these exploratory prompts:
When I think of money, I feel…
I think that money is good/bad because…
My parents always said that money is…
2. Set sights on your financial goals.
When we're overwhelmed by money, sometimes the last thing we want to do is plot out financial goals. But the clearer you can get about your financial future, the more you can take ownership of your finances—after all, you can't hit a target you can't see. Setting goals gives our money a sense of purpose—and knowing exactly where we want to go is fuel for confidence.
Try this: Do some introspection and determine a goal that inspires you. It can be bigger, like buying a house, or smaller, like a weekend getaway. Write the goal down on paper (this is important!), and then answer the following questions:
Is your goal achievable?
Is it realistic that you will do the work necessary to get there?
How will you measure your progress toward your goal?
What is the deadline for your goal?
3. Simplify your financial world.
Feeling confident about money means getting organized about money. It's hard to feel like you have your finances dialed in if you're banking with one company, repaying a loan with another, and sifting through financial decisions all on your own! Simplify your finances by conducting all of your banking activity with one financial institution. Whether it's day-to-day money management, credit cards, or loans, Bank of America is the perfect ally for getting confident about money and turning goals into achievements. Plus, the more you do with Bank of America, the more you get rewarded. The bank's award-winning, no-fee Preferred Rewards loyalty program provides members with exclusive benefits and rewards tailored to the way you bank and borrow with Bank of America and invest with Merrill.
Try this: Money is always in a state of flow, whether it's coming or going. To find the right solutions that support every stage of life, head to Bank of America to set things straight and discover the everyday financial rewards that might be waiting for you.
4. Set boundaries that are aligned with your financial goals.
When it comes to money boundaries, there are two types. First are the boundaries you set for yourself; think sticking to a budget, avoiding new debt, or forgoing the afternoon matcha obsession. Then there are boundaries you set with others, like knowing what to say when you're invited to infeasible plans or when a loved one asks for money. Boundaries can be vulnerable, but they're a necessary bumper that will help you hit your goals with confidence.
"Setting boundaries doesn't need to be difficult. If you're aiming to reach a certain financial goal, one important step to ensure you stick to your boundaries is treating your savings like monthly expenses. Store away a certain amount at the top of every month as if you're paying a bill. That way, it won't feel like an impossible task at the end of the month when you're itching for your next paycheck," said Matt Gellene, Consumer Banking & Investments, head of consumer client management at Bank of America.
Try this: Set a money boundary with yourself by looking at the area where you spend most of your disposable income—like eating out or shopping. Decide how much money you'll consciously spend moving forward, and challenge yourself to respect this boundary.
5. Reach out for expert advice and support.
Thankfully, financial confidence doesn't require you to know everything about money. At some point, we can turn to the experts in money management to navigate more complex financial decisions, like investing. Merrill Edge offers self-directed investing, but you can also choose a guided investing program or work with an adviser for one-on-one, expert guidance.
"Whether you prefer to take a self-directed approach to your investments, want professional guidance, or a combination of both, make sure to explore the platforms and tools that will work best for you," said Gellene. "Taking control of your finances and creating an actionable plan can boost your financial confidence."
Merrill Lynch, Pierce, Fenner & Smith Incorporated (also referred to as "MLPF&S" or "Merrill") makes available certain investment products sponsored, managed, distributed or provided by companies that are affiliates of Bank of America Corporation ("BofA Corp."). MLPF&S is a registered broker-dealer, registered investment adviser, Member SIPC, and a wholly owned subsidiary of BofA Corp.

Devon Barrow
Branded Content Editor
Devon Barrow is a Branded Content Editor at mindbodygreen. She received her degree from the University of Colorado. When she's away from her desk, Devon is teaching yoga, writing poetry, meditating, and traveling the world. She's based in Boulder, Colorado.
Devon's first book, Earth Women, is coming soon. To learn more, join the mailing list, and receive updates, head to www.devonbarrowwriting.com.