5 Ways To Make Your Car A Way Happier, Healthier Place To Be
mbg Sustainability Editor
By Emma Loewe
mbg Sustainability Editor
Emma Loewe is the Sustainability Editor at mindbodygreen and the author of "The Spirit Almanac: A Modern Guide To Ancient Self Care."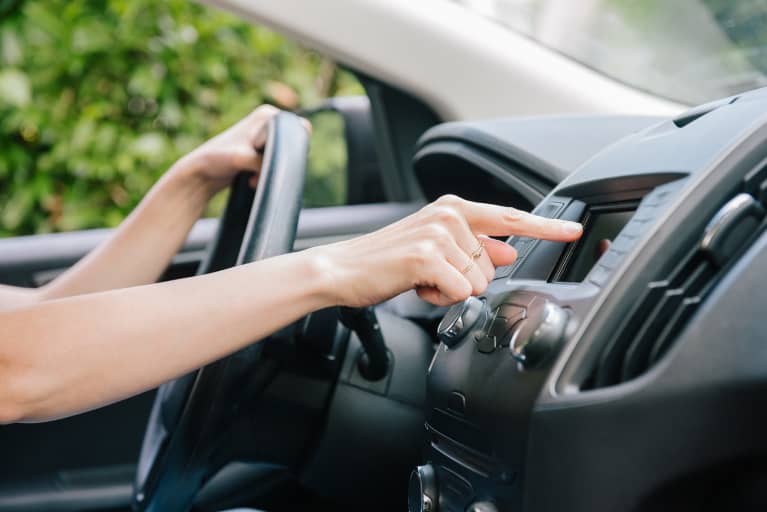 Our editors have independently chosen the products listed on this page. If you purchase something mentioned in this article, we may
earn a small commission
.
Despite the rise of ride-share services, the typical American is actually clocking more time behind the wheel than they used to, according to the latest numbers from AAA. Most of us are now driving an average of about an hour a day and doing some serious bonding with our cars in the process. In one recent survey, 64% of drivers said they consider their car a friend and 15% of them would rather break a bone than have their ride breakdown.
If you, too, feel a special connection to your car, these tips can help make it an even happier, healthier place to sit through traffic:
1. Swap out your artificial air freshener for a natural spray.
That dangling apple cinnamon tree on your rearview mirror may smell good, but chances are it contains ingredients you don't want lingering in the air. (Though it wasn't specifically looking at car fresheners, one 2017 review of 14 air fresheners found that 86% of them contained hormone-disrupting phthalates.) Instead, opt for a phthalate-free natural freshener like this addicting woodsy one from P.F. Candle Co. or this red poppy and rosewood spray from Enviroscent.
If you want to go the DIY route, go ahead and whip up your own spray using water, witch hazel, and whatever essential oils strike your fancy. Just be sure to stow it in a dark amber glass spray bottle to protect the potency of the oils. You can also invest in a car diffuser (it'll only set you back around $8, or $20 for a combo diffuser-oil kit) and play around with different scent combinations on long rides. Start with a lemon grapefruit blend for a bright, uplifting feel.
2. Make sure your driver's seat is well-positioned.
Maintaining good posture when you're working, walking around, and—yes—driving, can help protect you from chronic pain down the line. Physical therapist Sarah Kostyukovsky, DPT, recommends adjusting every last feature of your car so that you don't have to strain to reach the pedals or steering wheel and can take in your surroundings without craning your neck.
"If your car doesn't have lumbar support, consider grabbing a hand towel from home for extra support to your low back. Just as in your office chair, you want your hips a little higher than your knees," she says. "You can also recline the seat slightly to open up the angle of your hips, and it should be more comfortable for your back to not be sitting at a right angle."
Cars can go from clean to cringeworthy really quickly, especially if you have kids in the back seat. For the inevitable spill, Becky Rapinchuk, natural cleaning expert and author of Clean Mama's Guide to a Healthy Home, always keeps a microfiber cloth in the glovebox. You can dampen it with some Castile soap for stains on leather or upholstered seating, or use it dry to wipe down your car's hard surfaces when you're sitting at a traffic light or waiting to pick up kids. The almighty lint roller is another tool in Rapinchuk's car arsenal: "I'll use it on the floor mats or on seats to pick up grass, dirt, whatever. It works and is a lot less time-consuming than having to go borrow a vacuum at the car wash."
4. Surround yourself with happy reminders.
Whether it's a memento from a recent vacation or a pretty crystal, put something on your dashboard that makes you smile every time it catches your eye. Besides this mood-booster, keep the rest of your car clutter-free with regular clean-out sessions. As Gretchen Rubin, a foremost happiness expert, preaches, outer order leads to inner calm!
5. Next time you're due for an upgrade, look into cars that prioritize well-being.
Cars are quickly evolving to be better for the planet and the people inside of them. If you're in the market for a new ride, check out the burgeoning market of electric vehicles (Ford, Porsche, Volkswagen, Audi, and Jaguar are now all coming out with new EVs these days), or look into cars that prioritize the comfort of drivers. Lincoln's new Aviator SUV, for example, was designed to be a sanctuary: It lets in tons of natural light, has a 30-way adjustable seat, and is complete with an alarm system that plays symphony music instead of that annoying beeping.
Top things off with some peaceful tunes and cruise your way to happier travels.