The Top 4 Zinc-Rich Foods To Add To Your Diet, From An RD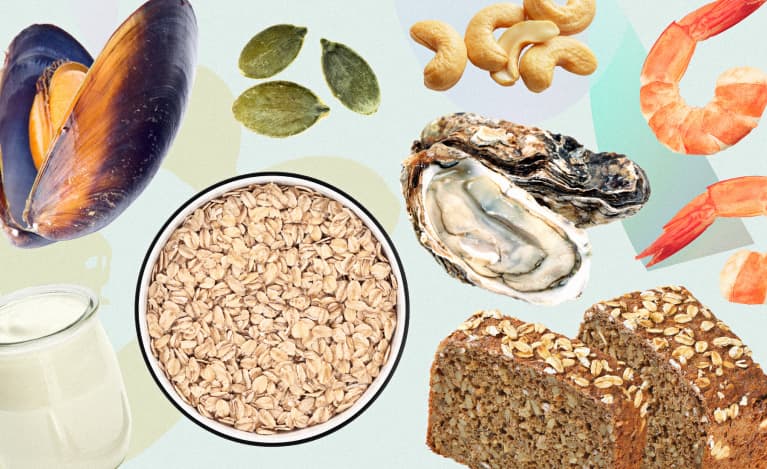 Zinc maintains proper functioning of the immune system by activating T-lymphocytes (aka T-cells), which help the body regulate its immune response by attacking infected cells. The nutrient is also a great source of antioxidants, which help stabilize free radicals, thus protecting the cells from weakening and becoming vulnerable to pathogens.
While zinc won't treat COVID-19, proactively feeding your body these nutrients—along with these other tips to help strengthen your immune system—will help ensure you stay healthy. To that end, we asked registered dietitian Jessica Cording, M.S., R.D., CDN, to share her favorite zinc-rich foods, and lucky for us, they don't seem too hard to find.
Just 3 ounces of these shellfish provide 673% of your daily value, according to the National Institutes of Health (NIH). Since dining out isn't an option these days and fresh oysters may be hard to come by, Cording said the canned varieties—which often come unshelled and smoked—are just as great. "They're delicious on a salad, tossed in pasta, or as a garnish for soup," she told us.
2.
Red meat, specifically beef
Great news for you meat eaters: Beef comes right behind oysters with the second highest source of zinc. Cording said other red meats, like lamb and pork also provide some of those nutrients, just not as much. In fact, a broiled beef patty contains 48% of your daily value, while a pork chop contains only 26%, according to NIH.
Beans, beans, the magical food. Whether it's chickpeas, cannellini, or black beans, we're all about the health benefits of legumes. For those following a plant-based diet—or others who don't eat meat or shellfish—eating only half a cup of baked beans can provide up to 26% of your daily value, the same amount as pork.
"If you're willing to put some thought into it, you can meet your basic needs through food," Cording said. "However, if you have limited grocery options available or your needs are increased due to illness," Cording said, "having a supplement as a backup can also be helpful."