Close Banner
Advertisement
This ad is displayed using third party content and we do not control its accessibility features.
paid content
 for

4 Ways To Bring More Nature Into Your Home (And Why You Should)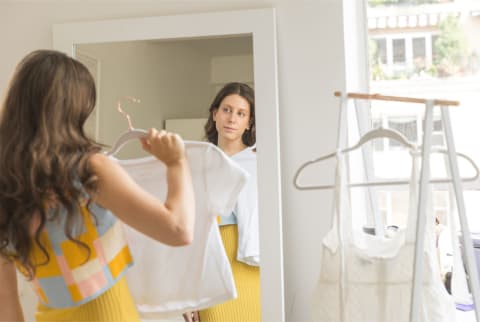 Image by mbg Creative Team / Contributor
We aren't just living in nature, we're a part of nature; it's where we thrive. And yet, over time we've managed to remove more and more of it from our living environments. Human-made interiors, synthetic fabrics, and chemical-laden products have been established as a modern-day norm—but that's finally starting to change as we explore natural fabrics like cotton, linen, and wool inside our homes.
A return to the natural world is blooming, and we see it in every direction. We're all craving more time outside—outdoor recreation is on the rise for Americans. And we're realizing that nature holds the key to our well-being—with exposure to nature connected to benefits from decreased cardiovascular risk1 to increased mental health1. Nature has always been there, but as we rediscover its power, it's only natural that we'd want to bring it inside our homes.
The everyday natural
After years of disconnection from the natural world, more of us are merging natural elements with modern design—and it's très chic. With Mother Earth as inspiration, we're welcoming beautiful imperfections into our homes, leaning into an everyday natural kind of aesthetic. Instead of the world inside our four walls existing in stark contrast with the world outside—we're creating fluidity. And our collective gravitation toward natural fibers like cotton is a perfect example.
From our wardrobes to our bedding to accents around the entire home, cotton is proof: Natural elements can be all at once stylish, comfortable, and durable. Research has even shown that bringing natural elements inside can reduce stress and anxiety2 and improve creativity. And we know, trends come and go. But this particular aesthetic is a reflection of our intrinsic need to connect with nature—it's not a vogue, it's a lifestyle. So how do we create our very own everyday natural?
Check your labels for cotton
At the core of a natural aesthetic are simplicity, sustainability, and comfort. Cotton is all of this, and then some. As a natural fiber grown straight from the earth, cotton is the feel-good choice for any home. It's recyclable, and 100% cotton can even be biodegradable. Plus (as your favorite cotton T-shirt can attest to) cotton is durable. It's strong, easy to clean, and only gets better with time.
Beyond its sustainability, cotton makes a home space feel cozy, staying lightweight, breathable, and soft. Whether it's your snug bedsheets, billowing curtains, or knitted blanket, a soothing vibe is inevitable with cotton. You may not realize it, but this natural fiber has always been a part of making your house feel like a home. And your home will stay comfy if you keep looking for cotton on your labels.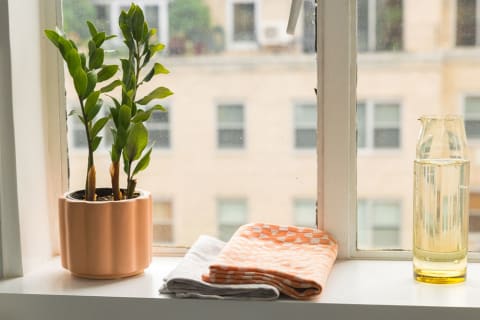 Image by mbg Creative Team / Contributor
Become a plant parent
Adding greenery to our interior is an obvious and easy way to bring the refreshing effects of the outdoors inside. In addition to reducing stress3 and improving air quality, house plants make for amazing natural décor. Hanging plants, indoor trees, and sprawling vines will add flora-feels to any humble abode. But you can cultivate even more of a lush aesthetic with moss walls and micro gardens. No such thing as too many plants.
Dabble in earth tones 
Every design direction comes with its own suite of color palettes, and the everyday natural is no exception. Earth tones are a timeless and comforting way to pay homage to the natural world. Through color, you can inspire your space with the same feelings felt in natural terrains—just think of the calming palette of an oceanscape or warming hues of a desert.
Ground with natural materials
Embracing natural design means moving past the concrete, metal, and exposed pipes of the industrial craze. A natural aesthetic incorporates sustainable materials you wouldn't be surprised to discover outside. Nothing brings warmth and comfort to a space like raw and rustic wood. And other natural materials like rattan, bamboo, jute, and cork create a sense of sanctuary. Even adding some stone vases and décor can create the grounding that is the signature to nature-based design.
Nature is forever
Whereas faux and human-made materials are always subject to the latest innovation, nature is forever. Nature is where we all came from and to where we'll all return. The more we embrace the connection between nature and our well-being, the clearer it becomes: Natural design and fibers like cotton don't just look nice in our home… They belong in our home. We can feel good about the fact that 100% cotton biodegrades at the end of its life and does not contribute to widespread microplastic pollution. And our home simply deserves the best, like the materials Mother Nature made herself.
More On This Topic
more Lifestyle
Advertisement
This ad is displayed using third party content and we do not control its accessibility features.
Advertisement
This ad is displayed using third party content and we do not control its accessibility features.