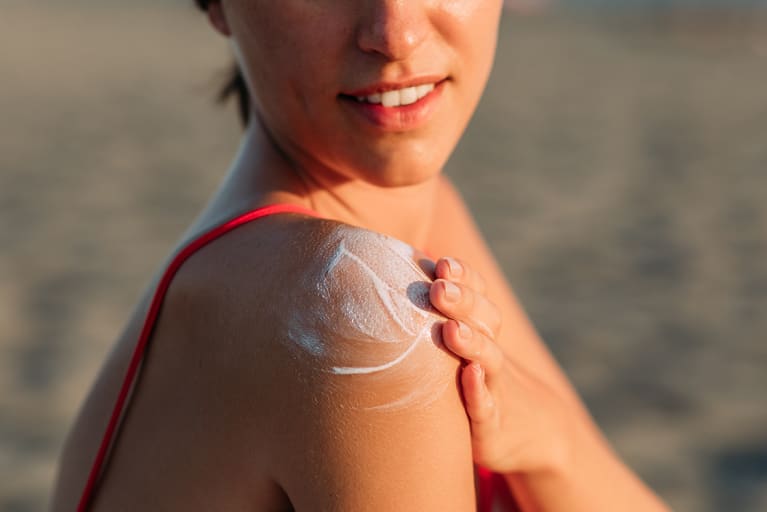 This year summer seems to have arrived quicker than ever—and we're certainly not complaining. Before long, we'll be enjoying summer Fridays, weekend trips to the beach, and rooftop happy hours. The beginning of summer also means it's time to stock up on extra sunscreen. Hence the word "extra" because sunscreen should already be a skin care staple—365 days of the year. As long as the sun is in the sky, protection is needed.
Whether you're spending the day sprawled out by the pool or simply venturing out for an afternoon stroll, sunscreen is important for any and all outdoor adventures, regardless of temperature or cloud cover. In certain situations, sun protection should also be worn inside—but more on that later. As a crucial part of your skin care routine, quality is key. Not all sunscreen is created equal and choosing an organic formula, like COOLA, is essential to maintaining healthy, nourished skin. But let's dive into this topic a little further…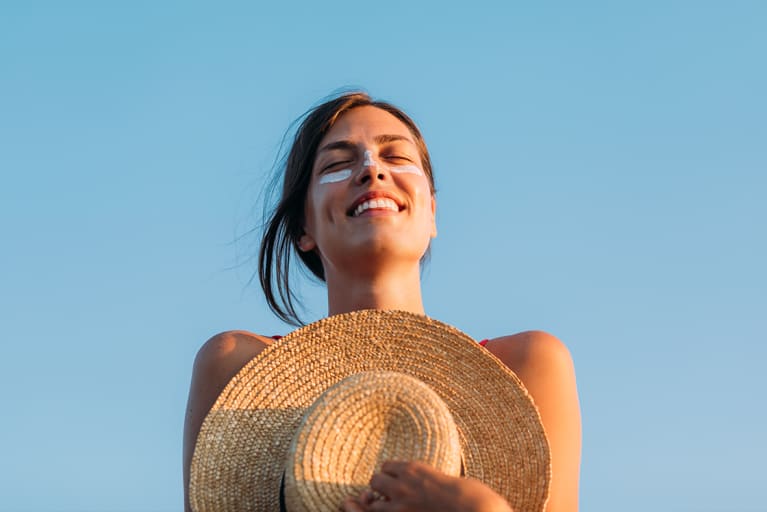 Why you should be wearing sunscreen every day.
We know that applying sunscreen seems silly when it's cold or windy. If you can't feel the heat on your skin, it's easy to believe that you're unlikely to burn. But sun damage is caused by ultraviolet radiation (UV), not temperature, and a cool or overcast day can have similar UV levels to a warm and sunny day. According to the Skin Cancer Foundation, up to 80% of the sun's UV radiation still reaches the earth on a cloudy day. Additionally, research shows that wind can actually lead to even worse sun damage in some cases.
Many in the skin care world also recommend that sunscreen be worn inside. Windows only filter UVB rays, but UVA rays still get through. Not only that, but the blue light emitted from our screens and indoor lighting can also damage the skin. In a 2010 study, researchers exposed the skin on the lower back of 20 volunteers to the amount of blue light we get from the sun. What they found was that it caused more pigment, redness, and swelling than when the same person's skin was exposed to equivalent levels of UVA rays.
For these reasons, SPF is important in almost any situation. And for even further protection, COOLA's BlueScreen™ Digital De-Stress™ technology—used in their Sun Silk Drops, Refreshing Water Cream, and Dew Good Illuminating Serum—helps to mitigate the effects of High Energy Visible Light (including blue light from digital devices), as well as infrared light and pollution.
Shop this Story: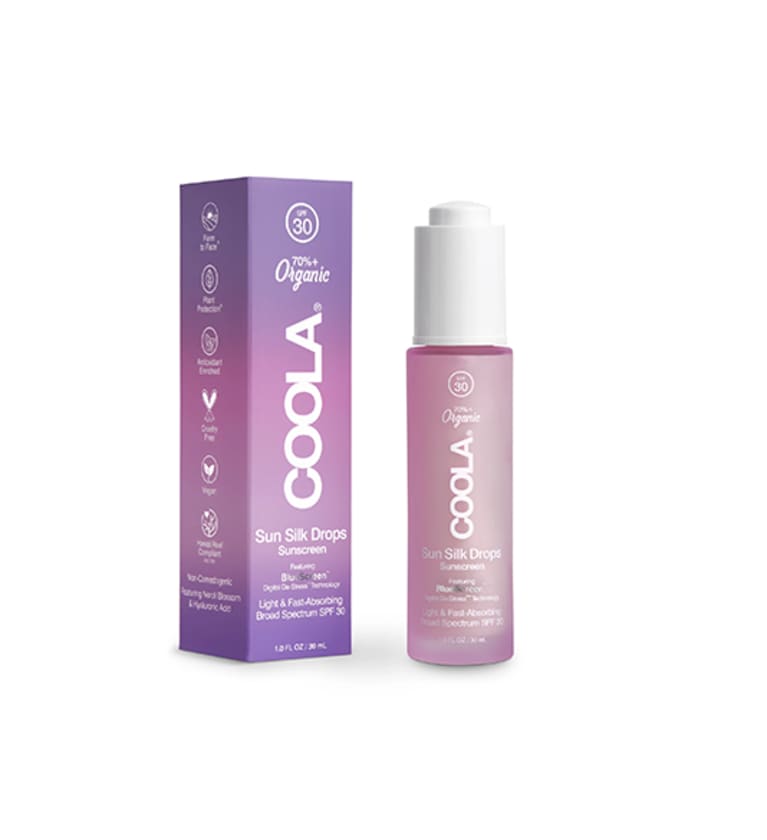 COOLA
Sun Silk Drops SPF 30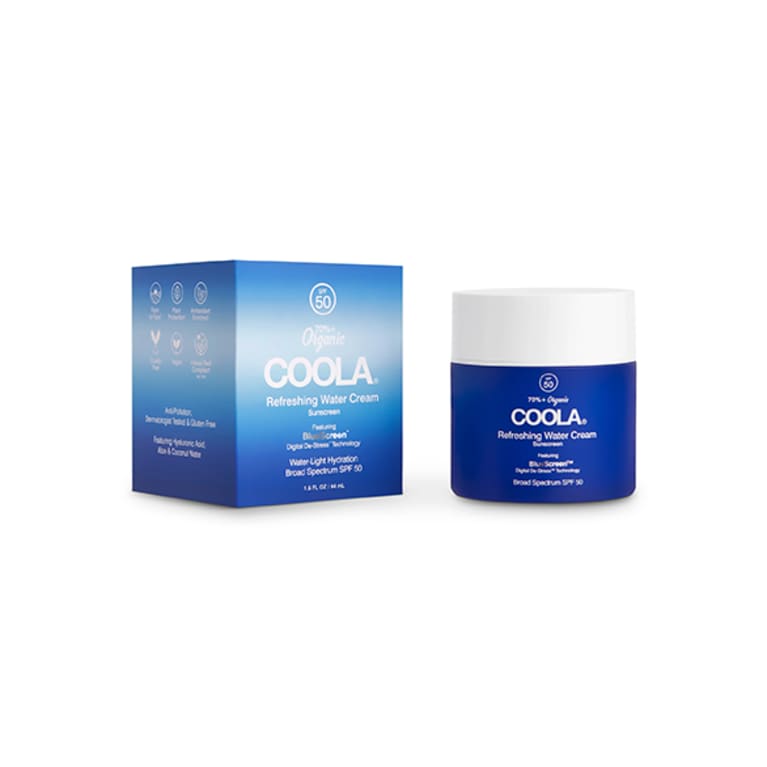 COOLA
Refreshing Water Cream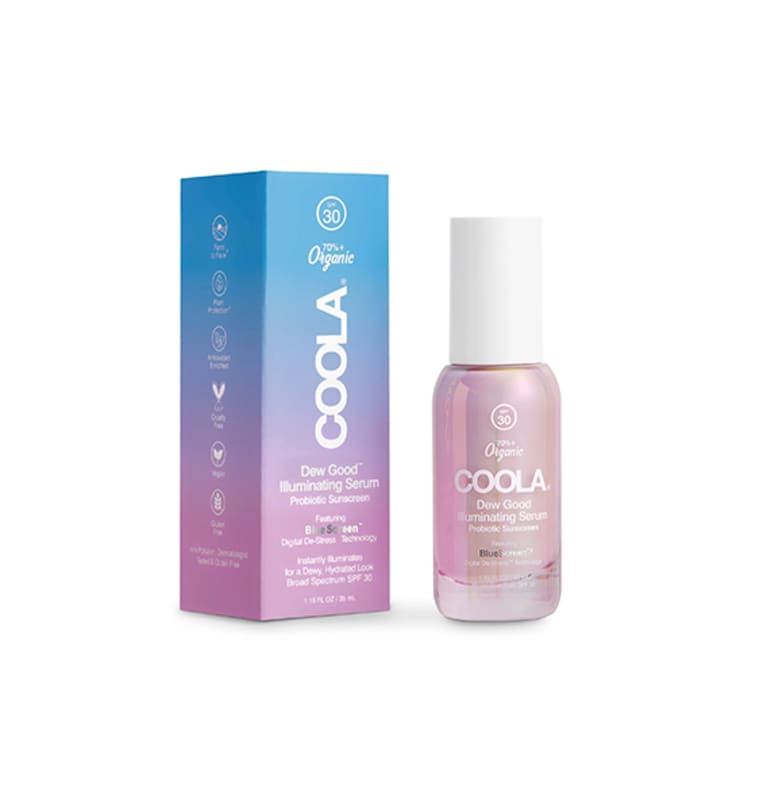 COOLA
Dew Good Illuminating Serum
4 reasons to choose organic.
While we always try to be mindful of the products we put into and onto our bodies, quality is of the utmost importance when you're using a product every single day. So when it comes to sunscreen, we turn to healthy brands, like COOLA, which creates each of their formulas with over 70% certified organic ingredients. Here's why we prefer organic:
Made without the harmful stuff. 
The ingredients in certified organic sunscreens are derived from plants that were grown without the use of pesticides, herbicides, synthetic fertilizers, genetically modified organisms (GMOs), and other additives or chemicals. And COOLA, in particular, follows a strict restricted ingredient list that goes beyond industry standards to exclude over 1,000-plus unwanted ingredients from all of their formulations, including parabens, phthalates, oxybenzone, and more.
The harmful ingredients mentioned above can be irritating to the skin. Therefore, organic sunscreens are naturally gentler. For those with ultra-sensitive skin, you can also opt for an organic mineral sunscreen like COOLA's Sheer Matte Mineral Face Lotion – Tinted, which is free of fragrances and silicones, further reducing the chance of irritation.
Shop this Story: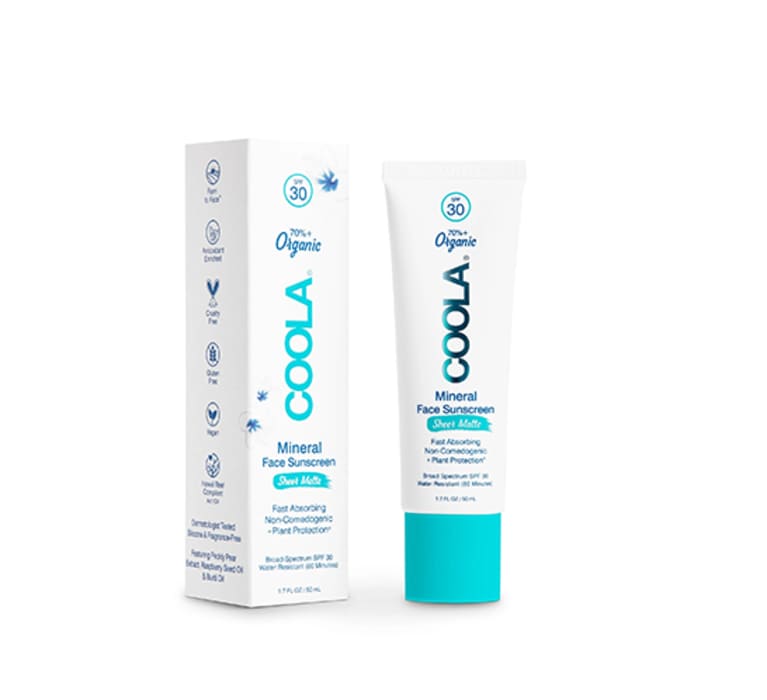 COOLA
Mineral Face Sunscreen Sheer Matte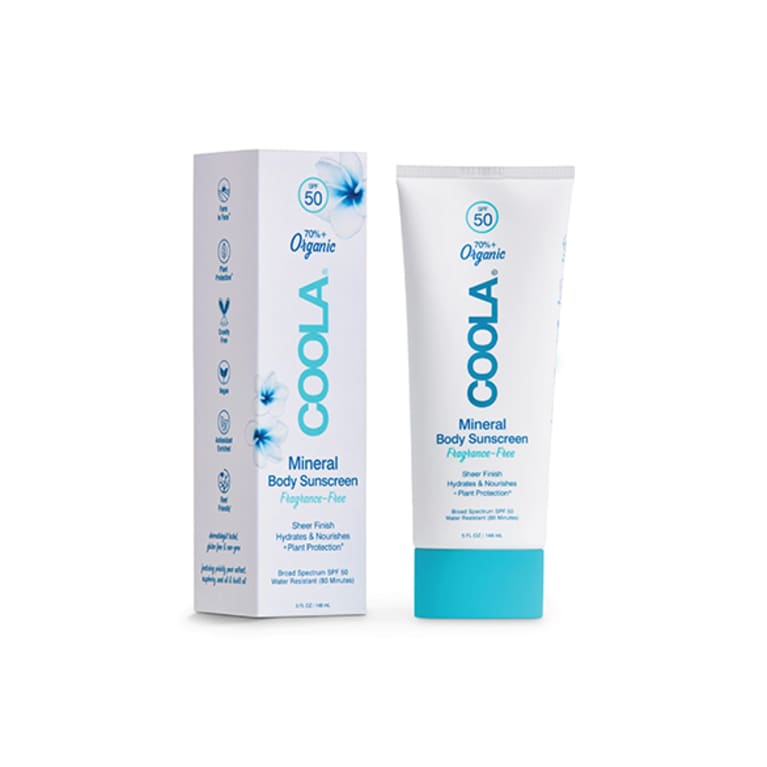 COOLA
Mineral Body Organic Sunscreen Lotion
Richer in nutrients that nourish the skin. 
Organic also means that the ingredients contain higher nutrient levels. Studies have shown that soil from organic farms contains 32% to 84% more microbial nutrients. When soil has fewer microbes, plants are nutrient-deficient and, consequently, far less nourishing. The same research also revealed that plants grown on organic farms contain 18% to 36% more minerals and age-fighting antioxidants than plants grown on conventional farms.
Better for the environment.
Scientists have estimated that 14,000 tons of sunscreen end up washing into the ocean each year. Much of that sunscreen contains toxic ingredients like oxybenzone and octinoxate, which contribute to coral bleaching. Not only does COOLA use organic ingredients, which are better for our ecosystem, but they also utilize sustainable production practices, such as responsible sourcing and recyclable packaging.
Summer is the season of outdoor everything—as it should be. But that means the need for sun protection is even more critical. So whether you're hitting the lake for some stand-up paddle board, or rounding out the day with a sunset picnic, don't forget to pack a high-quality sunscreen that's good for your body and the planet. And because we all know summer goes by too fast…don't put that sunscreen away come September—all day, every day!