3 Ways Exercise Reconfigures The Brain To Help You Find Joy & Purpose

mbg Founder & Co-CEO
By Jason Wachob
mbg Founder & Co-CEO
Jason Wachob is the Founder and Co-CEO of mindbodygreen and the author of Wellth.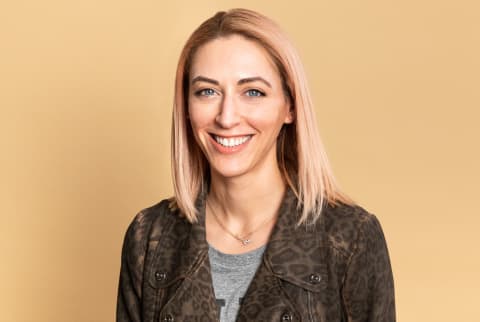 January 3, 2020
We carefully vet all products and services featured on mindbodygreen using our
commerce guidelines.
Our selections are never influenced by the commissions earned from our links.
According to prolific author and lecturer at Stanford University Kelly McGonigal, Ph.D., mindful movement can quite literally reconfigure the brain. She sits down with me on this episode of the mindbodygreen podcast to discuss her new book, The Joy of Movement, and explains how movement can change the neurochemistry of our brains.
Most of us recall that familiar rush of endorphins when thinking about the relationship between working out and happiness. But, says McGonigal, there are plenty of other ways movement can create true joy and reduce pain. While that endorphin rush certainly helps, it's not the only response our brains have toward mindful exercise.
Here are three ways exercise can create joy, according to McGonigal. With her advice, you'll be inspired to get up and get moving, stat.
1.
Movement fosters a connection to others.
McGonigal acknowledges that, yes, working out causes an increase in endorphins. But, she says, there's also an increase in endocannabinoids, dopamine, and oxytocin, which are neurochemical hormones that make it easier to bond with other people.
"Movement makes you more willing to trust and cooperate with others," McGonigal states.
It also creates what she calls "collective joy," which is a type of joy that primes you to connect with others. According to McGonigal, when you move with others, it creates a euphoric sense that you are quite literally connected to those people.
"It's a whole trick of the brain," she says. "If we are moving together at the same time, my brain starts to perceive me not as separate from you but almost like a superorganism that you and I are both a part of."
2.
Movement can help you define yourself.
Another reason movement creates joy, McGonigal says, is because it allows you to shape your identity. Depending on the type of exercise, be it yoga or CrossFit, you'll be able to access different parts of yourself that can help you discover who you'd like to become.
She offers a few examples: "If you go to a place like CrossFit, you are demonstrating your strength. Your brain is understanding that movement not by saying you did something strong but you are strong. You are powerful."
On the other hand, if you're partial to a kickboxing class (like McGonigal herself), you might associate that movement with courage and resilience. "When I'm kickboxing, I sense bravery in my body, that fighting spirit," she says.
No matter which type of movement you prefer, McGonigal believes you'll be able to access different versions of yourself that activate those positive affirmations. Through movement, you'll have a better understanding of your identity and overall energy.
3.
Movement helps you create meaning & purpose.
Along with helping you shape your identity, movement has intrinsic meaning. Purpose, as we are all familiar with here at mbg, is paramount in terms of happiness. Having purpose is beneficial for our mental and physical health1, and McGonigal says that we subconsciously make meaning out of movement all the time.
"Human beings are meaning-making machines," she states. That said, we constantly are trying to make meaning out of the activities we do, sometimes without even knowing it.
That's why movement can have such a significant impact on our purpose, as the mind can naturally make meaning out of the action. Even something as simple as an afternoon stroll can be profound in terms of purpose.
McGonigal agrees: "Walking is powerful because it's a full-body experience, and it's a metaphor. You are literally moving forward, and you're on a path."
Overall, the true joy of movement is much more than a rush of endorphins we experience after a long run or hot yoga session. Even when you might not know it, exercising creates neurological responses that benefit so many aspects of our health. And, according to McGonigal, these mental health benefits may even outweigh the cardiovascular, heart-healthy effects of movement.
"Movement is more than something you have to squeeze in because it will help prevent a heart attack 20 years from now," she quips. If that doesn't get you up and moving, I don't know what will.