paid content
 for

You're 3 Tweaks Away From A Sustainable Sleep Sanctuary
Photo by Treasures & Travels
March 28, 2018
These days, indoor air is oftentimes more polluted than outdoor air1, thanks to chemicals lingering in our furniture, cleaning products, and home treatments. And considering the fact that the average person now spends 90 percent of their time indoors, it's worth it to put the effort into keeping your home in tiptop shape.
The best room to kick things off? The place where you spend upward of eight hours of your day relaxing: your bedroom. Switching to more natural, eco-friendly products in the bedroom will benefit your health and help the planet out, too. Here is your ultimate guide to crafting a sustainable bedroom inspired by nature:
1. Start with your bed.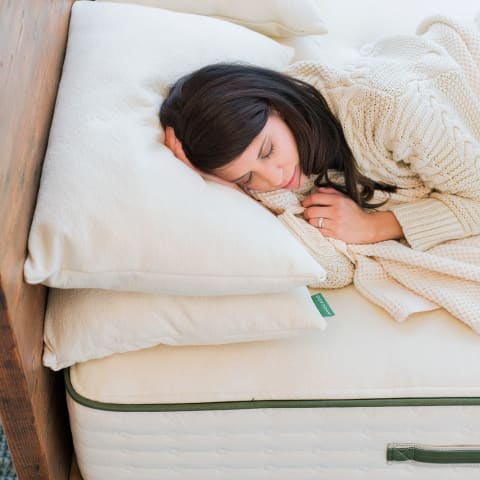 Photo by Avocado Green Mattress
If you're looking to nix toxins, your bed is the first thing to pay attention to. Research shows that some mattresses, like petroleum-based foams and synthetic latex models, contain potentially harmful chemicals that can spur headaches, fatigue, and increase the risk of respiratory diseases like asthma. The worst part is that, thanks to a process known as off-gassing, these chemicals continue to seep out of the mattress and into the surrounding air night after night.
In order to make sure your sleeping environment is clean and safe, go with a mattress made of materials extracted straight from nature, like Avocado Green Mattress' model. Their nontoxic mattress is made of 100 percent natural latex, New Zealand wool, and organic cotton. By nixing foams and synthetics, they deliver a product that is free of harmful compounds like flame-retardants, volatile organic compounds (VOCs), and chemical adhesives.
And you don't have to stop with your mattress: Avocado Green Mattress' pillows and mattress toppers are made with this same commitment to nixing toxins. Their pillows are natural latex and wrapped in an organic cotton cover, while their toppers are an ultra-cozy blend of natural latex and wool.
2. Then move on to your nightstand.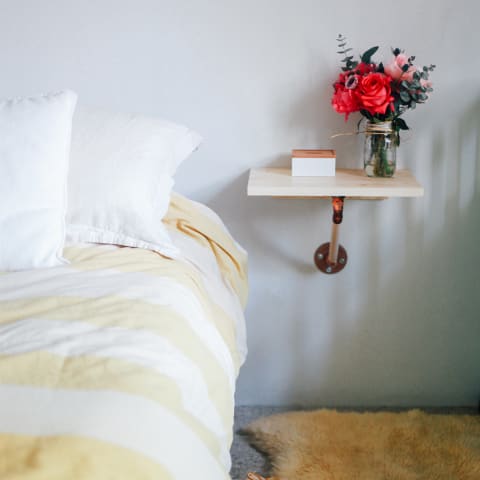 Photo by Treasures & Travels
One you tackle your bed, make the area around it a sanctuary by adding flowers and other relics from nature to your bedside table. Science says that looking at scenes from the natural world can help reduce our stress levels and increase our productivity. So start a habit of treating yourself to some fresh flowers every week to reap some of these restorative benefits. Make sure that they're sustainably sourced, and don't keep them around past their life span. (Dead flowers are a serious feng shui no-no!)
Essential oils provide another fantastic way to bring the outside in. These antimicrobial, antibacterial powerhouses can help clear the air while promoting relaxation and ease. Lavender, frankincense, and cedarwood are yummy scents for bedtime, while more stimulating odors like lemon and cinnamon can wake you up first thing in the morning. Invest in a pretty diffuser and a few affordable starter oils, and get ready to seriously up your scent game. If oils aren't your thing, a clean-burning candle made from 100 percent soy wax or beeswax can also impart a lovely scent that will transport you to faraway places, even if just for a little while.
3. Finish things off with your windows and walls.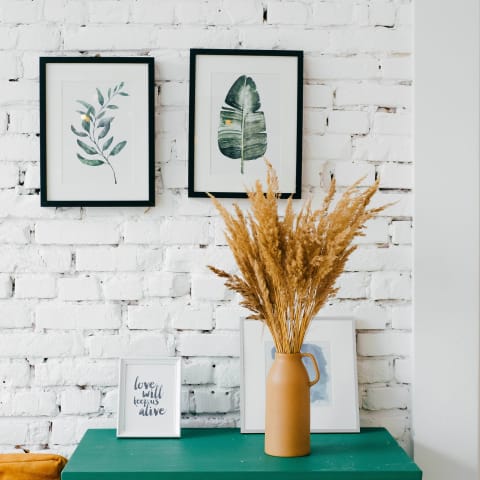 Photo by Avocado Green Mattress
While changing up your window and wall décor can be a bit on the pricey side, it's worth it if you're going to be staying in the same bedroom for the long run. First, make sure that your paint is low- or no-VOC. It's unclear how the VOCs—or volatile organic compounds—in older paints affect our health in the long run, but they've been associated with headaches and dizziness. Best to avoid them altogether, and thankfully many brands on the market today now offer certified-safe options.
Top off your new paint job with a print that evokes memories of nature—either one you took yourself or a professional shot that you'll never get tired of looking at.
Another investment that will seriously up your bedroom health? Blackout curtains. Since our internal clocks play a massive role in regulating our entire body, being able to control the amount of light coming into your room is invaluable—especially if you live in a city that twinkles at all hours. Many blackout blinds also muffle sound coming in from the outside, allowing you to sleep in total silence and darkness.
So there you have it! By anchoring larger investments like a nontoxic mattress and sturdier blinds with smaller tweaks like flowers, you can craft a sleep sanctuary that feels fresh, clean, and inviting night after night.