paid content
 for

3 Sweet Reasons Why We're Snacking On SunGold Kiwis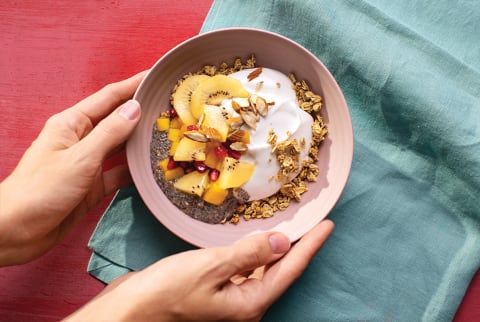 Image by Zespri / mbg Contributor
June 24, 2022
No matter what kind of day we're having, we can always count on snack time to lift our spirits, especially when it's sweet—and even more so when it's healthy. A healthy snack should always provide our body with nutrition, but it should also bring flavor to the table. And in the case of Zespri SunGold Kiwis, you get both! You may not have heard of this delectable fruit, but trust us when we say it's the gold standard of snacks.
For those of you who didn't know a kiwifruit could be anything but green… Allow us to introduce you. You can think of Zespri SunGold Kiwis as a cousin to the classic kiwifruit. With a vibrant and bright golden color, Zespri SunGold Kiwis are refreshingly tasty and bursting with sweetness—aka drool-worthy.
But their enticing color and juicy flavor aren't the only reasons Zespri's SunGold Kiwi are a countertop regular—they're also incredibly nutritious. From nutrients to flavor, we can't get enough of these small fruits that pack a big punch. Here's why:
1.
They contain over 20 vitamins and minerals.
"In general, they are very nutrient-dense," explains registered dietitian Jessica Cording. "Kiwis are a good source of vitamin C (more than an orange), potassium (as much or more than a banana), and fiber. Kiwifruit also contains an enzyme called actinidin, which aids in the digestive process. They're considered a low-glycemic food and are also suitable for those on a low-FODMAP diet. A serving is considered two medium kiwifruits, which provides about 100 calories." All in all, Zespri's SunGold Kiwis contain over 20 vitamins and minerals and are ready to support our immune system, digestion, and energy levels.
2.
They're loaded with vitamin C.
For longer than we can remember, we've been turning to our morning glass of OJ for a boost of vitamin C—but there's a new fruit in town. "While green kiwi has more vitamin C than an orange and supplies a full day's needs, Zespri SunGold Kiwis have even more—about three times the vitamin C found in an orange," explains Jessica. That's 100% of the recommended daily vitamin C in just one fruit. Research2 has shown that vitamin C deficiency leads to impaired immunity and higher susceptibility to infections… But thankfully, staying on top of this nutrient has never been easier. Just slice a Zespri SunGold Kiwi in half, grab a spoon, and scoop out that immune-boosting fruit!
Image by Zespri / mbg Contributor
3.
They're a great addition to our favorite recipes.
When snack time comes around, Jessica often turns to this superfruit for a taste of something nutritious and delicious. "Zespri SunGold Kiwi is a great way to add a burst of sweet, refreshing flavor to yogurt bowls, chia pudding, salads, salsa, smoothies, and homemade popsicles," she says. "In grad school, a go-to snack I'd bring to eat between classes was plain yogurt with ground flax, blueberries, and chopped kiwi. It kept me full and focused for hours, even through biochem and microbiology…aka the sources of my first-ever gray hairs in my 20s!"
While Zespri SunGold Kiwis can be enjoyed sliced, scooped, peeled, or simply bit into (like an apple), we're also adding this golden gem to our favorite recipes. Start your day with a Potassium Power Smoothie starring Zespri SunGold Kiwifruit. Or, for a particularly satisfying snack, try this Kiwi and Whipped Feta Toast. When it comes to this invigorating superfruit, it doesn't matter how you eat it… Only that you eat it often!
The bottom line.
And what does "often" mean? As Jessica advises, "In general, I often will recommend up to two servings of fruit per day." In the case of Zespri SunGold Kiwis, one serving means two medium kiwifruits. That means Zespri SunGold Kiwis are the perfect addition to shake up your fruit bowl and enjoy alongside your other favorite fruits! And remember—Zespri SunGold Kiwis have you covered on vitamin C (just one fruit contains 100% of your daily recommended vitamin C). That's pretty sweet!
Not only is snacking on more Zespri SunGold Kiwifruits a win for your health, but it's also a literal win with Zespri's Go Sweet. Be Bold Contest. For your chance to win a premium connected exercise bike, a yearlong fitness subscription, bike mats, weights, and bike shoes, plus cash—click here!
Devon Barrow
Branded Content Editor
Devon Barrow is a Branded Content Editor at mindbodygreen. She received her degree from the University of Colorado. When she's away from her desk, Devon is teaching yoga, writing poetry, meditating, and traveling the world. She's based in Boulder, Colorado.
Devon's first book, Earth Women, is coming soon. To learn more, join the mailing list, and receive updates, head to www.devonbarrowwriting.com.