paid content
 for

3 Resolutions For A More Eco-Loving Home in 2020 (Spoiler: You Can Start Right Now)
Senior Branded Content Editor
By Krista Soriano
Senior Branded Content Editor
Krista Soriano is the Senior Branded Content Editor at mindbodygreen.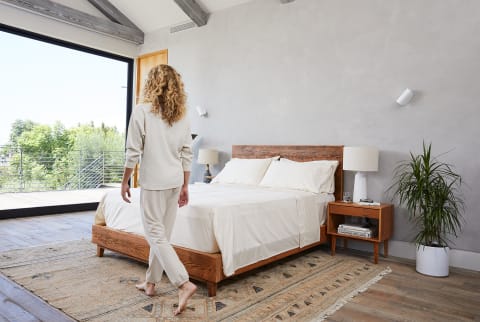 Image by Avocado Green Mattress / Contributor
November 21, 2019
As more and more headlines reiterate the realities of our planet's challenges, one thing's for sure: It's not just about bettering ourselves in the new year anymore. We're making it a point to improve where we live, too, and maybe you've noticed the same. To lean a little bit cleaner and greener in your homes this upcoming year, read on for some resolution inspo:
1.
Finally break up with toxic cookware.
The super silky-smooth coatings on stovetop cookware are magic for making over-easy eggs, but if they're made using synthetic compounds like PTFEs or PFOAs (especially if they predate 2013), they're actually pretty toxic. According to the Environmental Working Group, these coatings start to break apart at high temperatures, releasing toxic fumes and particles that can make you sick (so those eggs aren't exactly organic anymore).
Not to mention that these guys are the least sustainable cookware option around: They're often cheap to buy and are frequently tossed and replaced from scratching and warping easily (sound familiar?). And in landfills, these nonstick coatings continue to release toxic gases into the soil and groundwater.
It can definitely get expensive to swap all the pots, pans, baking sheets, and muffin tins coated with toxic finishes to ones that are safer and more sustainable all at once, so try replacing each item one at a time throughout the year. Ceramic, tempered glass, cast iron, and carbon or stainless steel are all safer and longer-lasting options for cooking and baking—and many new eco-friendly brands make stick-free cookware without PFOAs or other types of toxic chemicals.
2.
Make your bed—healthier!
If there's one spot in the house where we spend the majority of our time, it's our beds. And they may be a big reason why the air indoors is five times more polluted1 than the air outside, according to the EPA. A smart move for the upcoming year is to consider paying attention to the materials we're literally cozying up in every night (or day—shout out to the nap lovers!). Like toxic cookware, the chemically treated materials commonly used in furniture manufacturing processes can negatively affect our health.
Looking for organic certified, natural, and nontoxic materials to sleep in is easier than ever because the locally designed and handmade Green and Vegan Mattresses from Avocado have your back. In addition to planet- and people-friendly mattresses, the company also makes organic and natural pillows and bedding in their own stateside factory—and the added bonus is that the price tags on these comfy, responsibly created pieces are actually affordable. Which means that Avocado's Cyber Deals, happening now, are a big reason you can get started on those green home goals ahead of 2020:
3.
Create a more minimalist home.
Clutter, which is anything you don't like, use, or need, is a form of visual distraction, and research has proved2 that the presence of it inside our homes is linked to elevated stress. The benefits of resolving to practice minimalism in the home go on and on: Your space is more calming and less cramped. You save money when you're not spending it on items you don't actually need, which means less waste and a smaller footprint on the planet. You don't waste time searching for things or struggle to put things away. It's literally way easier to clean!
With all that time and energy (both physical and mental) you save by not having to deal with a mess or disorganization, you free up space to pursue your goals, exercise your creativity, or finally prioritize your self-care. Eliminating clutter doesn't just cultivate a sense of peace and sanctuary; it opens up a whole new world of possibility.
There are a few ways you can begin to practice minimalism without having to totally overhaul your house (and definitely read up on how to get rid of your stuff responsibly before purging!). You can decide to choose quality over quantity whenever you can for home goods purchases, or set up a budget for yourself if you have a tendency to shop for home décor. When cleaning, keep surfaces and floors clear; find a place for everything, and remember where those places are (investing in stylish storage solutions helps!). When editing and eliminating the nonessential items, simplify one room (or even one drawer) at a time. The good news is the reward for all the work that goes into decluttering is quite immediate—no habit formation waiting period necessary.

Krista Soriano
Senior Branded Content Editor
Krista Soriano is the Senior Branded Content Editor at mindbodygreen. She holds a B.A. in journalism with a minor in communications from Messiah College, graduating summa cum laude. She has written and edited lifestyle content for over 15 magazines and websites, including ELLE, Esquire, Good Housekeeping, Cosmopolitan, Marie Claire, Women's Health, Men's Health, Runner's World, and DuJour. At mbg, Soriano helps our partners—which include non-profits and Fortune 500 companies—tell their stories, covering everything from the future of regenerative agriculture, ethical banking, and the endocannabinoid system. She lives in New York.