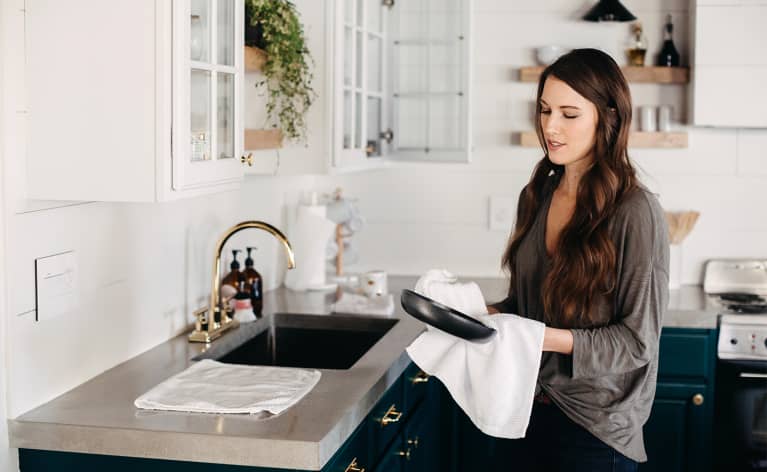 Is it just us, or does spring cleaning feel particularly purpose-driven this year? We might chalk it up to last summer's single-use plastic straw bans, this winter's buzz around decluttering, and all the action to protect our planet we're seeing in between.
But it's safe to say that the low-waste movement has been catapulted into the spotlight. And now that landfills aren't just filling up but becoming more costly, it's clear we'll need to start recycling better, and make more mindful swaps in our daily lives.
Take all those used kitchen sponges, for example: While the house may be spotless, we're leaving a big mess in our landfills—one that won't go away in our lifetime. The harsh reality is that the majority of all plastic ever made still exists in some shape or form, while the production of new plastic isn't slowing down. All that said, one of the easiest ways to start lowering our own impact is by swapping out single-use plastic items, and the good news is that there are so many brands making products that are reusable, refillable, or designed with sustainable materials.
A reusable detergent dispenser can help reduce laundry-day-related plastic by 80%.
For a few key cleaning day swaps that help reduce our plastic waste around the house, we turned to Grove Collaborative, a new online retailer for cleaner, greener, nontoxic, and sustainable shopping that takes care of all your household and personal care needs in one place. Grove.co is a Certified B Corporation (not to mention they stock your favorite B Corps brands like method, Dr. Bronner's, Seventh Generation, and New Chapter), so you know they're actively using their business power to help solve the social and environmental issues we're facing.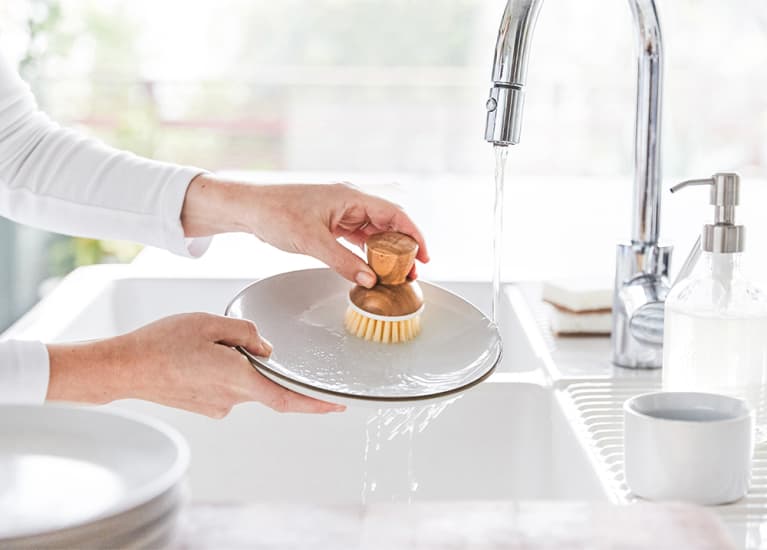 1.
Dish soap dispenser and brush
The typical grocery store kitchen sponge is made from polyurethane, a petroleum-based material that can't be recycled and won't biodegrade. And some antibacterial sponges contain triclosan, which is toxic to aquatic life. This dish-cleaning brush (that comes with a ceramic soap dispenser) is made with renewable bamboo and recycled plastic, and you can bet it'll last longer than the bacteria magnets that get tossed out pretty often.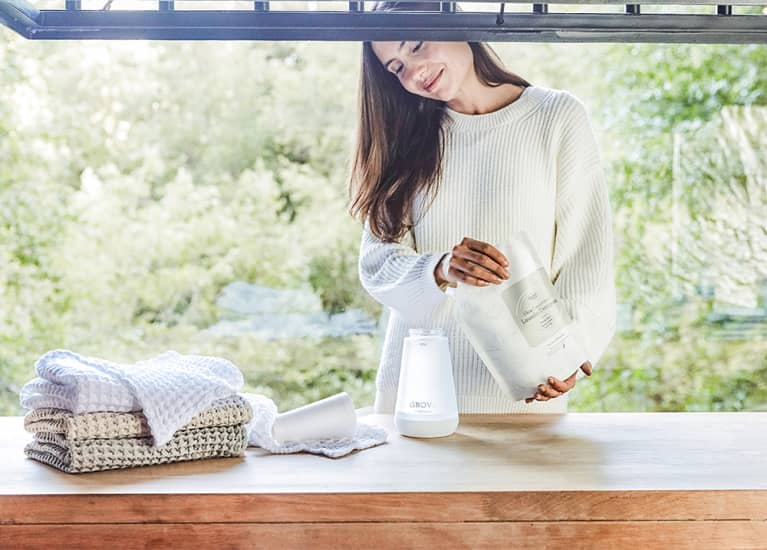 2.
Reusable laundry dispenser
Cut out the need to buy another jug of laundry detergent with Grove Collaborative's reusable laundry dispenser. For the record, most laundry detergent bottles are recyclable (just be sure to rinse out all the soap), but a reusable dispenser can help reduce laundry-day-related plastic by 80 percent—that's a big deal. It dispenses the right amount of detergent for each load without any drips or dribbles, and yes—the brand's dye-free detergent that's bundled with the starter set uses natural enzymes instead of harsh chemicals to get clothes clean (and comes in a pouch you can recycle).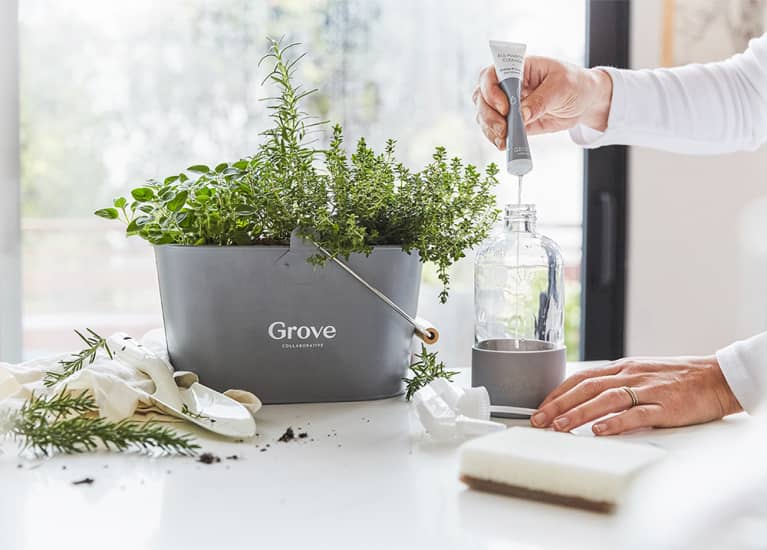 3.
Cleaning concentrates kit
We're all about making our own cleaning solutions, but we love this minimalist cleaning kit for its just-add-water simplicity. Use the reusable glass spray bottle for any of the included cleaning concentrates (there's an all-purpose cleaner, a glass cleaner, and a tub and tile cleaner)—add water, shake it up, and get sparkling. Each concentrate is formulated with plant-derived ingredients and is lightly scented with natural essential oils for a freshly cleaned home that smells as amazing as it looks.