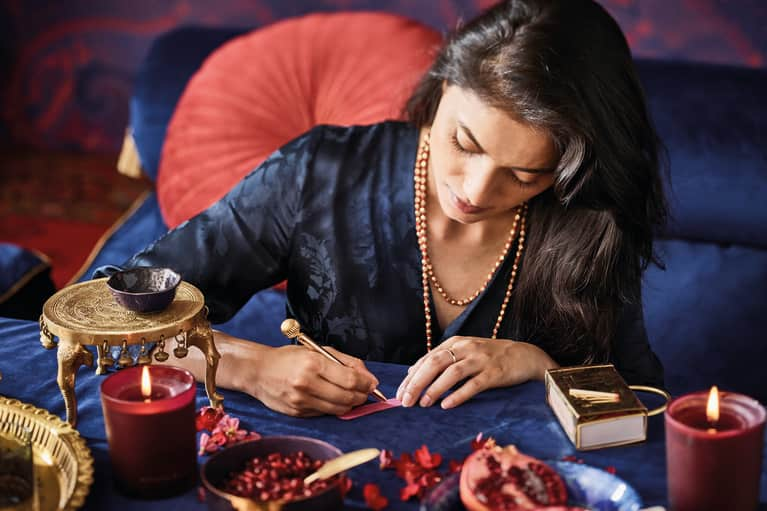 This year, make mindful giving the name of the game. Here are three gift-giving traditions you can start this season, all inspired by ancient rituals or long-held winter season traditions around the world and designed to enrich your body and home.
You're traveling, you're feasting, you're party hopping—and likely all on very little sleep. It's tempting to push the pedal to the metal through the constant holiday hype around us. But instead of making your mantra "keep calm and party on," do your body, mind, and spirit a favor—because we all tend to spread ourselves super thin this time of year—and seek balance during this season of excess.
To do this, a ritual inspired by ayurveda, the ancient holistic health system that's centered around the principle of balanced living, is a good place to start. In ayurveda, there are three mind-states or energies—sattva, rajas, and tamas—that we experience. Tamas and rajas energies have a tendency toward imbalance, especially during the holidays when there's tons of physical and emotional stimulation.
Too much tamas can make you feel unmotivated or tired, while too much rajas can make you feel like you can't sit still. The sweet spot is more sattva energy, which brings up feelings not only of contentment and stability but also of love and joy, and brings down the effects of tamas and rajas. When sattva is the dominant energy, you feel more calm, clear, and peaceful.
Cultivate sattva by creating art as gifts for friends and family, or simply by starting a gratitude practice before a gift exchange takes place. Take a few seconds to appreciate what you have in the moment, including the love and support you're about to experience. Gratitude helps you recognize the immeasurable wealth you already have and encourages love and compassion for others in turn. Then spread the love and give the experience of finding balance. Our pick is a gift from RITUALS—the makers of luxurious products inspired by ancient traditions for the body and home. The brand's energy-nourishing Aryuveda Collection of body oils, hand balms, and calming home essentials has something for everyone on your list
The ancient Persian festival that celebrates the winter solstice is known as Yalda, and like any good party, Iranians around the world welcome the arrival of winter with food. And lots of it.
A feast is held on what's considered the longest night of the year—Yalda eve—to anticipate the coming sun and its victory of light over darkness. Traditionally, family members would get together, stay up all night long, and serve dishes of nuts, watermelon, and pomegranate while reading aloud classic poetry and old mythologies. The thinking was that those who begin winter by eating summer fruits would not get sick during the cold season. These days, food is still front and center during Yalda: In most parts of Iran, families come together over a fine dinner, and serving watermelon, pomegranate, nuts, and other dried fruit keeps the long-held tradition alive.
Before hitting the malls or shopping online for everyone on your list, consider going the food-as-gifts route, but whip up something nourishing and healing for a mindful spin. Find an easy but exquisite recipe that you can make with your own hands (and lots of love) in your kitchen to package up for friends and family—think decadent nut butters made with Manuka honey or healthy homemade granola with seasonal spices. Host a matcha meet-up with a gut-healing and stress-relieving spin or a cookie swap with better-for-you festive cookies.
The tradition of advent—the period of four Sundays or weeks before Christmas, usually starting December 1st—dates to the mid 19th century when German Protestants lit candles to count the days leading up to Christmas. Many Christian churches still practice the ritual of Advent by lighting candles to symbolize the arrival ("advent" is Latin for "coming") of Christmas. And it turns out there's some feel-good science behind all this anticipation.
Research has shown that positive anticipation—an expectation of something good to come—can be beneficial for your emotions, your physical health, and your overall well-being. When you anticipate something you want, even if you don't know what the outcome will be, you activate your brain's reward center, signaling your brain to release feel-good hormones. The act of looking forward to a future event can play a part in reducing stress, help get us through tough times, and also curb impulses to choose long-term gratification over short-term.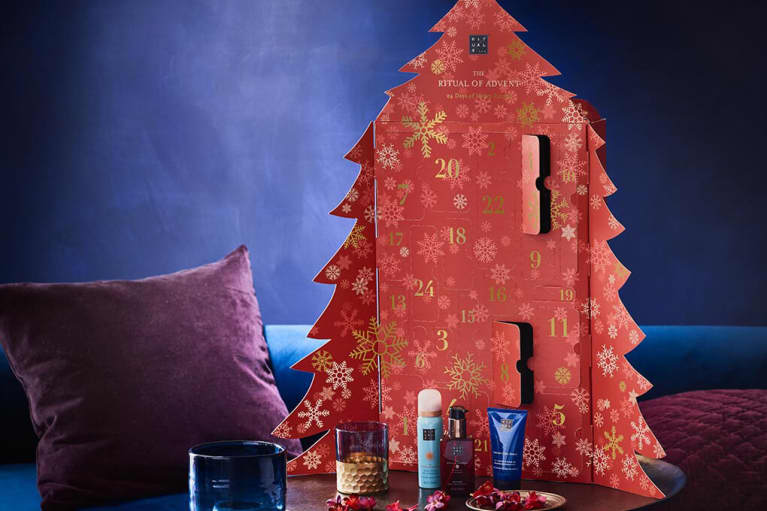 How to create a gifting ritual inspired by the power of anticipation? In the spirit of Advent, RITUALS has created two Advent calendars that are full of special, luxury self-care treats to help savor every happy moment this season (think candles, a mini Oasis de Fleurs Eau de Parfum, and The Ritual of Sakura Shower Scrub).
Or go for experiences, like a trip you've always wanted to take with your family or a day at the spa to bond with mom. Studies prove that anticipating an experience has significant mood-boosting benefits. So it's true: Good things really come to those who wait.