9 Whimsical Rituals To Help You Tap Into Your Inner Earth Goddess
Here at mbg, we take green, conscious living seriously. And while we acknowledge that the future of the planet seems bleak at times, we choose to celebrate the innovative people, places, and ideas that are inspiring us to have a more sustainable future. Today, we're taking a step back to bask in the world we're all fighting so hard to protect.
While, as mbg's green editor, I think that Earth Day may just be one of the most extraneous holidays of all time—why should we reserve one day a year to celebrate a planet that we share all 365?—I appreciate that it's a rallying cry for a lot of people to be more mindful of Mama Earth's gifts because the world is full of raw, unrelenting beauty, beauty that's heightened when we slow down long enough to appreciate it.
Here are some of the best ideas I've come across for spending more mindful time outdoors. May they inspire you to start a new nature-inspired ritual today that lasts a lifetime.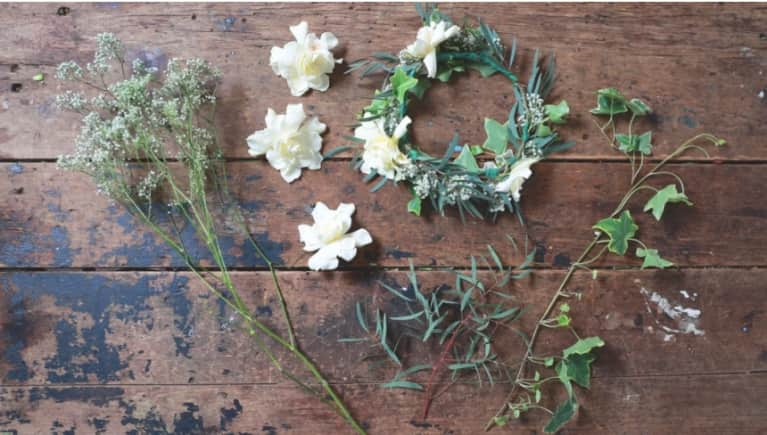 "Never underestimate the power of wearing flowers in your hair," master florist Denise Porcaro told mbg during our trip to her dreamy NYC shop, Flower Girl. If there's ever a day for that breezy, boho, I just woke up with these flowers in my hair vibe, it's today. So grab some greenery (we love the combination of baby's breath, eucalyptus, and ivy), wire, and tape, and dub yourself queen of your green kingdom, even if it's just a patch of grass outside your apartment.
More time outdoors, more time growing food by your own hand, and more time spent supporting your local community just feels right.
2. Get present from the moment you wake up.
"No matter where I am—whether it's the countryside or New York City—I do a couple of things to make sure I connect with the Earth and myself," says Rob Greenfield, the activist who most recently covered himself in trash for a month in the name of the environment. "Right when I wake up, I go outside, breathe in fresh air, and stretch for at least five minutes. I wait at least a half-hour before turning on my computer or phone in order to start the day present in my surroundings. And I drink a big glass of pure water and eat some healthy, whole foods. I don't always stick to these positive habits, but when I do my whole day is so much better."
"I just got myself a space at my community garden, which is an absolute dream," explains Summer Ryan Oakes, the author and activist behind Homestead Brooklyn. (Her apartment also just so happens to be an oasis of greenery.) "So I suppose my newest ritual will be expanding my indoor garden care to outdoor gardening. I've also teamed up with community members like the Chelsea Garden Center to begin giving plant workshops and will also be doing local urban garden and plant tours. More time outdoors, more time growing food by your own hand, and more time spent supporting your local community just feels right."
4. Take your walk up a notch with a forest bath.
Forest bathing—the act of taking off your shoes, heading out in the woods, and taking time to quietly appreciate the world around you—is no longer just for hippies or tree-huggers. Healthy leaders, including the founder of Pravassa wellness retreats, Lindon Schafer, have been singing the simple exercise's praises lately. She recommends setting aside a certain amount of time to head out to a park or forest, committing to exploring with your five senses (sans cellphone), and taking deep breaths to fully soak in your surroundings.
5. Take a hike in your hood.
"There is no place I love more than the California Coast—and a hike over the mountains to the beach is all I need to reconnect with nature and appreciate the majesty of Mother Earth," says Erin Schrode, the environmentalist fresh off a run for California Congress. "Ever since I was a little girl, my mother and I have walked our hometown trails in Marin County side by side, talking about everything under the sun and laughing our way through mid-hike exercises. When we reach the ocean, we always find a perch from which to watch the waves crash against the shore—and the countless people enjoying the awe-inspiring, restorative power of salt air and pristine coastline."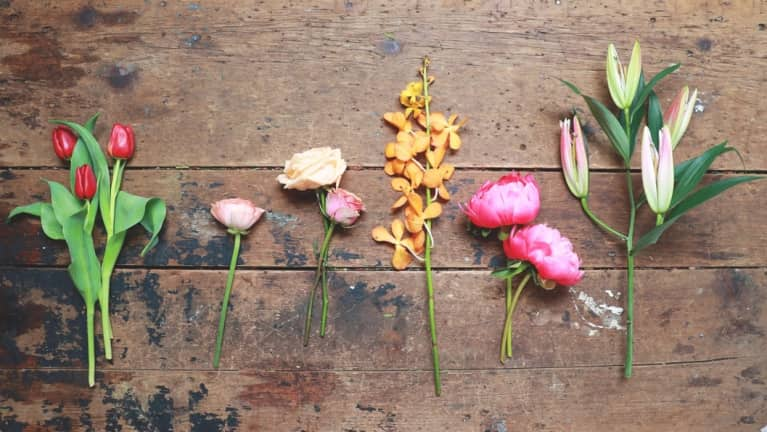 Sometimes the best gifts are the ones you get yourself, right? Bring some sunshine into your day by actually buying one of those bouquets peeking out of that flower shop or bodega you always walk past. Imbue the gesture with even more good vibes by letting the language of flowers guide your choice. Looking to bring more dreaminess and enchantment into your life? Go with gardenias. Need some calming, grounding energy? Throw some eucalyptus in there.
7. Take your workout sesh outside.
What better backdrop for your savasana than a sunset settling over the horizon line? Yogis Heather Lilleston and Sara Quiriconi sing the praises of an outdoor practice since learning to work with the elements, not against them, can help you become more mindful and adaptable. In the mood for something a little more intense? Go for a long jog outside.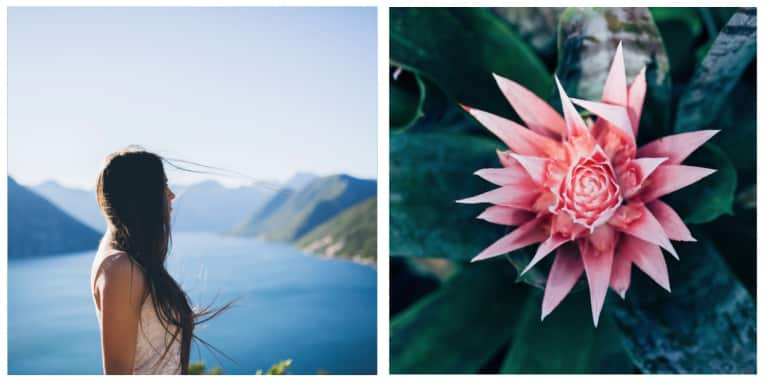 8. Ask nature your questions—and let it answer.
Wellness and travel writer Cyrena Lee walked away from her weekend at a Women's Wilderness Gathering in Colorado on a total nature high. "One of my favorite workshops of the weekend was called Healing in Nature, where we learned how to use nature as a guide to see into ourselves and look for answers," she wrote in an mbg piece about the experience. "We were instructed to simply stare at a certain area in a field, ponder a question or dilemma we had, and then think about how what we saw related back to us. The exercise led the group to some highly emotional breakthroughs, and there was an overwhelming show of support and love."
9. Visualize the Earth supporting you.
However you choose to spend this Earth Day, finish out your ritual with a visualization that encapsulates the spirit of the day. I love this one from Erin Bruce of The Spiritual Soul:
To begin, find a lovely place to sit outside. Ideally, sit with your back against a tree. Close your eyes, take several deep breaths, and ground yourself in this moment. Feel the Earth supporting you.When you're ready, begin to visualize the Earth from space. Picture what it looks like. Spend a few moments absorbing the beauty of this vibrant, colorful orb. Acknowledge that there are billions of forms of life living on Earth. All of them connected to this Earth, all of them with a heartbeat. Picture, in your mind, all those billions of hearts beating together. Hold this in your mind's eye until you can actually see the Earth pulsing with this collective heartbeat. Can you feel this heartbeat through the tree? Can you feel in through the Earth where you sit? Spend several minutes feeling this profound connection to the Earth's heartbeat and the heartbeat of all the billions of forms of life living on this Earth.When you are ready, open your eyes. Take a moment to absorb the nature that surrounds you. Then, pour some of your water into your hands. Take a small sip of the water & then slowly pour the rest onto the ground. As you do, say thank you to the Earth. Tell her thank you for her loving support of you & all the other life-forms on Earth.
Has all this outdoor time got you inspired to do something to protect this planet we all share? Awesome. Make a green pledge right now, and keep checking back on mbg for advice on how to stick to it.