How To Make Any Bouquet More Meaningful With The Secret Language Of Flowers

mbg Sustainability + Health Director
By Emma Loewe
mbg Sustainability + Health Director
Emma Loewe is the Senior Sustainability Editor at mindbodygreen and the author of "Return to Nature: The New Science of How Natural Landscapes Restore Us."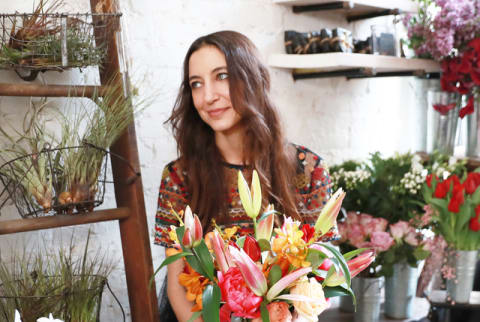 February 11, 2017
The language of flowers, or floriography, refers to the magical art of using florals to express how you feel. With roots in Persia and the Middle East, it really bloomed in tight-laced Victorian England, where people used flowers to whisper words that were too taboo to speak aloud. While often declarations of love or courtship, bouquets could also carry less-than-savory messages of contempt or ill will.
Meaning varied with shape and shade; a collection of delphiniums, hydrangeas, oleander, basil, and birdsfoot trefoil chastised the recipient as heartless, while lupins, hollyhocks, white heather, and ragged robin was synonymous with a good luck card. Floriography dictionaries helped the upper class decode the messages buried in each petal.
To learn about how this romantic tradition translates to today's age of texting, Tinder, and Hallmark, we called on Manhattan's resident floral artist, Denise Porcaro, whose whimsical bouquets have dotted pretty much every quintessential New York spot imaginable and graced the pages of Elle, Vogue, and Food + Wine over the course of her decade-plus career. Her downtown shop, aptly named Flower Girl, is an oasis of artisanal treats, handmade soaps, herbal candles—and a feast of fresh, seasonal plants, of course.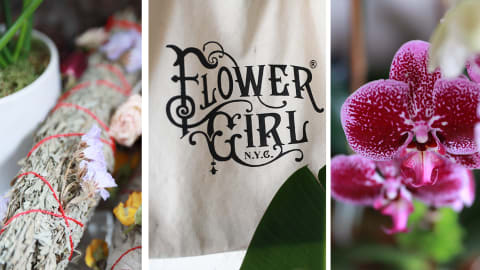 Photo by Andreas von Scheele
Flowers are as effective as they are beautiful. Not only can they brighten up a dark room, but, when properly displayed, they have the power to change the entire vibe of a space. Case in point: these amazing Valentine's arrangements. Nobody knows this as well as Porcaro, whose mood-boosting bouquets are nothing short of spirited.
The NYC native crafted these high-vibe fragrant arrangements for mbg, with nature's timeless language in mind—safe to say, they pack in more meaning than a red rose ever could. This Valentine's Day, whether you're picking up florals for someone special or gifting yourself with a quick dose of sunshine, consider this your excuse to give floriography a try.
A Breezy Floral Bouquet for Passion
A traditional bouquet presents opportunity for boundless creativity—a vessel for mixing and matching texture, color, and shape. It's the classic that can be adapted millions of ways to speak to anyone in your life who could use some love. This one combines warm hues of corals, oranges, and reds to spread a message of love, passion, and dedication. Here are the flowers you'll need to recreate it, along with what each of them symbolize.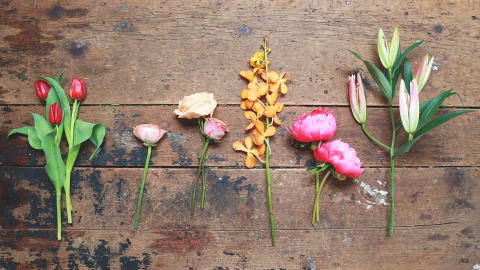 Photo by Andreas von Scheele
Flowers to use:
Tulips: Declaration of love
Lilies: Beauty and elegance
Orchids: Power
Peonies: Devotion
Ranunculus: Radiance
To craft your bouquet, she recommends starting with the larger, more structured blooms like lilies and peonies, then interspersing them with the more nimble flowers. You don't need to be strategic with your placement—different colors and heights can dance next to each other. Be sure to cut your stems on an angle (this will help them stay hydrated) right before placing them in the water. Pro tip: Placing flowers in hot water before you start arranging will help them bloom quicker.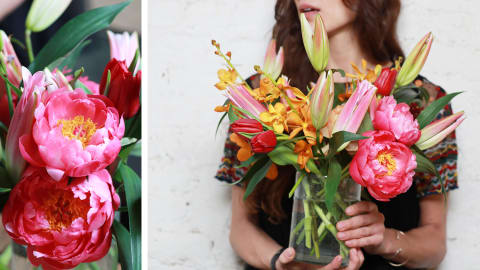 Photo by Andreas von Scheele
Porcaro thinks there's a time and place for flowers from a bodega—and Valentine's Day isn't it. To ensure that your blooms will keep blooming for more than a few days, pick them up from a local florist or farmers market you trust, or give Whole Foods a try.
A Fragrant Crown to Invoke Sensuality
A flower crown is the ultimate romantic gesture you can gift your partner or yourself. Full of significance, floral headdresses were woven into the social and dress traditions of bygone eras. A look that has roots in agrarian societies, a crown's symbolism is very much tied to the land and the seasons, and has always had great symbolic meaning.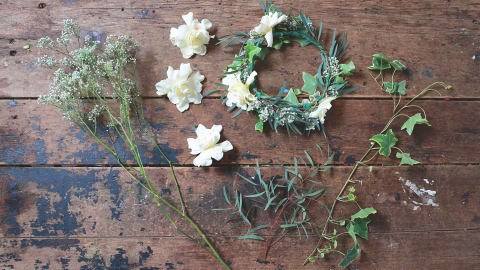 Photo by Andreas von Scheele
Flowers to use:
Gardenia: Dreams
Baby's breath: Innocence
Eucalyptus: Calming and grounding
Ivy: Fidelity
Few accessories arouse more ardor, which is why Porcaro thinks this DIY offering is perfect for someone looking to get a little bit more creative and flirty! "Never underestimate the power of wearing flowers in your hair," she says. "People rarely have a chance to buy a flower crown, so this one with gardenias on your head takes the look and gift to a whole other level. Don't be put off making your own, as it does look a little harder than it is. You just need more tact and patience and a good amount of wire!"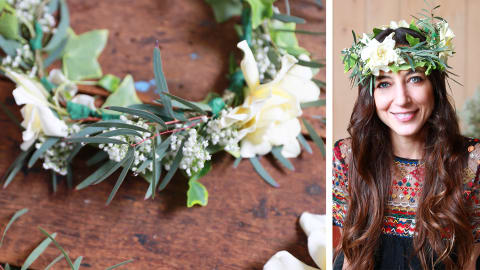 Photo by Andreas von Scheele
A DIY floral crown
1. Measure your head. The easiest way to do this is with a piece of string.
2. Start your crown with the greenery (eucalyptus and ivy) that covers the wire and will act as the base of your crown. Once you have your greenery, you'll tape it to the crown with your floral tape.
3. To attach the gardenia and baby's breath to the crown, make sure the flower stems are at least 3 inches long (you can cut off excess stems with scissors or wire cutters), and, using floral tape, tape the stem to the crown. Just like for the greenery, you'll want to wrap the tape around the stem about four to five times to make sure it stays.
4. As you finish, bend over a length of the wire to create a "hook" at each end of the wire to hold the circlet.
A Herbal Potted Window Box for Magic
"Think outside the vase for making an unexpected floral statement," says Porcaro while crafting this enchanted herbal offering. This beauty is for the floral-shy or those who love to take inspiration from grounded, organic elements. "This would be a great gift for the foodie in your life or the person who appreciates something that lasts much longer than flowers."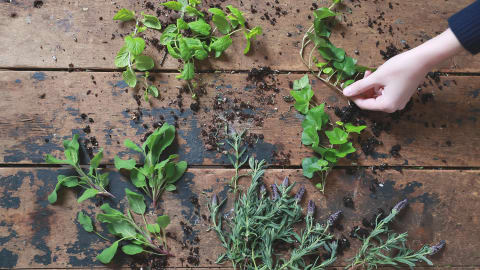 Photo by Andreas von Scheele
Flowers to use:
Lavender: Enchantment
Sage: Empowerment
Fern: Fun
Mint: Manifestation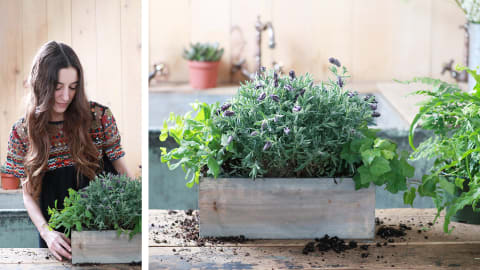 Photo by Andreas von Scheele
"This thoughtful smell-good display is actually super functional—lavender is soothing on your nighttime pillow while you can use the mint in your food," says Porcaro. We love following our nose because scent evokes so many poignant memories. Adding these fragrant evergreens and herbs will entice nostalgic sentiments and create new aromatic memories with your partner. "I always advise customers to place pebbles or gravel on the bottom of their container box to avoid root rot. This arrangement lasts a really long time and doesn't take much watering—once a week should be fine or once every two days in drier climates."