The Absolute Best Desserts Of 2016
Former mbg Deputy Editor
By Elizabeth Inglese
Former mbg Deputy Editor
Elizabeth Inglese is a writer living in San Fransisco, California. She earned her bachelor's in english literature and cultures from Brown University and her master's in writing from The University of Southern California. She's the former Deputy Editor of mbg, and has also worked for Vogue, Architectural Digest, Bon Appetit, and Good Magazine covering food, health, and culture.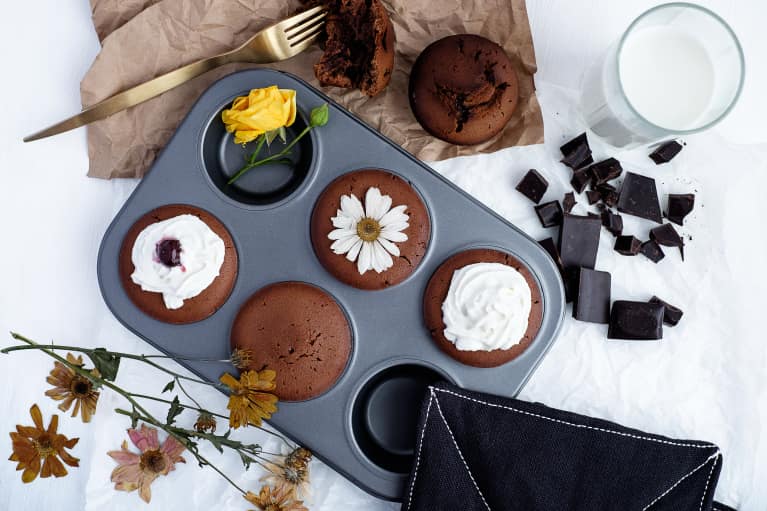 It's been a good year for healthy desserts. We've swapped refined sugar for raw honey, bleached flour for buckwheat, and butter for coconut oil. We're rethinking classics in ways that honor flavor and boost nutrition. While it was tough to narrow our favorites down to 12, these recipes stood out as the top of their class. Haven't made them yet? Fire up the oven! The year 2017 will bring with it a whole slew of new recipes you'll need to try.
Chilled coconut milk forms the sweet, creamy filling of these power-packed sandwich cookies. Raw, gluten-free, and dairy-free, they're a healthy treat that get an extra nutritional boost from flaxseeds.
Superfood-Packed Raspberry Rose Tart
If flavors can be pretty, in this tart that's just what they are. Raspberry, rose, rhubarb, and pistachio blend together into a tart as delicate as a fresh flower bouquet.
Himalayan pink sea salt pushes these classic cookies over the top. And there's no refined sugar, to boot.
Avocados for dessert? Yes, please! The creaminess of our favorite fruit lends itself naturally to plant-based ice cream.
Cinnamon Chocolate Paleo Cupcakes
The lightest hint of thyme and olive oil add a savory edge to these otherwise sweet treats.
Vegan Pistachio Pear Pudding
All things green and good (ripened pear and avocado with fresh pistachios) blend beautifully in this modern take on pudding.
This vegan chocolate cake is better than the classic we grew up on. You don't need to be vegan to appreciate it its tender crumb.
Chocolate-Covered Almond Butter-Filled Sandwich Cookies
These cover every base: they've got the melted chocolate, gooey filling, and crunchy bite of your dream cookie.
Acorn squash is the surprising star of this decadent dish.
Raw Blueberry Lavender Cheesecake
Blueberry, lavender, and matcha in one dessert? No wonder it's one of the very best of the year. The pastel colors of this cheesecake make it as gorgeous as it is delicious.
Raspberry Pistachio Semifreddo
If anything can beat ice cream, it's semifreddo. This cold, coconut-based treat is an artful addition to any meal.