All About The Appetizers: A Plant-Centric Snack Plate For Thanksgiving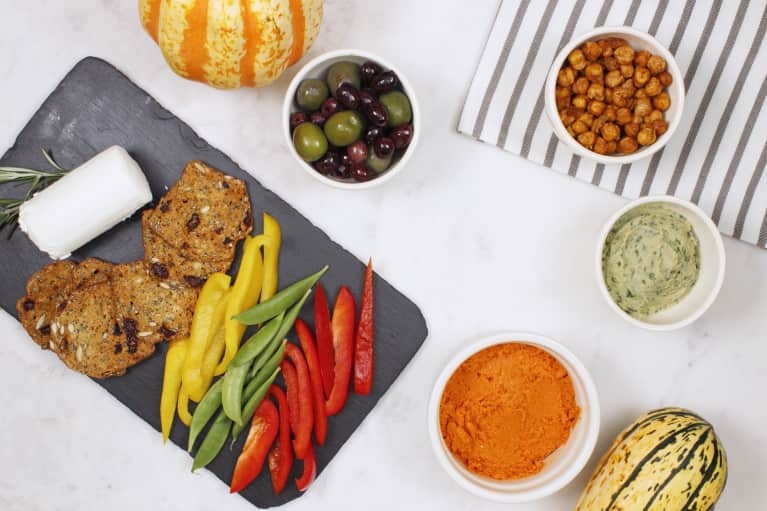 In the lead-up to Thanksgiving, we're sharing a mix of original recipes, entertaining advice, and seasonal dishes from our favorite bloggers to help you approach the holiday with a little extra mindfulness and a lot of extra-delicious vegetables and fruits. We're focusing on whole-food, plant-driven dishes to make your holiday table not only beautiful but more healthful, too—while still keeping the integral flavors of the season front and center.
While a well-thought-out cheese plate is a beautiful thing, there are so many other fun ways to kick off a feast than just a few different types of aged dairy. Plus, it's pretty limiting for lactose-adverse guests.
And while we love the new and exciting world of nut cheese, we thought we'd put a more plant-centric spin on the beloved cheese plate.
There are no hard and fast rules here, so please feel free to play around with what you put on your snack plate based on preference and what's available to you. Here are some guidelines to steer you in the right direction:
1. Diversify the flavors.
A good snack plate should have a little bit of everything: sweet (dried or fresh fruit), salty (olives, dips), freshness (herb-infused dips and crackers), peppery (some fresh sliced radishes). Each bite should get you excited for the main event without overwhelming you.
2. Play with different textures.
Just like flavor diversity, things are way more exciting when you're combining different textures. Crispy crackers love creamy dips, and chewy dried fruit loves the crunch of toasted seeds and nuts.
Try something new that you've been wanting to make, arrange everything on your favorite platter, or make sure you have enough crackers and crudités and have guests bring their favorite type of hummus, olives, or cheese.
Here's what's going on our snack platter this year:
Buy your favorite hummus, or make your own—it doesn't even have to involve chickpeas—just include a delicious creamy dip or two for assorted vegetables and crackers to dip into.
Here are some recipes to get you started:
Any raw and crunchy veggie will do. Just make sure everything is cleaned well and sliced into bite-size, dip-friendly shapes like rounds or spears. Some of our favorites include:
Radishes
Carrots
Cucumbers
Sugar snap peas
Bell pepper strips
There are lots of great gluten-free and grain-free crackers out there that taste great (even to the gluten-tolerant). You can also make your own:
These anti-inflammatory fruits are packed with healthy fats and tons of flavor.
There are so many different varieties to try. Seek out a market with an olive bar and try a few different types like green Sicilian olives, black olives with herbs de provence, or chili-marinated kalamatas.
Toasted nuts and seeds are great, but take it a step further with spices and seasoning:
Fresh apples, pears, and figs are great to pair with cheese, nuts, and crackers, as are dried varieties like apricots, dates, and cherries. Plus, these all help make a plate look vibrant and seasonal.
Yes, cheese still has a place on our plant-centric table. We love trying varieties made from good-quality milk from our local farmers market.
Give soft goat varieties a try for starters, and try to include a harder, aged cheese for contrast. You can even try your hand at a nut cheese like this Vegan Cashew Cheese.
For more delicious Thanksgiving recipes and ideas, click here.