4 Questions You Need To Ask Before Buying A Sex Toy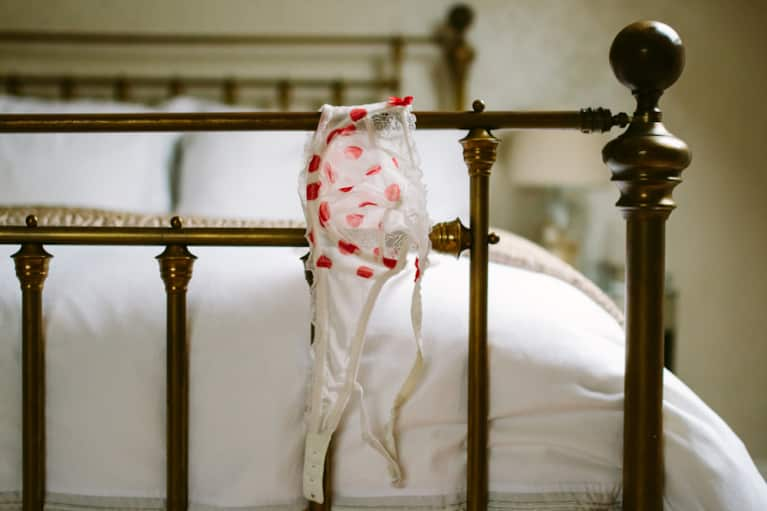 The other day I was reading an old blog post by Dr. Logan Levkoff in which she discussed how taboo the term "sex toy" is. When I read this, I swear I started snapping my fingers like a sorority girl straight out of Legally Blonde. I totally got what she was saying.
So, I decided to do my own research. I asked my friend to tell me what first came to mind when she heard the term "sex toy."
She said, "I immediately think of some sketchy store open 24 hours a day where shady people shop."
It's true that many sex shop customers walk in apprehensively. They zoom around furtively, searching for a device that they hope will give them the pleasure that they've been fantasizing about. Many are too shy to ask questions; others don't even stop and read about the product they are purchasing. Customers walk out of those kinds of shops holding discreet packaging, praying they don't drop the contents of their bag somewhere on the street.
But why? Do these people actually have something to be ashamed of?
Data on the $15 billion sex toy industry tells me they don't.
And yet sex accessories remain stigmatized.
If pleasure was a priority in the United States, the FDA would regulate the sex toy industry. Instead, sex toys are commonly referred to as "novelty items" that are not recommended for use. I'd be willing to bet that the majority of Babeland's consumers purchase sex toys with the intention of using them themselves or with the person they give them to.
You're careful about the food and cosmetics you put in and on your body, right? It's equally important to avoid potentially dangerous compounds that can be found in your sex toys. Knowledge is power, so let me be the compass that guides you toward safe sexual fulfillment.
These are the questions you need to ask before you buy a sex toy:
1. What's the chemical makeup?
Some toys are made with chemicals that are not safe for the human body. These chemicals can cause itching, burning, rashes, and tissue damage.
The most commonly used chemical in sex toys is phthalates. Phthalates are chemicals that aid in binding things together and make plastic more flexible. Phthalates are usually found in the rubber of cheap sex toys.
In the past two decades, phthalates have become the subject of a major public health concern. The exposure to phthalates has been linked to male fertility issues, breast cancer, obesity, type 2 diabetes, asthma, neurodevelopmental issues, behavior issues, autism spectrum disorders, and ADHD. For this reason, many progressive sex toy stores, such as The Smitten Kitten, have made it a top priority to ensure that the items sold at their stores are phthalate-free.
Other chemicals to look out for include timethytin chloride, phenol, carbon disulfide, toluene, and admium. These chemicals may affect the fetus of a woman who is pregnant or breastfeeding. They also have harmful effects on the central nervous system.
Unfortunately, it is common for sex toy packages to read "phthalate-free" yet still contain hazardous materials. It's important to read about all the ingredients listed on the packaging to ensure safety.
A handy trick for checking unsafe materials is the smell test. If a product has a strong smell, that's a good indicator that cheap, unsafe materials were used to make it.
Sex toys that are porous make a cozy home for bacteria to grow. Bacteria thrive in these places because they can't be properly sterilized. If you choose to use a porous sex toy, always use it with a condom.
Nonporous sex toys are smoother and have a water-resistant surface. These materials do not harbor bacteria because they can be sterilized with boiling water, bleach, or in a dishwasher.
3. Are any of these unsafe materials in it?
Jelly: An affordable material used to make sex toys feel somewhat realistic. Jellies contain phthalates.
Rubber: This latex material is commonly used to make dildos. It has a pungent odor and often causes allergic reactions. If you buy a rubber sex toy, be sure to use it with a condom because it is porous.
PVC and vinyl: These are both cheap materials that contain phthalates. They are commonly used in sex toys to make them soft and more affordable.
4. Is it made of any/all of these safe materials?
Silicone: Silicone is commonly used to make sex toys more bendy and realistic. It is more expensive than materials made with dangerous chemicals because it is more durable.
Stainless steel: This sexy material is not only nice to look at but easy to clean since it isn't porous. Just stick it in the dishwasher, in some bleach, or in boiling water.
Borosilicate glass: This material is perfect for sex toys because it is neither porous nor toxic, and it doesn't change form in high temperatures. To clean, just stick it in the dishwasher next to your stainless-steel sex toy.
Lucite: For those trying to strengthen their PC muscles, a Lucite sex toy is the perfect pick for you. The firm texture makes Kegel exercises easy to practice. Stick it in the dishwasher when you're finished using it.