A Simple Ginger Gut Flush To Power Up Your Digestion, Every Day
Neurologist
By Kulreet Chaudhary, M.D.
Neurologist
Kulreet Chaudhary, M.D., is a neurologist and the head of the Sri Narayani Holistic Centre in Tamil Nadu, India. Dr. Chaudhary has participated in over twenty clinical research studies in the areas of multiple sclerosis, Alzheimer's disease, Parkinson's disease, ALS, and diabetic peripheral neuropathy. She is the author of The Prime and Sound Medicine: How to Use the Ancient Science of Sound to Heal the Body and Mind. She holds her M.D. from Loma Linda University School Of Medicine.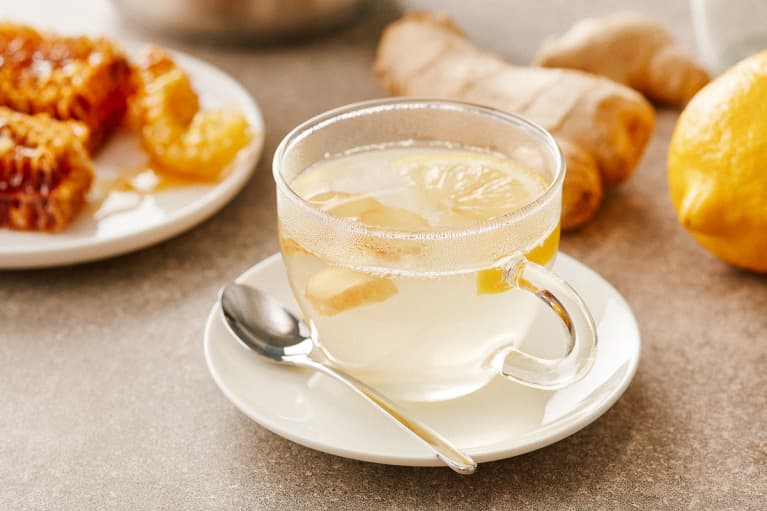 Last updated on July 1, 2020
There are easy ways to support your body's natural detoxification systems, and to promote the removal of impurities on a daily basis. In fact, small, healthy habits you use every day can be even more powerful over time than doing exaggerated cleanses for just a brief period.
I recommend trying to incorporate this easy "ginger gut flush" into your routine for a month. It's fast and you'll probably notice it starting to work immediately.
The gut flush is a combination of three key ingredients that work together to support the ongoing natural cleansing of your gut. These ingredients increase the digestive fire, or agni, which improves digestion, a critical starting point for improving your health. You can feel the increased heat in your gut within seconds of starting the gut flush.
Ayurvedic Lemon & Ginger Gut Flush
Fresh lemon juice
Fresh ginger
Sea salt
Squeeze ½ cup of fresh lemon juice into a cup, jar, or pitcher.
Cut up a knob of fresh ginger into thin 1-inch strips and add to the juice.
Add ½ teaspoon of sea salt, then stir.
Keep the gut flush refrigerated, and eat one to two pieces of the soaked fresh ginger before each meal. You can make enough at the beginning of the week to last you seven days.
The best way to really cleanse your gut is to do this before each meal. But if you want to simplify it even more, just take it before dinner. Dinner is typically Americans' heaviest meal, but at night your digestion is actually the weakest.
Use the ginger gut flush to increase your digestive fire before meals to improve digestion and overall gut health.