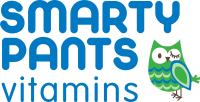 SmartyPants
SmartyPants offers the first All-in-One Gummy Vitamin for adults and kids that combines eco-friendly omega 3 DHA & EPA + a multivitamin + Vitamin D3 in one serving.
We started this company because it has, quite simply, become too hard to be healthy. We know what it's like to stand bewildered in front of a wall of vitamins and wonder..."what now?"
That's why we're asking the questions for you and combining well-researched nutrients (that are toughest to get safely from our food) into one serving that tastes so good, you won't have to worry about remembering to take them every day.
Connect With SmartyPants