paid content
 for

Broccoli, White Bean + Ricotta "Meatballs" With Herbed Tahini Yogurt
mbg Food Contributor
By Christina Liva
mbg Food Contributor
Christina Liva is a writer, recipe developer, and former mbg food editor. She founded Yay Lunch and is currently based in Virginia.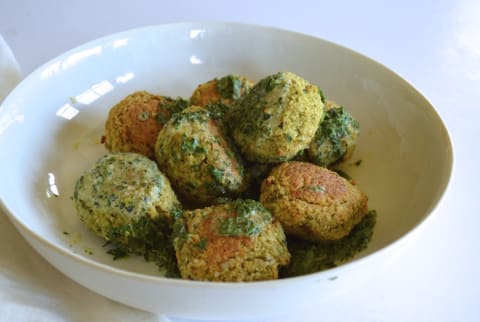 June 15, 2015
I created these plant-based 'meatballs' when I was pregnant and looking for a nutrient-dense dish I could easily make (and actually want to eat) often.
Some key nutrients you want to make sure you're getting during pregnancy, like L-Methylfolate, you'll need a get from a prenatal vitamin as they are not as easily found in food.
Other nutrients, like the calcium and iron found in these meatballs, are fairly easy to get from food. Main sources of calcium come from dairy, like the ricotta and yogurt in this dish, but we also wanted to highlight two of the non-dairy calcium rich foods we love — white beans and broccoli, both of which are also on the top of our list for plant-based iron. The sesame seeds from the tahini pack on some additional iron, calcium and taste.
1 large head of broccoli (about 2 cups), cut into bite-sized florets
1.5 cups cooked white beans
2 garlic cloves, peeled and minced
1 egg, lightly beaten
1 cup ricotta
1/4 cup pecorino Romano
1 teaspoon dried thyme
1 teaspoon crushed fennel seed
½ cup almond meal
1 cup gluten-free breadcrumbs
juice of half a lemon
olive oil for sautéing + drizzling
sea salt + freshly ground pepper
Ingredients for the herbed yogurt tahini
handful of parsley, finely chopped
handful of basil, finely chopped
handful of mint, finely chopped
juice and zest of half a large lemon
¼ cup of hot water
2 tablespoons white wine vinegar
2 tablespoons olive oil
1 heaping tablespoon of tahini
3 tablespoons strained yogurt (Greek yogurt works great here)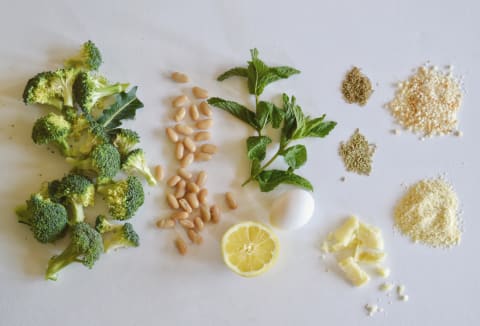 1. Heat the oven to 375ºF degrees.
2. Steam the broccoli until fork tender. If you don't have a steamer, bring about an inch of water to boil in a saucepan, add the broccoli, cover and let cook for about 3-5 minutes until broccoli is bright green and fork tender (not mushy). Drain well.
3. Place the broccoli in a food processor along with the beans, garlic, lemon juice and about a tablespoon of olive oil. Pulse just a few times until the broccoli and beans are processed into smaller, smoother bits, but are still a bit chunky so you can recognize the ingredients. (If the mixture is too thick to process, add a bit of hot water to get it going).
4. Add the egg, ricotta, pecorino, herbs, almond meal and breadcrumbs to a large mixing bowl. Add the broccoli and bean mixture. Fold everything together until evenly mixed. Season with salt and pepper. (If the mixture feels dry, add a small amount of olive oil. If it feels a bit wet, add a few more breadcrumbs — basically you want it to be able to roll it into balls without it falling apart or sticking to your hands).
5. Using a large spoon, scoop the mixture out one spoonful at a time and roll into bite-sized balls. Place on a parchment-lined baking sheet. Drizzle with olive oil and bake for about 10 minutes. Remove from oven and turn balls over on the other side. Bake for another 5 minutes, until slightly browned.
6. Meanwhile, make the herbed yogurt tahini. Add all ingredients to a small mixing bowl and stir to combine. Serve alongside balls.
Photo courtesy of the author

Christina Liva
mbg Food Contributor
Christina Liva is a writer, recipe developer, and former food editor at mindbodygreen. She received her bachelor's degree in english from Georgetown University, and has also written for Goop and Zagat. Liva is the founder of Yay Lunch, a company based in Virginia that helps provide healthy lunches to kids.