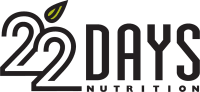 22 Days Nutrition
22 Days Nutrition is a plant-based lifestyle solutions brand on a mission to help people overcome bad eating habits, and achieve their goals with lasting solutions.
We believe a healthier diet, lifestyle and the planet are all interconnected.
Our promise: Plant-based nutrition made personal and Always: 100% Plant-based, USDA Organic, Non-GMO, Gluten-free, Soy-free
Our belief: We believe everyone is capable of changing themselves and the world 22 days at a time. The more plant-based meals people choose to eat, the better life is for themselves, their family and the planet.
Through our tools, protein bars, protein powders and vegan meal delivery program, we can meet you wherever you are. Whether you're looking for a healthy snack, a pre/post workout aid, curious about a plant-based lifestyle or you're completely lost and need total guidance, we've got you covered!
22 Days Nutrition is a delicious and complete, plant-based nutrition platform for your life.
Connect With 22 Days Nutrition
Brought To You By 22 Days Nutrition