paid content
 for

Your Dream Winter Weekend In Sun Valley, Idaho, Based On Your Travel Personality
Senior Branded Content Editor
By Krista Soriano
Senior Branded Content Editor
Krista Soriano is the Senior Branded Content Editor at mindbodygreen.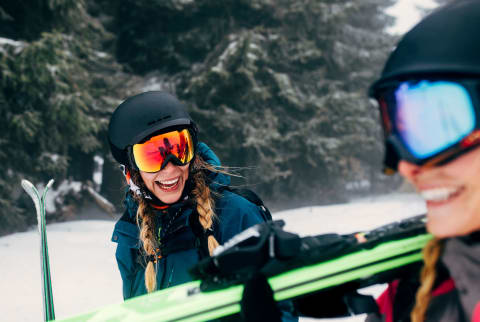 Image by Lumina / Stocksy
November 1, 2019
It's that time of year again. The weather is cooling, the holidays are approaching, and as soon as January hits, we'll all be craving an escape from routine—even if just for a long weekend. We've got you covered—or rather, Sun Valley, Idaho, does.
It's no secret that this down-to-earth, up-for-anything mountain town is an outdoor adventurer's paradise, especially come winter. But there's plenty to experience here that doesn't involve strapping on a pair of skis, if that's not your thing. And with daily nonstop flights from several major cities, including San Francisco, Los Angeles, Seattle, Denver, Salt Lake City, and Chicago, this valley is easily one of the most accessible winter destinations that still retains that "undiscovered" vibe we're all after.
Whether you want to get away from the crowds or you're more in it for the après ski, choose your own Sun Valley adventure below!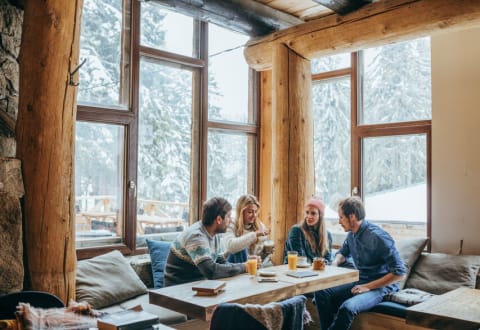 Image by Lumina / Stocksy
The Cabin Dweller
You want a vacation that feels like a vacation: a cozy bed and good food against the backdrop of stunning mountain ranges, and—let's be honest—a heavier après ski agenda. You've come to the right place.
Stay: Knob Hill Inn. Picture waking up each morning to breakfast in the Fireplace Room and enjoying a midday dip in the glass-enclosed indoor heated pool. It's the perfect setting for a weekend of bliss.
Play: You're here for R&R (and you've brought your yoga pants to prove it), so you'll want to grab a day pass to Zenergy, the valley's premier spa and studio, for just $30 exclusively at the Knob Hill Inn's front desk. You can sweat it out in a spin class before getting a full-body massage right after.
Don't miss: The Winter Solstice Soiree on December 21, 2019. Join a gathering of locals to take in the view of the stars from the only Dark Sky Reserve in America, complete with live music, food, cocktails, and hot cocoa. Telescopes included!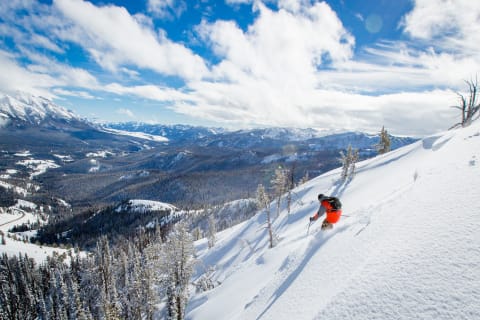 Image by Gadd Ray / Contributor
The Adventure Seeker
Your happy place is anywhere you're surrounded by nature. You get away to get outside, and pillow-soft powder is a winter nonnegotiable. There's no shortage of ways to feel alive in Sun Valley—you might never want to leave.
Stay: The Limelight Hotel. If you're here to backcountry ski and snowboard, the Limelight Hotel in Ketchum can hook you up with deals and discounts on your stay if you book their heli-ski adventure package.
Eat: Keep yourself fueled all weekend with caffeine from Java in the a.m. and hearty fare at spots like Cookbook and the Sawtooth Club, an establishment favorited by Sun Valley locals and where entrees are cooked over the live, mesquite-wood fire.
Play: Head to Bald Mountain for steep lines or Dollar Mountain for its family-friendly vibe—either way, you'll see why Sun Valley's world-class mountains have been dubbed the "Alps of America." For the lightest powder in the Rocky Mountains, hop in a helicopter with Sun Valley Heli Ski Guides (fun fact: Sun Valley is where American heli-skiing began!). Snowmobilers can rev up on groomed trails stretching as far as the eye can see. And stop by the Sun Valley Nordic & Snowshoe center, where you'll find rentals, maps, instruction, and guided tours.
Don't miss: Sun Valley Nordic Festival from January 29 to February 2, 2020. Check out the definitive celebration of all things skinny ski, held annually, and you'll get an unforgettable cross-country experience. There's a reason the Norwegian Olympic cross-country ski team trained here.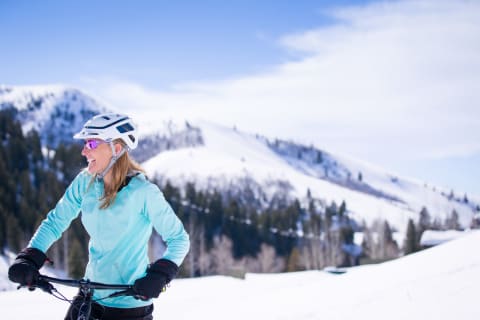 Image by Gadd Ray / Contributor
The Weekend Explorer
In your book, a weekend spent discovering a new place is a weekend well spent. You travel to take in the culture, see the sights, and do as the locals do—and your itinerary is always well researched in advance. With Sun Valley, Idaho, just a two-and-a-half-hour flight away from a handful of cities, the only question is, why haven't you visited yet?
Stay: Cozy it up at the chic, eco-conscious Hotel Ketchum (Architectural Digest dubbed its bar the most beautifully designed in the state), or find the perfect Airbnb to call home for the weekend. Sun Valley and Ketchum offer a free public bus with multiple stops, making most accommodations conveniently accessible.
Eat: Galena Lodge Full Moon Dinner. Every month, the Boulder Mountain's historic lodge hosts a gourmet, four-course dinner for $50 a head. Come to feast and relax fireside, and perhaps head with the group for a moonlight adventure on the trails around the lodge.
Don't miss: The Sun Valley Film Festival from March 18 to 22, 2020. A-list celebs, film critics, movie lovers, and Sun Valley locals alike mark their calendars for an iconic week of screenings in the snow, plus an unforgettable reception at Hemingway's restored hunting lodge.

Krista Soriano
Senior Branded Content Editor
Krista Soriano is the Senior Branded Content Editor at mindbodygreen. She holds a B.A. in journalism with a minor in communications from Messiah College, graduating summa cum laude. She has written and edited lifestyle content for over 15 magazines and websites, including ELLE, Esquire, Good Housekeeping, Cosmopolitan, Marie Claire, Women's Health, Men's Health, Runner's World, and DuJour. At mbg, Soriano helps our partners—which include non-profits and Fortune 500 companies—tell their stories, covering everything from the future of regenerative agriculture, ethical banking, and the endocannabinoid system. She lives in New York.