Close Banner
Advertisement
This ad is displayed using third party content and we do not control its accessibility features.
This Acupressure Mat Helps Relieve My Mind & Body (& It's Saving Me A Ton Of Money)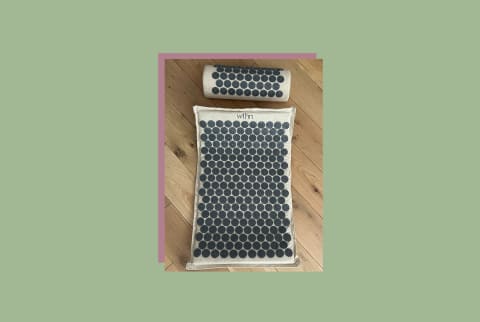 We carefully vet all products and services featured on mindbodygreen using our
commerce guidelines.
Our selections are never influenced by the commissions earned from our links.
I was hooked on acupuncture from the first time I tried it. Since then I've had close to 100 appointments, and each one proves itself worth the price. Still, when I found out there was a way to get similar results from home, my interest was piqued.
Turns out, WTHN's Acupressure Mat Set went viral on TikTok for a reason. After purchasing the mat about a year ago, it quickly became one of my most prized possessions.
This spiky mat hasn't fully replaced my love for acupuncture, but it sure has saved me a lot of money on frequent treatments. It's one of my favorite ways to relax and unwind, and it instantly relieves my sore back and neck after long days of sitting.
What I love about the WTHN acupressure mat set
It eases my body & mind
My favorite thing about the WTHN acupressure mat is that it relaxes both my body and my mind. I recently ran my fourth World Major Marathon, and I relied heavily on the mat in the weeks before and after the race, when my nerves were at an all-time high and my muscles were feeling particularly sore.
Erin Weber, P.T., DBT, a physical therapist at Flow Physiotherapy in Brooklyn, recently told mindbodygreen that the pressure of and acupressure mat can release feel-good hormones like serotonin1, activating the body's parasympathetic (rest and digest) response. "There's enough pressure on the muscle fibers to release tension but also to really calm down the nervous system," she explained.
I definitely feel a difference when I lay on my acupressure mat, and it seriously eases my sore muscles. When I don't get my session in during the day, I love using the mat as a way to wind my body down before bed.
It's portable
I looked at other acupressure mats before landing on the set from WTHN, but most came with just the mat itself. I love that WTHN's set comes with a mat, pillow, and a carrying case that makes it super easy to bring with me on the go.
Honestly, I'd probably carry it to the office if I ever went back to a full-time in-office role—that's how much I benefit from those mid-day sessions.
It's easy to use
To use the WTHN mat set, I simply unroll it from the travel case and follow the included how-to guide to target specific body parts. There are routines for back pain, neck pain, feelings of restlessness or stress, deeper sleep, or an anergy boost.
I've also found that just 10 minutes on the mat gives immediate relief, though the brand recommends 20 to 30 minutes. I'll try to do longer sessions at least once per a week on Saturday or Sunday.
It's a good kind of pain
I'm sure your biggest concern is whether acupressure mats are painful, and honestly they're really not. That said, the spikes are sharp! You'll feel it as you're positioning yourself and settling in, but it's truly the best kind of pain because it leads to so much relief.
Reviewers agree with me, too, calling the mat the most relieving part of their day and swearing it "brings the zen and release of an acupuncture appointment to wherever you are."
How the acupressure mat works
While it may seem counterintuitive that a mat full of sharp spikes would relieve back pain, that's precisely what an acupressure mat (also known as a Shakti mat) aims to do. Exactly what it sounds like, acupressure matts are mats with spikes (made from plastic) meant to activate certain points on your body to soothe pain, promote relaxation, and improve sleep.
Similar to how acupuncture works, acupressure mats stimulate specific acupressure points to improve circulation by releasing blocked or stagnant energy. Of course, there are no real needles involved—and these mats cost significantly less money than frequent acupuncture visits
The takeaway
I was a bit doubtful that I'd be able to achieve the benefits of acupuncture from home—but this mat proved me wrong. While I won't be stopping acupuncture treatments anytime soon, this mat helps me stretch my time between sessions and save a lot of money in the process. Even 10 minutes per day keeps my body and mind feeling so much more at ease.

Carleigh Ferrante
mbg Commerce Editor
Carleigh Ferrante is the Commerce Editor at mindbodygreen. She is a certified Health & Nutrition Coach and a born and raised New Yorker with a B.A. in Creative Writing and Psychology. Her work has appeared in Bustle, The Zoe Report, PureWow, The Everygirl, and more, covering topics such as fitness, travel, home, fashion, beauty, and dating, sex, and relationships. When she's not testing and reviewing products and services, you can find Carleigh training for her next World Major marathon, planning her next vacation, or interviewing experts on her dating podcast, Mostly Balanced.