How Being Relocated In Hurricane Katrina Shaped My View On Water, Climate & Justice
World Water Day
is a United Nations–designated holiday that highlights the importance of access to clean water. In keeping with this year's theme of "Valuing Water," mindbodygreen asked five water advocates from across the globe to describe what this resource means to them—and how they're fighting for it. Today, we're hearing from 17-year-old climate organizer
Chanté Davis
.
Around age 5, I had my first encounter with the ocean—complete with sandy toes, wondrous eyes, and an effervescent, ebbing tide that made my heart fill with excitement.
I remember seeing glimmers of gray and silver in the clear water. Minnows pranced around my feet and burrowed in the sand with every waking tide. I held on to my sister's back, and we swam farther away from the shore. I saw what looked like a bell-shaped organism accompanied by long stringy tentacles. It was a jellyfish! I looked down in awe at the magnificent, alien-like creature, curious as to what else was beneath the surface.
As I matured, the ocean and I remained inseparable.
I would return again and again, each time feeling more compelled to know what adventure was waiting for me. I built sand castles with my family to cheer me up when I was sad. I looked for sand dollars and joked about them becoming a global currency. I even told my secrets to seashells, imagining they might speak to me through the ocean wave sounds traveling through their crevices.
I kept a lookout for sea turtles, seagulls, and crabs, while other times I ventured farther out beyond the shore, hoping to see a shark.
On a field trip to Pensacola, Florida, my class and I toured a marine rescue facility where our instructor told us about the marine ecosystems of Florida and the problems—such as marine litter—that plagued them.
At the end of her presentation, she asked us if anyone would be interested in having a job similar to hers. My hand shot up with the eagerness of an intern being offered their boss's job. (I was the only one among my peers who was excited; everyone else was grossed out after the fish and squid dissection we had done earlier.)
After she spoke more about her study in the field of marine biology, my enthusiasm and interest in the great blue mass grew deeper.
Even before those formative beach days and field trips, water had always been a driving factor in my life.
At age 2, my family and I fled my hometown of New Orleans, in fear of the destructive waters of Hurricane Katrina.
Our home in the Lower Ninth Ward was an area unlike any other in the city. It was far out east and heavily concentrated with hardworking Black and non-Black people of color.
When Katrina hit, the storm surge completely destroyed our home, leaving it in shambles. The molded interior showed how high the water had risen, painting a rather horrifying picture of what might have happened if we had stayed.
Hurricane Katrina made me look at water as a double-edged sword.
"Made it through the rain," a popular saying among Black Southerners, was perfectly applicable to our situation. Had we stayed, I might never have been given the chance to pursue my dreams or speak up about the issues surrounding climate justice.
Hurricane Katrina made me look at water as a double-edged sword: One side brought prosperity and good health, while the other brought death and destruction.
The aftermath of Katrina made me grow up a lot faster than my peers.
Katrina forced me to grapple with climate anxiety before it even became a term. My family moved to Houston after the storm, earning me the title of "climate refugee" before most people knew what that meant.
Katrina shaped my views on climate justice as I realized most of the survivors who were affected the worst identified as working-class and Black/non-Black people of color, like my family.
While we had to move and start from square one in a new city, wealthier people from Louisiana were able to go back after the storm and rebuild their homes, while a new generation of middle- and upper-class (mostly white) folks moved in on this opportunity to gentrify the city.
Little did I know, Katrina was not the last time I'd witness class genocide and climate apartheid. In the years since, the weather has only gotten more and more unpredictable, and natural disasters have become heavily normalized.
My connections with water in the age of climate change.
As I grew up, I realized that everyone experiences extreme weather events—and water more broadly—very differently. Water is a natural element that all of our bodies depend on, yet it carries cultural connections and bears personal experiences.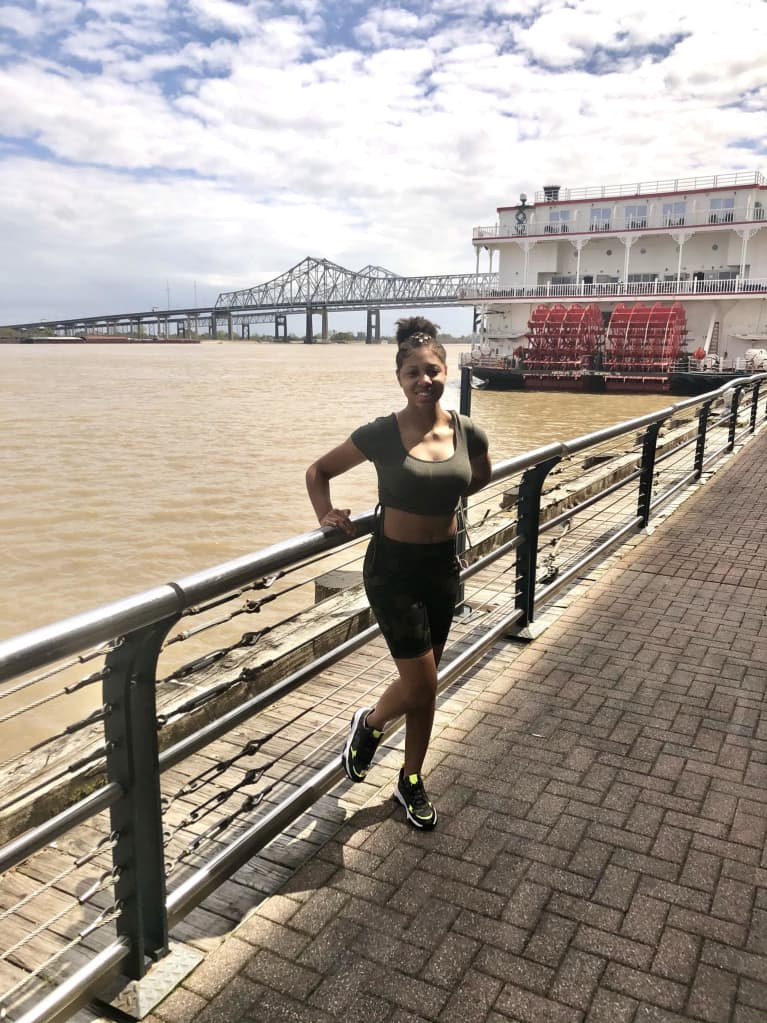 For me, water has long-held memories of the catfish my family would eat for dinner on Lent Fridays: The shrimp, crabs, and crawfish we used in staple cultural foods; the seaweed wrapped around the traditional sushi dishes our Palauan cousins would fix. I felt its therapeutic properties every time I break to its surface and a sense of peace and calm grace my body, and every time I remembered that Yondelis (trabectedin), a drug that my sister took during her cancer stages, was developed from soft-bodied marine animals.
The sea has shown me such unconditional love, responsibility, natural beauty, and resilience through the years. It provides me with the oxygen I breathe; the habitability of my home; the soothing rainy days that allow me to recharge with a nap or two; the inspiring biodiverse ecosystems that remind me of my multiethnic culture; and the protection from otherwise severe climate change.
The ocean is my second home, and it has granted me a chance to explore myself, the world, and its many features.
The more I brushed against the ocean's giving nature, the more I wanted to protect it—and the people who depend on it.
This love for the ocean ultimately led me to Ocean Heroes Bootcamp (founded by Captain Planet Foundation and Lonely Whale), where I learned more about the intersections of water and the climate crisis.
It was there that I found a global network of like-minded people I could count on. I became conscious of the great challenges that our world's water systems (and climate systems, in general) face today, like illegal fishing, plastic pollution, and ocean acidification, and began to construct solutions to fight climate change along with 300 other youth.
Together, we imagined clean seas, restored ecosystems teeming with biodiversity, and, most importantly, a stable climate! From the Netherlands to Hawai'i to Vancouver to Texas, our network chose to contribute to making a change. Some of us chose to change our diet to conserve water. Some chose to shop sustainably to help mitigate the plastic pollution crisis. Some organized beach cleanups and helped engage more youth to join us in our fight. Some did all three.
Using support from this network, I then built a platform to speak my truth when it came to environmental justice. As I told my story to hundreds, sometimes thousands of people, they, too, began to look at the climate crisis as an urgent emergency. As a result, I created my One Oysean campaign to provide the same platform I'd been given to uplift and support other BIPOC who had climate stories to tell.
Because at the end of the day, we need anyone and everyone to join together in the fight to truly tackle these harrowing issues. Because water is sacred, just like the youth, our elders, and the Earth. And if we don't protect what we love, who will?