paid content
 for

Why Your Next Vacation Should Be A Runcation—Here's How To Plan One
Senior Branded Content Editor
By Krista Soriano
Senior Branded Content Editor
Krista Soriano is the Senior Branded Content Editor at mindbodygreen.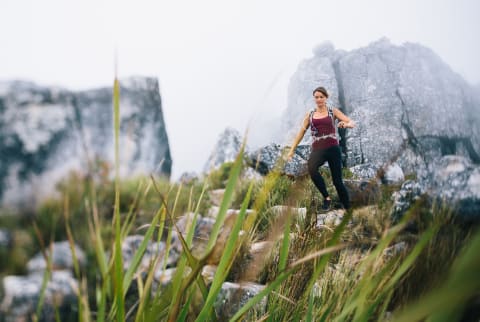 September 24, 2018
It's not only about the om. More and more vacationers, especially women travelers in recent years, are choosing to spend their down time getting their heart rates up—way up. Hiking to breathtaking views at a mountain's summit, learning how to surf on exotic shores, chasing a personal best in a brand-new city—we fully believe that the most rewarding souvenir isn't a coffee mug, it's challenging your body and mind and making it out on the other side feeling more alive than ever.
And no matter where you are, throwing on a pair of running shoes to explore a new destination on your own two feet is one of the best—and thanks to increasingly fitness-minded hotels, easiest—ways to do just that.
Advertisement
This ad is displayed using third party content and we do not control its accessibility features.
A runcation (hear us out) requires no previous experience, permits, or special equipment. In fact, save the space in your suitcase and borrow a pair of New Balance running shoes while you're a guest at Westin Hotels & Resorts, one of the major hotel brands raising the bar on travel wellness. So all you really need is a bucket-list destination (and a little inner drive). Here are two ways to plan a fun and rewarding run while you travel—whether you're an avid runner or just getting started.
Run your dream destination race
Training for any kind of race can be stressful no matter what your level, but when paired with the promise of experiencing a new destination, that's a game-changer. There's literally a world of racing events to join, from marathons in national parks to ones that combine yoga with running. So once you settle on the distance and location (making sure you have enough time to train before the race), keep these helpful considerations in mind.
If you can, give yourself a few days pre-race for your arrival to avoid feeling rushed (remember, you'll likely need to pick up your bib beforehand). This is especially if you're traveling across time zones. If you are, try adjusting your sleep schedule as you lead into the trip to help ease jet lag recovery.
When you're booking your accommodations, check to see if a race has a hotel partner: You may be able to save money through deals just for runners, and they're likely located near the start or finish line, making race day transport a little easier.
Lastly, pack appropriately for the destination's weather and keep your race-day essentials—shoes, apparel, nutrition, etc.—in your carryon with you on the plane. You can always buy new stuff if your luggage gets lost en route, but the old "nothing new on race day" rule is every runner's best friend.
Take the ultimate sight-seeing tour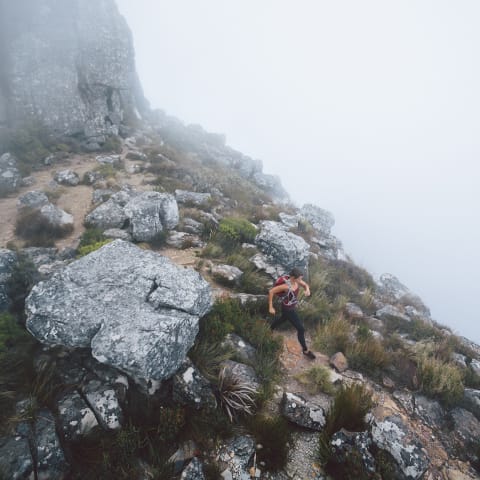 Advertisement
This ad is displayed using third party content and we do not control its accessibility features.
There's no better way to get acquainted with a new city or region than by immersing yourself in it. Whether you're scoping out the surrounding neighborhoods and parks or climbing up nearby trails for epic views, the goal is next-level sightseeing that takes your breath away (in a good way, of course).
To help you get in the mindset, especially if you're new to running, try doing a pre-trip run a day or so before you leave. When you arrive, start out early (less chance of brushing off a run later in the day), and let yourself take it easy. The last thing you want while traveling is an injury. Enjoy the run, feel good about the accomplishment, stay hydrated, and remember to stretch.
Another thing that helps? Having company, or just some extra support. If you're staying at Westin Hotels & Resorts, you're auto-connected to the local fitness community. Their Run Concierges (yes, that's a thing!) not only lead local group runs on a curated RunWESTIN route around town, but they can also point you towards the area's best trails as well as nearby classes and studios if you're looking for other ways to work up a sweat.
3 Bucket-List Worthy Runcation Ideas
If you want to make the most of summer: Anchorage, Alaska
Celebrate the summer vacation getting active with the whole family in Alaska, which gets approximately 20 hours of sunlight every day around the summer solstice. The annual marathon in Alaska's largest city has race events for kids, too, and if you're lucky, you might even be able to catch the Northern Lights during your run.
Advertisement
This ad is displayed using third party content and we do not control its accessibility features.
If you love music: Las Vegas, Nevada
On the flip side, the nighttime Rock 'n' Roll Las Vegas Marathon and Half Marathon (there's also a 5k and 10k during the race weekend in November) turns the famous Vegas strip into a full-blown live music fest for 26.2 miles. Special VIP packages available at Westin Hotels &Resorts make the experience even easier: think entry into the race and complimentary pre-race dinner and breakfast, so you don't have to worry about where to fuel up.
If you love nature and adventure: The National Parks
No matter what time of year it is, our national parks offer the most exceptional spots for a run in the wild. From paved paths to coastal rocky trails to single-track mountain switchbacks (or more direct routes if you're up for it), there's something for every kind of runner. Just make sure that you've got shoes that work well on both pavement and trails and thoroughly research the route, elevation gain, weather (plan for layers of warmth and protection as conditions in exposed areas can change quickly), wildlife you're sharing the trail with, how you'll stay hydrated in remote regions, and any permits you'll need. And always remember: Leave nothing but your footprints.
Advertisement
This ad is displayed using third party content and we do not control its accessibility features.

Krista Soriano
Senior Branded Content Editor
Krista Soriano is the Senior Branded Content Editor at mindbodygreen. She holds a B.A. in journalism with a minor in communications from Messiah College, graduating summa cum laude. She has written and edited lifestyle content for over 15 magazines and websites, including ELLE, Esquire, Good Housekeeping, Cosmopolitan, Marie Claire, Women's Health, Men's Health, Runner's World, and DuJour. At mbg, Soriano helps our partners—which include non-profits and Fortune 500 companies—tell their stories, covering everything from the future of regenerative agriculture, ethical banking, and the endocannabinoid system. She lives in New York.