The Strange Reason You Should Hum While You Breathe, From A Breathing Expert

mbg Beauty & Wellness Editor
By Jamie Schneider
mbg Beauty & Wellness Editor
Jamie Schneider is the Beauty & Wellness Editor at mindbodygreen. She has a B.A. in Organizational Studies and English from the University of Michigan, and her work has appeared in Coveteur, The Chill Times, and Wyld Skincare.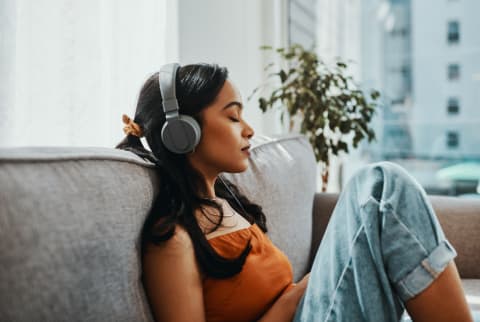 Image by Delmaine Donson / iStock
September 3, 2020
Our editors have independently chosen the products listed on this page. If you purchase something mentioned in this article, we may
earn a small commission
.
We're just beginning to uncover the link between respiratory health and immune health, but the connection so far has been nothing short of astounding. Consider your breathing habits another lifestyle factor you can control when it comes to immunity (similar to the foods we eat, the supplements we take, and the way we move), only it's as available as, well, air.
According to James Nestor, New York Times bestselling author of Breath: The New Science of a Lost Art, you can take your respiratory (and immune) health up a notch: One of the easiest things you can do to strengthen your immunity, he shares on the mindbodygreen podcast, is to hum while you breathe. And there's a perfectly good reason why.
Advertisement
This ad is displayed using third party content and we do not control its accessibility features.
Why you should hum while you breathe. 
Nestor is a fan of nasal breathing (for a host of reasons, which you can learn more about here). But one of the main points is because the sinuses can release a boost of nitric oxide—a molecule that influences immune function. "It's an amazing molecule that interacts with pathogens," Nestor says. "It interacts directly with viruses."
In fact, researchers have been testing nitric oxide's effects on mammalian cells infected with coronavirus; Nestor has previously discussed one clinical trial in particular, which is currently studying nitric oxide as a therapy to help restore lung function and boost an immune response in patients with severe symptoms of COVID-19.
Needless to say, nitric oxide is an impressive molecule. The best part? It's naturally available to you as you breathe through your nose. And, according to Nestor, it's enhanced even more as you hum.
"If we hum, we increase nitric oxide 15-fold1," he says. One study even showed that by humming for around an hour, four times per day, participants were able to eliminate chronic rhinosinusitis symptoms (i.e., congestion, facial pressure, and nasal inflammation) in just four days. In other words, we have a pretty powerful mechanism to enhance nasal function and support those immune-boosting molecules—all it takes is humming your favorite tune.
Nestor doesn't recommend any specific song ("Hum whatever you want!" he adds), although he does share that humming at lower frequencies may help jump-start the process. "There's not a ton of science, but it can help loosen and stimulate the nitric oxide release," he says. May we suggest a song with a ton of bass notes?
The takeaway.
Who knew humming had such powerful effects on immunity? The jury's still out on whether head-banging or tapping a toe has any foreseeable health benefits (aside from the jolt of energy some really good music can offer, of course); just know that enhancing immunity can be as easy as selecting your favorite song.
Advertisement
This ad is displayed using third party content and we do not control its accessibility features.