Why Right Now Is The Best Time To Declutter Your Home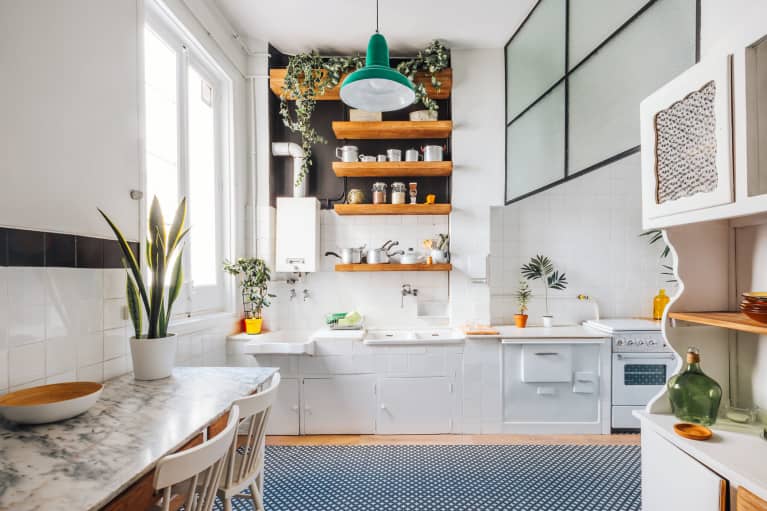 It feels like the holiday deluge starts earlier every year, doesn't it? This October I was driving past people putting up their Halloween decorations when I heard my first ad for Black Friday...which was quickly followed by emails reminding me about Cyber Monday (as if I could forget, when every store is already promoting Christmas shopping!)
The messaging is very clear; now is the time of year to buy, buy, buy for everyone you know, including yourself.
That's why this time of year is when we're all extra vulnerable to what I call the "emotional clutter blocks." The loaded relationship between our stuff and our idea of what our lives should look like is never more in our faces than during the holidays. Don't have a giant extended family who all want to drink cocoa on Christmas morning in matching plaid pajamas? How about just buy the pajamas! Don't have someone to give you a chocolate diamond under the mistletoe? Buy it for yourself!
It's so easy to find yourself on January 1 hungover from over-shopping, giving, and receiving and left with ungainly debt and a cluttered home. And that's why I think this is the most wonderful time of the year to...declutter!
Get ahead of the stuff coming in, and get real about what you actually need with these decluttering tips:
1. Be honest with yourself about what gifts you'd actually get use out of.
If you didn't wear a sparkly top to last year's New Year's—do you need a new one? If you never actually played tennis—should you try to use the tennis gear you asked for last year before you ask for golf clubs this year? If you don't like to cook, stop asking for kitchen gadgets that you hope will magically make cooking fun for you. They won't. Ask for a month of meal delivery instead. Go through all the equipment you have bought for an idealized version of yourself, and pack it up to be given away. Then ask yourself what you would really enjoy doing with your precious spare time. Ask for that.
On the other hand, if the gifts you receive don't make you feel seen for who you are, try talking to people about your evolving needs and let them into who you are now. "Dad, yes, I wore that perfume in high school, and I love that you remember that, but that was 10 years ago, and my tastes have changed." Or, "When you buy me the same perfume as your new girlfriend, it makes me feel ooky." Whatever your family calls for!
2. Go through your home looking for the holiday tools that never get any use.
Are you the family museum? Let me ask that a different way: Do you have a hand-me-down turkey or angel that will never come out of the box? If you don't use them or love them, then let them go! Offer them to another family member who will get good use out of them. If you can declutter the holiday decorations now, think about how much easier it will be to put everything away later.
3. Dig into the root cause of your urge to shop.
Are you filling emotional holes with physical stuff? Let's admit it; the holidays can be a jingly jolly emotional land mine. But it is far better to sit with the disappointment, loss, heartache, anger, or frustration—and go walk them off—than shop over them.
4. Ask yourself why you feel unworthy of investment pieces.
Is the Champagne your boss gave you last year still sitting on the sideboard? What about the fancy jam from your cousin? The really expensive bath salts that are supposed to relax you? None of it is getting fresher or better! You do not need to hold on to that scented candle like it is the last one you will ever receive.
Here is my New Year's wish for you: that in 2020 you see every day as worthy of the good stuff. Open the Champagne with friends for no reason. Slather the jam on toast. Soak up the aromatic goodness after a workout. Because, first, you are worth it, and second, there is more coming. More Champagne, more jam, more bath salts. More joy. More fun. So declutter your space by using what you have celebrating who you are and everything wonderful yet to come.