Half Of Women Are Unhappy With Their Sex Lives — Here's Why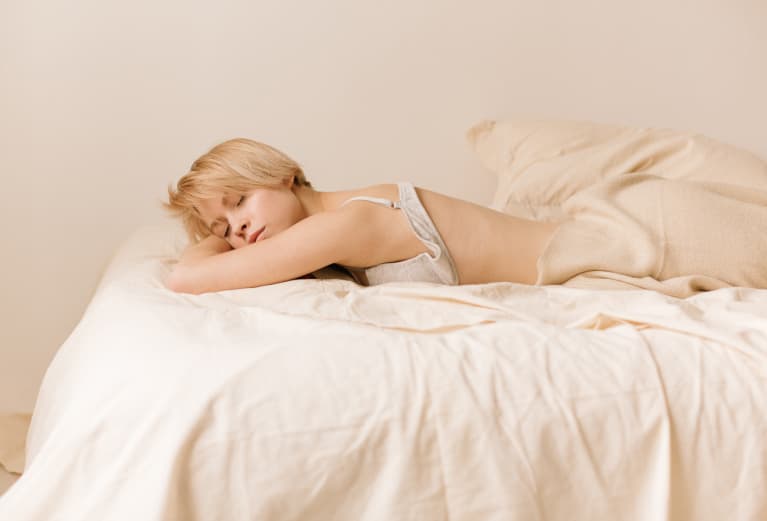 February 23, 2020 — 13:05 PM
In a recent survey of young women, a startling trend was observed; half of the participants reported experiencing distress because of sex, and one in five had at least one female sexual dysfunction (FSD).
As senior author and professor at Monash University, Susan Davis notes, "Sexual wellbeing is recognized as a fundamental human right." So this study, as the first of its kind, sought to get a broad scope on the way women really feel.
And with half of them reporting dissatisfaction—a pretty significant stat—we dug into the findings, including the most common sexual issues women face and what to do about them.
Survey participants included nearly 7,000 Australian women ages 18 to 39. They each filled out questionnaires that asked about things such as sexual desire, arousal, orgasms, sexual distress, and self-image, as well as your basic demographic. And as the results showed, many of the problems women face are not uncommon.
Low sexual self-image, for example, was the most common FSD, reported by 11% of the participants. Some of the demographics associated with low sexual self-image included being overweight or obese, living with a partner, and breastfeeding.
Arousal dysfunction affected 9%, desire dysfunction affected 8%, and orgasm dysfunction 7.9%.
On top of that, of the half who reported some sort of sexually related distress, nearly 30% didn't actually have a "dysfunction." The distress, in this case, was often from feelings of guilt, embarrassment, stress, or general unhappiness with regard to their sex lives.
The last of the findings revealed 20% of the women were taking psychotropic meds (i.e., antidepressants), which appeared to have the most widespread impact on the women's sexual function.
And not for nothing, previous research has suggested women may only have orgasms 50% of the time during intercourse (with men at 90%).
With so many women facing these issues, it raises the question, What can be done? And while serious sexually related distress may require help from a sex therapist, there are things you can do if any of the aforementioned issues sound familiar to you.
For example, the survey found women who reported being self-conscious and less assertive during intimacy, often attributed self-worth to their appearance and would closely monitor their physicality. Luckily, there are real, tangible ways to practice and boost self-love (here are 10).
With arousal and responsiveness dysfunction listed as common issues, too, you may want to look more into arousal non-concordance to see if that's playing a part.
And if you're struggling with having orgasms or feeling sexy, perhaps considering a new approach to your sex life could help liven things up. Or seeing a sex or couples' therapist is always a great option to open up the conversation and get to the root of the distress.
In the meantime, one thing is for certain according to Davis: "This is a wake-up call to the community and signals the importance of health professionals being open and adequately prepared to discuss young women's sexual health concerns."
Want to turn your passion for wellbeing into a fulfilling career? Become a Certified Health Coach! Learn more here.