paid content
 for

A $15 Dinner ... All With Ingredients From Whole Foods Market
Board Certified Functional Nutritionist
By Dana James, M.S., CNS, CDN
Board Certified Functional Nutritionist
Dana James is a Columbia University–educated nutritional therapist and founder of Food Coach NYC.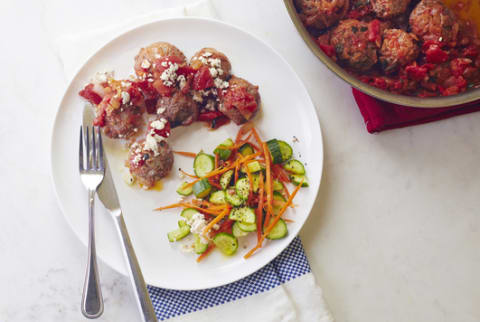 Photo by Lauren Volo for mindbodygreen
September 28, 2016
Could you make a principally organic meal from Whole Foods Market for two people for under $15? I was up for the challenge.
Vegan options are a less expensive route, but that wasn't my goal. I wanted it to contain meat and vegetables in the proportions I would normally eat. Given that my New York staple lunchtime salad sets me back about $10 (and that's just for me!), how far would I get with my budget?
By using some Whole Foods Market 365 Everyday Value brand items, I was able to make lamb meatballs topped with an organic tomato sauce and feta cheese and served with a cucumber and carrot salad for $14.64.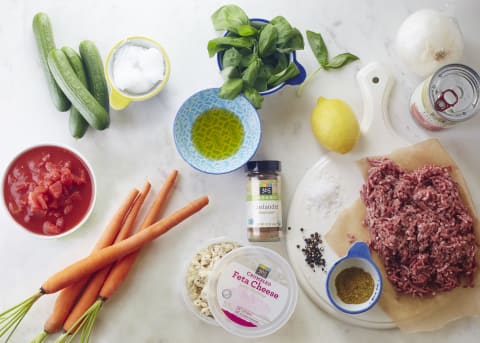 Photo: Lauren Volo for mindbodygreen
I'll point out that this isn't the price to create the meal but to buy the ingredients. I had almost an entire container of feta cheese left, so it would have been closer to $11. I think that $5.50 per serving is pretty impressive for a clean, nutrient-dense, meal made of primarily organic ingredients.
I selected grass-fed lamb because I wanted something other than the ubiquitous turkey meatballs. I wanted to be transported to a riad in Morocco where the evening was balmy and saturated in the scent of intoxicating spices. I wanted something to pair with cumin and coriander. It would be lamb!
It would naturally follow that 365 Everyday Value Organic Tomatoes and 365 Everyday Value Feta Cheese Crumbles would top these meatballs. These namesake brands saved me $1 and allowed me to spend more on the salad — a simple mix of Persian cucumbers (I'm still with my exotic theme) and fresh carrots drizzled in lemon juice, extra-virgin olive oil, and a sprinkling of lemon zest. Delicious!
Note: All spices and oils that are naturally in one's pantry were not included in the budget. I use organic ingredients whenever possible.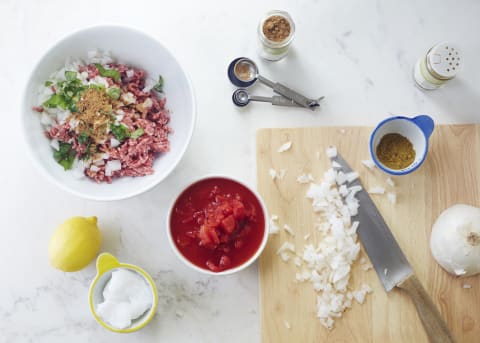 Photo: Lauren Volo for mindbodygreen
Coconut oil
½ onion, diced, divided
1 15-ounce can 365 Everyday Value Organic Tomatoes
Fresh basil (optional)
¾ pound ground lamb, preferably grass-fed
1 tablespoon ground cumin
1 tablespoon ground coriander
1 teaspoon whole cumin seeds
Sea salt
Squeeze of a lemon
1 6-ounce package 365 Everyday Value Feta Cheese Crumbles
Photo: Lauren Volo for mindbodygreen
4 Persian cucumbers (or 1 English cucumber if Persian is unavailable), sliced
2 carrots, peeled
½ teaspoon zest of lemon
Olive oil
Lemon juice
Put 1 tablespoon of coconut oil in a nonstick pan on medium heat.
Once oil has melted and swirled around the pan, add ½ of the diced onions. Allow them to brown.
Add the entire can of tomatoes and cook on low heat. Add fresh basil if using.
While simmering, prepare the lamb meatballs. In a bowl combine lamb, remainder of onion, and spices and pinch of sea salt. Mix with hands until spices are infused into the lamb. Create 12 meatballs.
Pour the tomato sauce into a bowl. Use the same pan to cook the meatballs.
Add 1 tablespoon of coconut oil.
Pan-sear the meatballs about 3 minutes on each side until lamb is cooked to your desired doneness.
To make salad: Combine sliced cucumber and peeled carrots (use a peeler to create carrot ribbons). Add a pinch of salt and lemon zest. Lightly drizzle with olive oil and lemon juice.
Put 6 meatballs on a plate and top with tomato sauce.
Add a squeeze of lemon juice.
Sprinkle with feta cheese to taste.
Serve with the salad.

Dana James, M.S., CNS, CDN
Board Certified Functional Nutritionist
Dana James is a Columbia University–educated nutritional therapist and founder of Food Coach NYC. She holds her master's in clinical nutrition and is trained in nutrition biochemistry, functional medicine, and cognitive behavioral therapy. She believes that food should be viewed as nourishing, joyful, and fundamental to self-care. Her goal is to help women break their antagonist (and often obsessive) relationship with food and their bodies. She believes that true beauty stems from grace, dignity, and embracing our idiosyncrasies that make us unique and imperfect.
James created the "How to Ditch Sugar" video series for mindbodygreen. Check out the program here: How to Ditch Sugar.
James coaches one on one, runs workshops in NYC and LA, and holds tele-seminars on various topics that help women lead a more beautiful and balanced life. To connect more with James, check out her Instagram account and sign up for her biweekly Sunday-evening emails.