I Went To The World's Best Wellness Retreat. Here's Exactly What I Ate

Contributing Food Editor
By Liz Moody
Contributing Food Editor
Liz Moody is a food editor, recipe developer and green smoothie enthusiast. She received her creative writing and psychology degree from The University of California, Berkeley. Moody is the author of two cookbooks: Healthier Together and Glow Pops and the host of the Healthier Together podcast.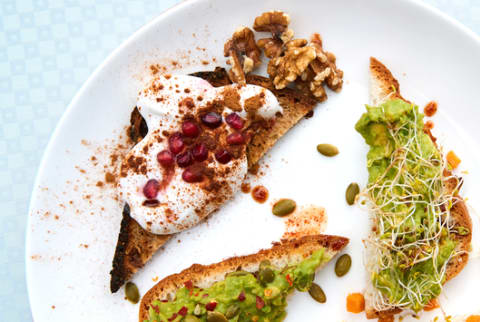 September 12, 2017
I had one main question going into mbg's revitalize, an exclusive wellness retreat held at the Ritz-Carlton, Dove Mountain, in the Arizona desert: what was the food going to be like? With some of the biggest names in the food world attending (think Melissa Hartwig, founder of the Whole30; cookbook author Jasmine Hemsley; McKel Hill of Nutrition Stripped; and so many more) and more dietary restrictions than have ever sat down at a table together, it was, I'm sure, a challenge to prepare a menu that was equal parts healthy, memorable, and delicious—but the revitalize chefs seem to have accomplished just that. Here's what a day looked like on a plate:
7 a.m.: Superfood-packed smoothie.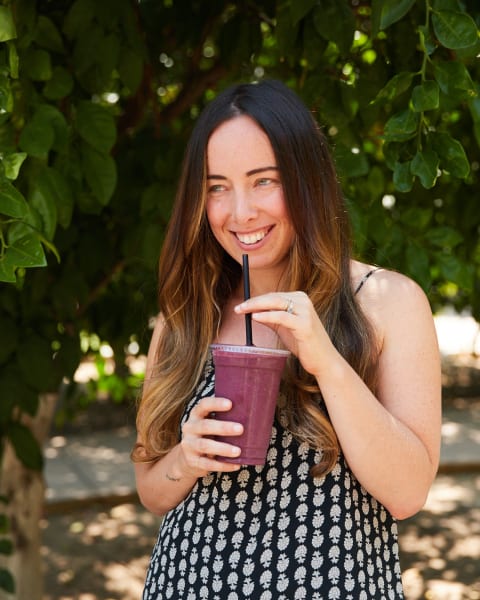 As a die-hard smoothie addict, I was thrilled when I found out that Lily Kunin of Clean Food Dirty City had created two signature smoothies for this year's event, both utilizing HUM nutrition's new superfood powders. I did a green one on day one, which had mango, banana, spinach, coconut oil, and the green powder, and the Berry Beauty on day two, which had almond milk, berries, protein, and the Vanilla Berry powder (psst: I actually asked the kind woman behind the counter to sneak some spinach into this one, too, because a girl can't get enough greens).
8 a.m.: Make-your-own toast bar.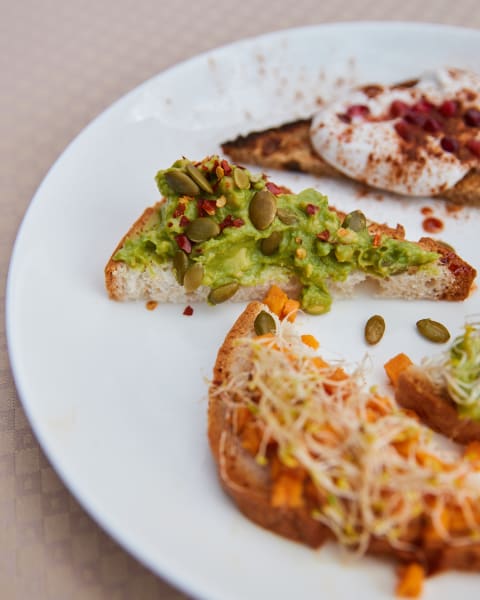 After sneaking in a quick workout (shout out to Shauna Harrison's HIIT-spiked Mustle & Flow yoga class, which had everyone in the INFINITI dome sweating), I stumbled my sore thighs back to the dining room, where there was a very Instagram-friendly make-your-own toast bar, provided in partnership with the Natural Gourmet Institute. With coconut yogurt, avocado, and sweet potato spreads and a ton of toppings (hemp seeds, pomegranate seeds, sprouts, and more), I let my creativity run wild and opted for one of each. Full disclosure: This photo is taken at such an angle so as not to see the bite that's already missing from my coconut, pomegranate, and cinnamon-topped piece.
Noon: Blueberry Basil Salad, Grilled Carrots, Veggie Spring Rolls, and More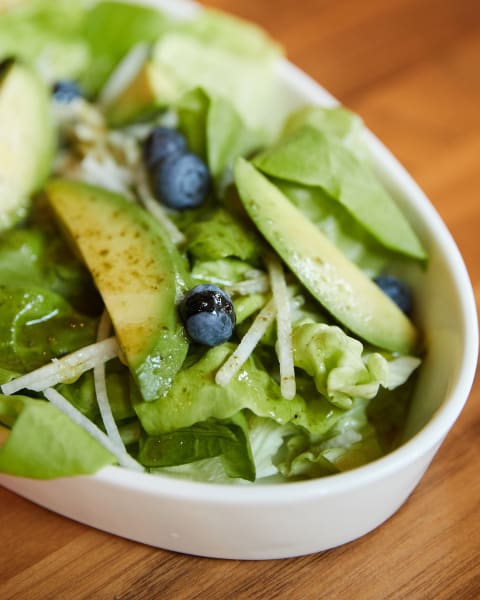 After listening to eco-warrior Paul Hawken share how we can affect climate change; actor, activist, and best-seller Hill Harper make an important statement about political divisiveness; best-seller Kate Fagan discuss suicide in athletes; and Lisa Merkle give a sobering reminder that yogis get cancer too in the first studio session of the day, I was ready to process all that I'd taken in—and, of course, refuel my body for the afternoon. Lunch was a mélange of creatively prepared vegetables, served family-style. I took a little bit of everything, but I was obsessed with the blueberry basil avocado salad (which paired perfectly with our Kevita Masterbrew Blueberry Basil kombuchas), the quinoa-studded Veggie Spring Rolls with a creamy peanut dipping sauce, and the mushroom and cauliflower enchiladas, a modern nod to our Southwestern location.
Snack: UnReal Peanut Butter Cup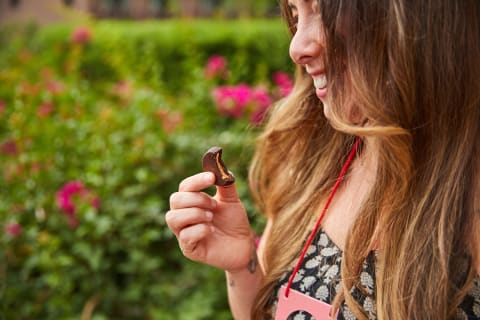 Dinner: Wild Salmon, Celery Root Mash, and Avocado Fries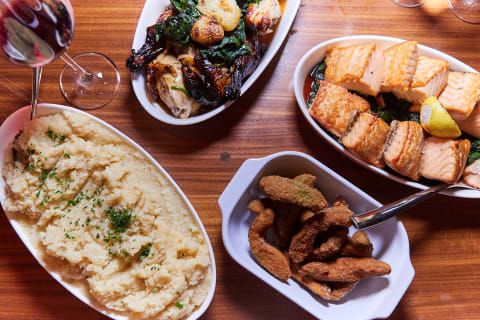 Dinner was also served family style, with heartier fare than lunch that was incredibly creative and delicious. I filled my plate up with the Wild Salmon, the celery root mash (which has a rich, earthy flavor that everyone at my table was marveling at), and lemony broccoli (those crispy bits are just divine). But the real superstar were the avocado fries, which, like the rest of the food during the weekend, were gluten-free. Crispy on the outside with a creamy, gooey center, they were 100 percent addictive.
Here's another angle, in case (like me) you can't stop looking at them: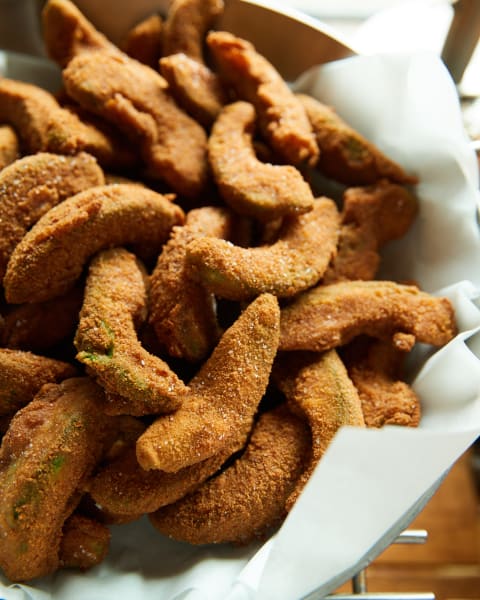 Dessert: Gluten-Free Chocolate Cake with Coconut Ice Cream
Yeah, so—I ate this one before I could get a picture. It was rich, moist, and oh-so-dreamy, and I regret nothing.