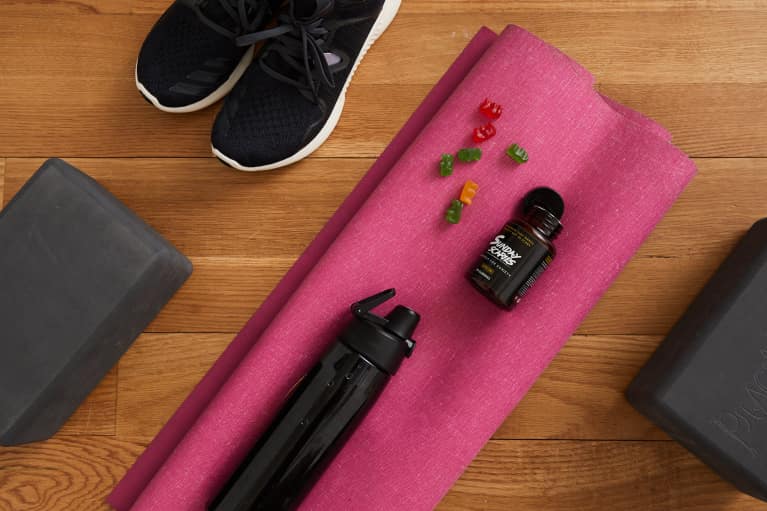 2018 was a big year for CBD. And thanks to scientific and anecdotal evidence suggesting that the non-psychotropic derivative of the cannabis plant may help with things like inflammation, arthritic pain, insomnia, and anxiety (emphasis on the latter because—let's be real—many of us could use a little bit of anxiety relief these days), CBD isn't going anywhere anytime soon.
In fact, "CBD gummies" was the third most searched food on Google in 2018—bested only by "unicorn cake" and "romaine lettuce" (understandable). So, for a closer look at how people are actually using CBD gummies in their day-to-day, we spoke with two yoga instructors at Yoga Lifestyles based in Florida. Alexandra and Mel are currently taking CBD gummies by Sunday Scaries, which are made locally in California using high-quality, broad-spectrum CBD without any THC. Here's what they found after incorporating it into their personal routines.
When do you take a CBD gummy?
Alexandra: Definitely try them before bed. Every single night I lie on my yoga mat to meditate and relax after a flow. So, one night I tried doing it with a gummy. It usually takes a minute to tune out and come into my breath, but when I took the gummy, I felt completely relaxed and didn't even have to think about it. The CBD effect kicks in after about 30 minutes, so I have a gummy right before I start to flow and then it'll lead me into a meditative state.
I've taken them in the morning, but I'm energetic and upbeat all the time, and when I have anything that's relaxing me too much, I feel a little bit out of my body.
Mel: I actually have a different experience with it and can definitely take it during the day. I had a doctor's appointment the day I first tried gummies from Sunday Scaries. It was a standard checkup, but I get so nervous anytime I have to do anything medical-related. I took a couple of gummies before my appointment (Sunday Scaries suggests taking two to three gummies in a day), and when it came to my anxiety about the appointment, I was like, you know what, I'm as cool as a cucumber.
I thought it was my imagination, but when the nurse took my blood pressure, she told me, "Wow, you're usually a nervous wreck, but your blood pressure's not showing any spikes—it's completely normal," which isn't ever the case for me.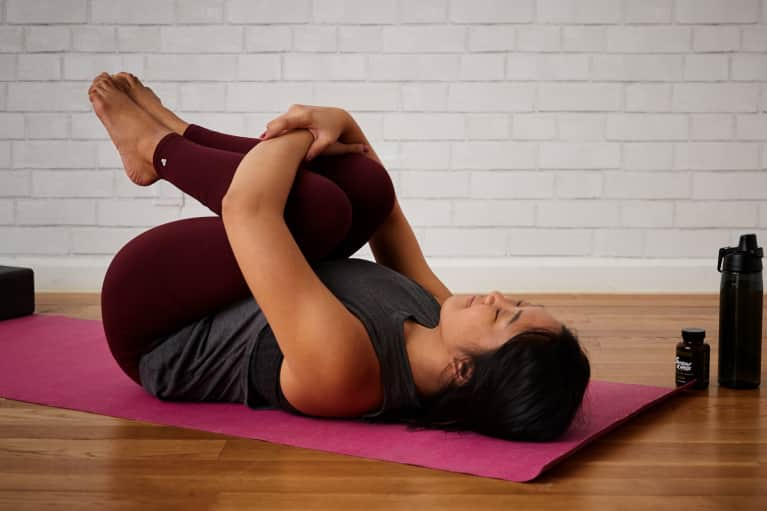 What's your experience with cannabinoids?
Alexandra: I'm not into marijuana, and I was apprehensive about CBD at first. My uncle is a hemp grower in Pennsylvania and has his own CBD company. He gave it to my grandmother because she's super anxious, and she ended up having an allergic reaction to it, so that was my introduction to CBD.
But as it's become more popular, I've been talking to friends about it and reading up on it. I like the fact that it can be an alternative medicine for things like inflammation, so now I use it because I have arthritis in my leg, but only when I need it. And since it's not regulated by the FDA, I'm very careful about where it's coming from—I want to know about the farm it grew on, and if it's organic.
Mel: I'm indifferent on marijuana. I say, cool if you smoke, but it's not for me. On the other hand, CBD is the extract from the hemp plant, but it doesn't have THC in it, meaning the chemical cousin that gets you high. You won't get high by taking CBD.
I have friends who use it to treat inflammation, so I originally tried CBD to ease muscle soreness after working out. I like that it's a natural, holistic way to get these kinds of benefits. I'm on board.
How do you choose between CBD oil and gummies?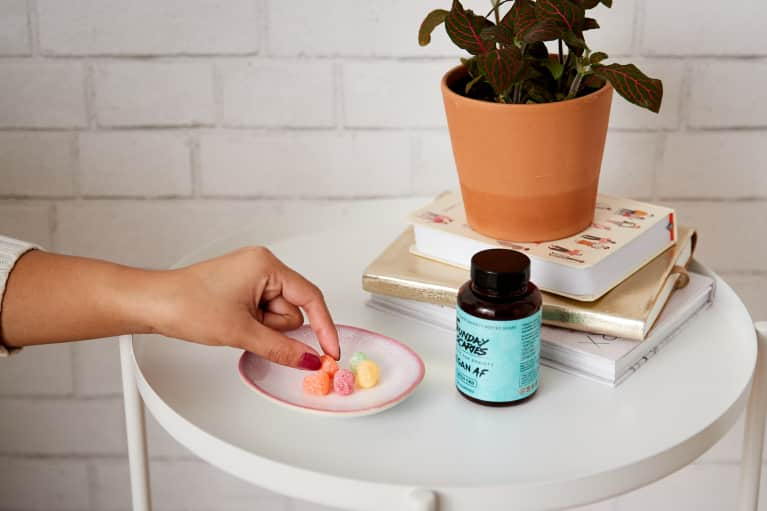 Alexandra: Sunday Scaries was the first time I had used CBD in gummy form. I really like the gummies because you can more easily regulate how much your dose is—plus the Sunday Scaries gummies have vitamins B12 and D3, which is so nice. I like their tincture as well, but I feel I'm more likely to either over- or underdo it since you're using an eyedropper.
Mel: I work out and use CBD for pain relief—the oil works amazing for that, but the taste of the first oil I tried was too strong, too hempy. I tried Sunday Scaries' tincture and liked that the oil is really light and has a slightly fruity aftertaste. But I enjoy sugary things, so the Sunday Scaries Vegan AF gummies are great. They're less chewy than their regular gummies and look like a gumdrop with a sugar coating around them that tastes a little sour. The regular non-vegan CBD gummies are shaped like a bear, and they have a subtly hempy aftertaste.
Alexandra: Either way, you're going to want to eat them like candy. They're not habit forming, but I love that it's a fun way of taking CBD and, in general, raising awareness about anxiety and the natural ways we can now cope with it.
Sunday Scaries' CBD monthly memberships are Worry-Free & Super-Discounted: There are no contracts, no cancellation fees, and no hassles. And they're always there to help. So just sit back, relax, and let the Sunday Scaries CBD Gummies come to you. Check out the Monthly CBD Gummies Memberships here.