This Spiritual Healer Has Seriously Glowing Skin — Here's What She's Using As Of Late
mbg Beauty Director
By Alexandra Engler
mbg Beauty Director
Alexandra Engler is the beauty director at mindbodygreen and host of the beauty podcast Clean Beauty School. Previously, she's held beauty roles at Harper's Bazaar, Marie Claire, SELF, and Cosmopolitan; her byline has appeared in Esquire, Sports Illustrated, and Allure.com.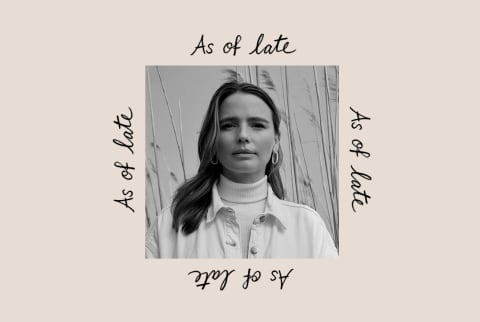 Image by mbg Creative / courtesy of source
September 27, 2022
We carefully vet all products and services featured on mindbodygreen using our
commerce guidelines.
Our selections are never influenced by the commissions earned from our links.
Beauty routines are never truly stagnant—practices evolve and change like we do. In As of Late, we chat with influential folks about their current products and rituals. Here, we get a snapshot of what they're doing right now: the sacrosanct formulas they use until the last drop, the fresh launches they've got their eyes on, and of course, the why behind it all.
Every conversation I've had with Deborah Hanekamp, I left feeling calmer and more inspired. Hanekamp, who is most commonly known as Mama Medicine, is a spiritual adviser who encourages people to look inward and empowers them to be their own healer. Her personal practices infuse nature and plants into everyday rituals and prioritizes introspection and the power of thought.
And it's infectious: Simply speaking to her—with her soft, reassuring cadence—could spur almost anyone to reevaluate their routines and opt for a more mindful approach to their day-to-day life.
While this isn't the most important reason I enjoy listening to her wax poetic about her routines, it must be said: She has incredible skin. And there is a part of me that thinks, If I could just be more thoughtful in my approach to caring for myself, I, too, could have that effervescent glow.
For what it's worth, I'm not the only one who thinks this: Scroll through her social media feed and you'll see comments from followers asking for her skin care breakdown. And while Hanekamp says she used to avoid talking about her beauty practices, she's now embraced it—somewhat.
"I would get a lot of questions about what I was doing to my skin, and at first I didn't want that to be part of my identity. I thought, Oh this is just my skin," she says. "But then I realized that the care of your skin can be a gateway into the care of your soul. It's one of those areas where you can meet people at a place where they'll understand, and then you can take them deeper."
And, here, we explore what she's up to lately.
The tried-and-true: A glow-enhancing toner. 
"One product I have been using since I was a teenager, since I was like 17 or 18, is Yonka's lotion spray. My friend was studying to become an esthetician, which was really fun for me because I got all the facials. She introduced me to the line Yonka, and for the most part, I think all the products are great—but this one particular product I just love. I use it every single day and have used it for so long that my husband and I have a joke that he calls it my signature smell. It's just the one thing that if I see it going empty, I get a new bottle immediately. I always keep this stocked.
"The key ingredient in it is rosemary, which is one of my favorite plants. It's like the amethyst crystal of plants—by which I mean it's good for just about anything: It refreshes me as I go through my day and clears my aura. Rosemary is really cleansing and has a protective quality. When we think about energy protection, we also need to think about energy cleansing. Because the more gunk we have in our energy field, the more open we are to different things coming in and affecting us. And rosemary cleanses, and therefore also protects our aura. Plus I set my makeup with it and it gives me a pretty decent glow."
The surprise hit: Uplifting and toning facial cupping.
"I've done cupping on my back, which left large bruises as it's supposed to do; at first, I was a bit hesitant to try it on the face. But I'm so glad I tried it: I really love the feeling of the face lifting and the general sense of releasing stagnation built up from holding stress in my face.
"First, I got facial cupping done professionally from a woman named Samantha Story, M.S., La.C. But then I tried it myself, and I just love how easy it is to do. Now, I do it about once a week. Immediately after I love the natural sense of lifting and calm in my skin.
"I also enjoy working the muscles in my face, especially as I age. I have a naturally very expressive face, and I'd never want to get rid of that. So I personally have not gotten Botox—although, that's not to say I disagree with anyone who has gotten it; it's just my personal choice. Instead, I like to build and work the muscles up through toning, with things like microcurrent facials and facial cupping.
"Doing it is also a nice reminder that you don't have to hold on to all that stress. When I do it on my tight jaw or tight cheeks, it's like, Hey you don't have to be tense—you can just relax and let that go."
The pleasure: A classic or up-and-coming facial.
"Receiving facials is one of my favorite ways to treat myself. I'm not sure if it's because I am in front of a camera so much or because it's just my nature, but I hold all my stress in my face. In addition to that, as a healer, I feel it is super important to be able to receive healing, and facials are my favorite way to do so.
"I'm a bit of a facial nerd. I love going around and checking everyone out. I go about once a month. I tried Sarah Clark of Stillpoint Beauty in Manhattan. I really recommend checking her out if you live in New York. She has a very reserved energy, but then she really gets in there—she combines microcurrent and craniosacral therapy. Or recently I moved to Vermont and found an amazing facialist up here, Amanda Birch. She blends all her own products; her work is a healing session and facial combined. I also love Georgia Louise—her facials are amazing.
"As a mother and with how much I work, it's really hard to find time to care for myself. And even the very simple fact that in a facial, you're just going into a room and you are being taken care of rather than like taking care of everyone else. That's just so healing for me—and whatever other magic happens after that is a bonus."
The steal: A classic rosewater spray. 
"An old-school aura mist-slash-facial spray I love is the Heritage Store Rosewater Facial Mist. I travel with it, use it in my Medicine Readings, use it on myself first thing in the morning—and I absolutely love it.
"I most often use it in between meetings and work. I'll be going from meeting to meeting, or session to session, and this will just give me a little boost. I often find medicine readings to be quite heavy, and this just adds a bit of lightness in my day.
"The rose is a big piece of why I love it. Roses are considered to be one of the highest frequency plants. They have the highest vibrations. And as someone who sees auras, around plants as well, I see this big, beautiful aura around them. It's more so around wild roses, but even cultivated roses have it too.
"Everything about the rose is special. They're just so beautiful to look at and smell. They are these amazing teachers with their thorns. Every single part of the rose—from the petal to the rosehip to the stem—can be used as medicine. They have a really mothering energy to them. Even just the vitamin properties are amazing; for example, they're high in vitamin C."
The thing my grandmother taught me: Olive oil, inside and out. 
"My centennial great-nona was from Sicily. Her name was Maria, and she had the most beautiful dark olive skin even into her late 90s and early 100s. She had dementia in her last year or two, but otherwise she was so strong and healthy. She looked amazing, too. Her skin never wrinkled—it dropped a bit, but she never had any wrinkles.
"She said her secret was olive oil—internally and externally—and a glass of red wine every day. I don't really keep up with the wine part, but you can often find me drenching myself in olive oil head to toe.
"And she would call the use of the olive oil externally "anointing." It wasn't just that she was using it like a beauty product. She was anointing herself with it—her hair, skin, everything. And when she would cook, she would just be putting it on her hands, her chest, her skin.
"I make my own oils, and for my base, I use olive oil in honor of her—because I have an emotional draw to it. Olive oil isn't right for every skin type, but because I have that connection to it, it works for me. I believe that when we actually take that time to really get to know the plants and deepen our connection with them, then we really get to feel the deeper qualities of their particular medicine."
The carry on: A pink lip balm.
"I always have on me a lip balm with a slightly rosy tint—which is for pure vanity. I'm very pale, and when I don't have any lip gloss on, my whole face just sort of disappears."
RMS Beauty Hydrating Tinted Daily Lip Balm in Peacock Lane
$22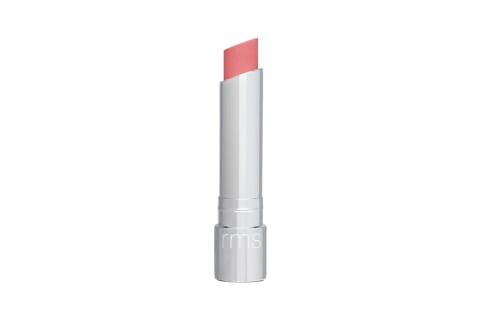 The seasonal staple: Nourishing foods
"It's really basic, but for fall, I think being hydrated is really important. It's a windy time, there's a lot of change, and the temperatures fluctuate a lot. It's also a very busy time. So I don't change too much in terms of what I'm using on my skin or sunblock or anything like that, because for me it's more about nourishing from within. I drink a lot of nettles and rose tea and eat a lot of nourishing meals with things like sweet potatoes and kale. It's more about the beauty routine going inward.
"I also prioritize rest. My mind gets very busy during this time of year. In times of transition, it's common to get a busy mind. And during autumn the nature surrounding us changes so dramatically, especially if you live in the Northern Hemisphere. We can feel the end of year coming, so our minds start to race, thinking I need to get this or that done. So I just want to make sure I'm getting enough rest during—that good old-fashioned beauty sleep."
Alexandra Engler
mbg Beauty Director
Alexandra Engler is the beauty director at mindbodygreen and host of the beauty podcast Clean Beauty School. Previously, she's held beauty roles at Harper's Bazaar, Marie Claire, SELF, and Cosmopolitan; her byline has appeared in Esquire, Sports Illustrated, and Allure.com. In her current role, she covers all the latest trends in the clean and natural beauty space, as well as lifestyle topics, such as travel. She received her journalism degree from Marquette University, graduating first in the department. She lives in Brooklyn, New York.