What I Tell Every Yoga Teacher Who Wants To Advance To The Next Level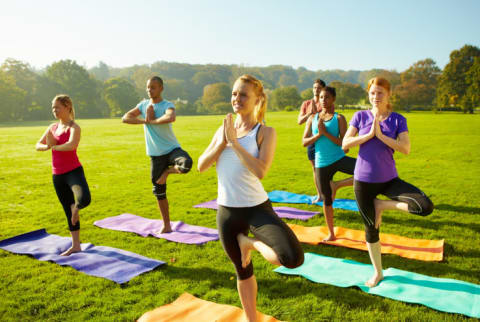 September 30, 2015
After several hours of sequencing and sun salutations, you are a 200-hour registered yoga teacher. Your eyes have been opened! You've studied the asanas and the alignment points. Your friends are psyched for an on-demand class on weekend getaways. And then it happens: You start wondering about what's next. Here are a few tips to help you understand whether the 300-hour program is right for you.
1. Understand what the program is about.
Advertisement
This ad is displayed using third party content and we do not control its accessibility features.
The 300-hour program is an advanced yoga teacher training. There is often confusion between the 200-hour, the 300-hour, and a 500-hour training. Yoga Alliance, despite many efforts to simplify, has not made it any easier. The best way I can explain it is as follows:
The 200-hour is college. You make a whole new crew of friends. You are taking your first steps into deepening your yoga education. There is SO much knowledge out there, even if 5 percent seeps in, you have gained a whole new perspective on life.
The 300-hour is graduate school. You need to go to college first before attending grad school, right? Right. Hopefully you have been teaching for at least a year so that you come to this advanced program with a perspective and relevant questions — not just to put another notch in your training belt.
Like many who enroll in business school or law school, the 300-hour program is an opportunity to dive deep and focus on the type of teacher you want to be, cultivate your voice, and truly examine what you want to teach your students.
In my many years working in the business of yoga, one of the questions I was asked time and time again remained, "If I have taken over 300 hours in continuing education, does that equal a 300-hour certification, thus making me a 500-hour registered yoga teacher?" The answer is always NO.
Smaller workshops, though wonderful and incredibly valuable, do not equal a 300-hour training. The advanced training must be registered with Yoga Alliance as a 300-hour registered yoga teacher program.
2. Understand your options.
Choosing a training can be very overwhelming. There are many different schools, formats, focuses, and features that will develop your teaching skills in various ways. So before you put down a deposit, I advise you to take the time to compare different programs. Here are some important questions to ask the school:
Are the 300 hours broken up into modules and do they need to be taken in a certain order?
How many contact hours are there with the trainer?
What aspect(s) of yoga does the training focus on? (i.e., pranayama, prenatal, managing injuries, philosophy, meditation, asana)
Is there a mentorship component?
Will I get to assist in real classrooms?
How often are these modules given?
What teaching opportunities do you offer at your studio after the completion of the program?
3. Understand the market in your area.
If you are in a big city and there is a lot of competition with other teachers, you might need the full 500 hours of training to even be considered for an audition. On the other hand, if you are in a smaller town or more rural area, the status of 200-hour registered yoga teacher might be more than enough to land your dream job at the local studio. This doesn't mean that the 300-hour is a no-go, but perhaps it lives a little further in your future. Reach out to the studios you like and ask what level of certification they require to audition.
4. Focus on your goals.
Do you want to further your education as a student? Do you want to dive deeper as a teacher? Are you hoping to make yourself more desirable in the eyes of a studio manager? All of these are reasons to consider taking the 300-hour course.
I cannot stress enough the importance of actually teaching upon completing your 200-hour training. Get out of your training bubble and teach friends, parents, co-workers — whoever is willing to be your guinea pig! The 300-hour will be so much more beneficial to you if you have had real experience working with and looking at bodies.
As you consider the advancement of your education, exercise your yogi-ness and look inward for answers and define your objectives. The clearer you are on your intentions, the more you will get out of the program. Here are a few more articles to help you get the most out of your yoga teacher training:
Yes, You Can Succeed As A Yoga Teacher. Here's How
What I Wish I Knew Before Becoming A Yoga Teacher
Advertisement
This ad is displayed using third party content and we do not control its accessibility features.

Lisa Greenblatt Binderow
Lisa Greenblatt Binderow is the Founder/CEO of nicepipes apparel. She is a 500-hour Registered Yoga Teacher with additional certification in Restorative Yoga. She is a sunshine & outdoor enthusiast, an avid Juice Press club member, and an exceptional martini maker. You can find Lisa and her pipes on instagram.