What Does Noncomedogenic In Beauty Products Mean?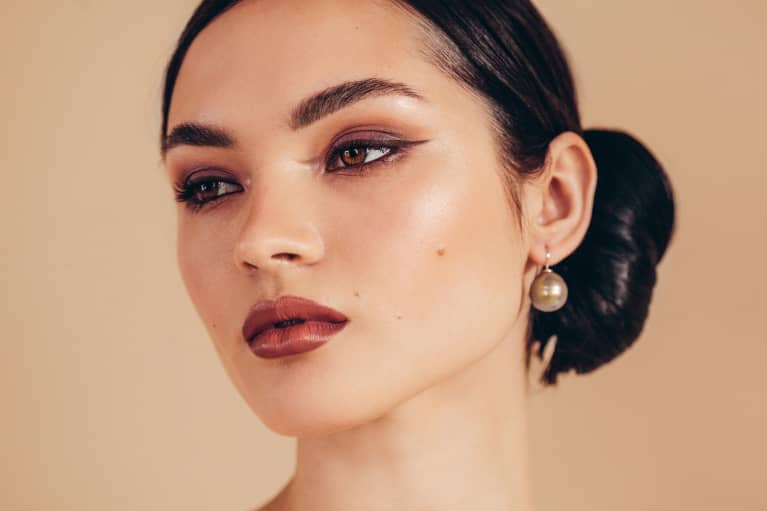 Our editors have independently chosen the products listed on this page. If you purchase something mentioned in this article, we may
earn a small commission
.
What does noncomedogenic mean?
The most straightforward answer is that the product is shown to not clog pores. When something is comedogenic, you might have guessed, it can cause blockage, leading to blackheads and pimples. A comedogenic formula is likely, but not always, thick and occlusive—so it sits on the skin trapping in oil, bacteria, and causing inflammation, which will lead to irritation and eventually a comedone. This can take two weeks to a few months to fully present itself, meaning if you try a new moisturizer, you might not see the residual effects for some time (the reason being is acne itself takes time to form).
What makes comedogenic versus noncomedogenic conversation so complicated is that there are no set rules defining this skin care term, and there is no definitive list of ingredients that would fall under either category. Much like "natural," "organic," or "clean," there are really no regulations surrounding the brands who might use the term.
There are, however, ingredients that through research—or in some cases, anecdotally—are considered comedogenic; this includes processed mineral oil, coconut butter, beeswax, lanolin, a few fatty acids (for example: Isopropyl isostearate, Isostearic acid), and isopropyl myristate, but of course is not limited to this. Cosmetic chemist Ron Robinson also notes that even if a formula is created with all noncomedogenic ingredients, the end result can still clog pores. So while you can try to suss out how the product might work on your skin by looking at the ingredient label, it's not always that simple. Finally, notes esthetician Kimberly Yap Tan, if a product is formulated with low levels of an ingredient that is comedogenic, it might not end up being problematic in practice.
At this point, you might be wondering why you might see products with "Noncomedogenic" or "Nonclogging" slapped on the front. (I did!) Many brands will go through the effort of having their products specifically tested for this claim. But there is no agency-approved test you can put a product through to determine its comedogenicity. Thus, these claims are entirely up to the integrity of third-party clinical trials or research labs, says Robinson. (If a brand has performed independent clinical trials, they will occasionally say so on the website, so you can start by looking there.)
Another complicating factor is that individual skin chemistry can play a part. "Even if two people are predisposed to acne, what is noncomedogenic to one person, might be so for another," says board-certified dermatologist Mona Gohara, M.D. One of the main factors is skin sensitivity. Those with easily irritable and acne-prone skin might be triggered by more products than those with just oily skin. But there's a whole breadth of others issues, including how easily your pores clog, pore size, and how quickly your skin self-exfoliates.
However, it should be noted that while acne sufferers should be wary of the comedogenicity of their products, breakouts can still occur even if you are being safe with ingredients. Acne is a complicated condition, and there are many factors that contribute to it. One change will likely not be enough to solve the issue.
Basically anyone can benefit from sticking to noncomedogenic products, but the only people who need to are those with oily skin and prone to breakouts.
"I liken it to an allergy: If someone is allergic to peanuts, they will make sure they are not coming into contact with anything that might contain the ingredient," says Gohara. "You likely know if your skin is easily irritated by comedogenic products, so you'll be able to assess that yourself."
Much like comedogenicity of products can be altered with mitigating factors, someone's need for noncomedogenic products might change as well. An obvious example is that if someone is going through an acneic period of their life—say, during puberty—they would benefit from nonclogging products. And if they grow out of that phase, then they can use thicker creams. However, the factors could be much more subtle, notes Gohara, like the change in seasons. Many tend to be more prone to oil production during the summer, when humidity spikes. This would likely increase their chances of comedone susceptibility, and they might benefit by updating their routine.
"When I am having breakouts, I know I need to pare back my skin care and makeup routine to things I know do not irritate my skin," says Gohara. "Then when I am going through periods of time when I have clear skin, I can be a bit more experimental with my products."
Also: Those who regularly wear thick makeup might be increasing their need for noncomedogenic products. This is a phenomenon called acne cosmetica. It occurs when an individual clogs their pores with comedogenic ingredients, only to pile on makeup to cover up breakouts, exacerbating the issue.
"A huge problem is that when an individual has a pimple or breakout, they feel the need to cover it up with thick foundations, which will then continue to clog the pores or clog additionally," says Gohara.
What are the best products?
Given everything I just told you about how personalized this all is, take the following recommendations with the understanding that your skin might have different needs. I also want to stress that these are not products intended to solve your acne—please consult a board-certified dermatologist for that—but they might lessen the chances of your pores being clogged in the first place.
Oil: Try options with safflower or sunflower seed oils high up on the ingredient list. Most derms and skin care experts can agree that these have low-clogging potential. For a wash, the star ingredient in White & Elm's Deep Pore Oil Cleanser is sunflower seed oil. And Youth To The People's Superberry Hydrate + Glow Oil is made with (again) sunflower seed and jojoba oils, along with a ton of antioxidants.
Moisturizer: Oil-infused creams and stuffy-fragranced options tend to cause irritation. Use light, water-based options, or those with hyaluronic acid. Aveeno Positively Radiant Daily Facial Moisturizer with Broad Spectrum SPF 30 is an often-recommended option.
Foundation: Mineral powders will provide the coverage you want, without exacerbating the issue. (A hack from Tan: Blend the powder with your moisturizer for a liquid-like foundation.) Youngblood Natural Loose Mineral Foundation comes in 16 diverse shades.