paid content
 for

What Can A Shampoo Bar Teach Us About Sustainable Beauty?
Image by Mihajlo Ckovric / Stocksy
May 3, 2021
Launching a brand that champions sustainability is a journey that takes dedication, transparency, and the willingness to look at how every product and process affects the greater planet. Becoming a major player in the sustainability conversation is a story that unfolds over time.
Advertisement
This ad is displayed using third party content and we do not control its accessibility features.
Image by Davines / mbg Contributor
Davines Group, a family-owned hair and skin care brand founded in Parma, Italy, is a perfect example of this green narrative. Ever since 2006, Davines has woven sustainability into their brand ethics as they've pioneered what is known as the "farm-to-shower" movement. Each new chapter in their story is more inspiring than the last—and what's the latest? The launch of their new Essential Haircare Shampoo Bar, a more sustainable version of the liquid Essential Haircare line (a long time mbg-fave).
The moral of this sustainable story: carbon net-zero.
Davines is reputed for their incredibly high-quality products, like their iconic Essential Haircare, but also for their many eco-friendly initiatives. And it all started with what Davines refers to as "The Awakening." In 2006, they began monitoring and offsetting the carbon emissions that came from the production of the Essential Haircare line. They also started using electricity from renewable sources in Parma, Italy.
The next decade of Davines' sustainable journey continued to address emissions related to packaging their products. And what was the goal? To become a carbon-neutral company: removing the same amount of carbon dioxide they were emitting into the atmosphere. As of 2018—Davines succeeded, offsetting 100% of the CO2 emissions from their packaging, production plant, and worldwide offices.
Shop this story:
But of course, their carbon initiatives do not end there—because a pioneering spirit always strives to push the needle. In 2019, Davines pledged to be Net Zero by 2030. To be Net Zero, Davines has to measure, monitor, and neutralize all carbon emissions related to their products, down to the level of hairdressers and consumers like us. Not an easy feat, but as Davide Bollati, president of Davines Group, says, "We have only 10 years left to apply concrete measures for a regenerative paradigm: If we wait too long, the damage caused by men—starting with climate change—will be irreversible."
Advertisement
This ad is displayed using third party content and we do not control its accessibility features.
The plotline of their products.
Alongside their carbon initiatives, every Davines product has its own sustainable sub-story, and the Essential Haircare formula should be bookmarked for innovation in clean beauty. Since 2015, the formula has incorporated active, endangered ingredients from Slow Food Presidia farms in Italy. Davines has thus created a demand for these unique ingredients, which might otherwise go extinct. In short: The Essential Haircare line doesn't just provide a glorious shower experience—it protects biodiversity and Slow Food, too.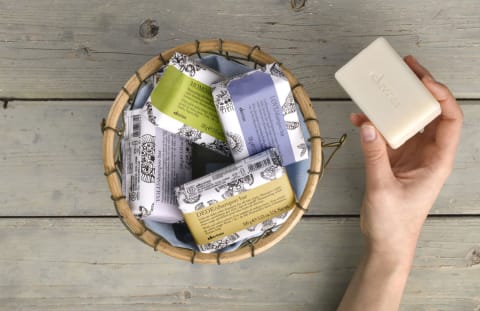 Image by Davines / mbg Contributor
Advertisement
This ad is displayed using third party content and we do not control its accessibility features.
But the ongoing theme with Davines is, "We still aren't there yet." It's that steadfast devotion to sustainability once again that led to the introduction of MOMO, DEDE, LOVE, and VOLU Essential Haircare Shampoo Bars—a plastic-free, low-impact, CO2 neutral spin on their classic line that's custom for every hair type. At the very least, it simply feels good to have one less plastic bottle in the shower. But the benefits go on...
One shampoo bar provides up to 60% more washes (up to 40) compared to the classic liquid line. And each bar still incorporates those farm-to-shower ingredients. The moisturizing MOMO bar, for example, includes Yellow Paceco Cartucciaru melon extract from the farm of Francesca Simonte from Dattilo, Trapani. We don't know about you, but it's darn refreshing to know the name and place of who and where our products came from.
Together we can do so much.
When it comes to sustainability, Davines is in it for the long haul—and that's why their journey is exemplary. Their mission is not limited to a single project—it's woven into every aspect of their growth as a company, a fundamental part of which has included partnerships with other socio-environmental progressive organizations. In 2016, Davines became a certified B Corp and in 2019 became a certified B Corporation, meeting a set of standards that balance purpose and profit.
In terms of profit, they've partnered with 1% For The Planet, donating 1% of every online purchase to a charity (giving us a way to also contribute). Davines continues to celebrate community-supported agriculture (CSA) through their Beauty From The Ground Up Program, which helps us support the local farmers who grow our food. As the famous quote goes, "Alone we can do so little; together we can do so much."
Shop this story:
The bottom line.
From the corporate to the individual level, sustainability is not a box we check on a larger to-do list. Sustainability is an ever-evolving story. And when it comes to beauty—where the products and brands we choose directly affect our body and health—this is a story we want to look for. The new Essential Haircare Shampoo Bar is one simple, empowered choice but a symbol of something far greater. Davines sets the (shampoo) bar high, supporting our individual well-being and the planet as a whole, embracing the age-old wisdom that we cannot separate the two.
Advertisement
This ad is displayed using third party content and we do not control its accessibility features.
Devon Barrow
Branded Content Editor
Devon Barrow is a Branded Content Editor at mindbodygreen. She received her degree from the University of Colorado. When she's away from her desk, Devon is teaching yoga, writing poetry, meditating, and traveling the world. She's based in Boulder, Colorado.
Devon's first book, Earth Women, is coming soon. To learn more, join the mailing list, and receive updates, head to www.devonbarrowwriting.com.