paid content
 for

The Full Circle Connection Between Beauty & Agriculture — And Why It Matters More Now Than Ever Before
Senior Branded Content Editor
By Krista Soriano
Senior Branded Content Editor
Krista Soriano is the Senior Branded Content Editor at mindbodygreen.
Image by Loren Hansen / mbg Contributor
October 7, 2020
Where were you the first time you learned about community-supported agriculture, aka CSA? A farmers market? Or online, researching the future of our food system? Chances are, you weren't getting your hair shampooed. Although, that's actually not such a far-fetched idea.
Inside Triple Crown Salon, a studio in the Clinton Hill neighborhood of Brooklyn, sustainable agriculture is a growing topic of conversation between stylists and their clients—and that's by design. We spoke to owner and longtime CSA member Natasha Speth, back in early March, right before the pandemic, climate disasters, and political upheaval of this year had really taken a hold, and even then she said, "I think going back to the root of all things is really important...we need to think about the whole picture. When I opened my own salon, I wanted to carry products that don't just perform on a professional level but also align with my personal belief systems around sustainability and wellness. Davines was the clear-cut choice."
Image by Davines / mbg Contributor
From the ground up and beyond "farm to bottle."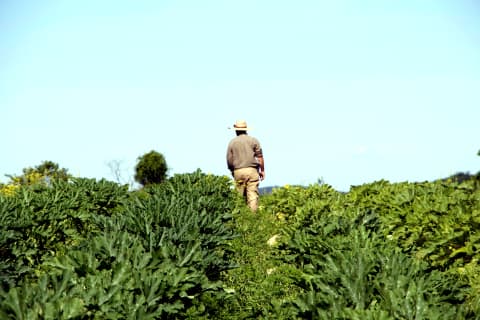 Image by Davines / mbg Contributor
To say the concept of clean, sustainable beauty has taken center stage within the past five years would be an understatement—it's the industry's headliner. Globally, the organic personal care market alone is projected to spill over $25 billion by 2025. But for a purpose-driven company like Davines—an Italian brand of premium hair care products—the holy grail of seeing a short, naturally derived ingredients list on your shampoo bottle can't be where it ends.
"It is so important to take care of ourselves as well as the environment," said Speth, reflecting recently on the past year of turmoil. "When we look at the storms devastating the South and the fires ravaging the West, it is hard to ignore the result of climate change. It only exemplifies the fact that we have to do more. We have to think about where our products come from."
As a certified B Corp and a 1% for the Planet partner, Davines is paying it forward by circling back to where it all starts and blurring the lines between beauty and agriculture. In doing so, they are showing how beneficially interdependent these two worlds can be for our communities and the environment.
"Almost everything in our modern lives has agriculture to thank—personal care, textiles, furniture, food," says Megan Larmer, a director at Glynwood Center for Regional Food and Farming in Cold Spring, New York. The demand for clean, natural products has skyrocketed, but it's not as simple as knowing that something is farm-grown. With modern industrial agriculture, we consumers have little information about where exactly our food comes from, how it was grown, or who grew it. It will take top-down change to totally repair. But in the meantime, we have more avenues than ever to help build a better agricultural future, thanks to efforts like Davines North America's Beauty, From the Ground Up initiative.
The program is a natural opportunity for a beauty brand to join forces with agriculture's grassroots, yet quickly growing CSA movement to reshape the food system into one that implements responsible farming practices, works together to value everyone from the farmer to the consumer, and rebuilds the connections between people and their products. To do it, Davines has teamed up with prominent CSA coalitions (think networks of CSA farmers and support staff) across the U.S., working with leaders like Larmer to spread awareness about the power and value of local food systems and directly support those closest to it, including many of you reading this article.
An inclusive movement that's not just for the few but for everyone.
In a rapidly evolving landscape, and with 2020 presenting higher stakes than ever before, we're recognizing that a return to our roots must encompass sustainable support for the laborers out in the fields and across the supply chain—and, of course, the upcoming generation of farmers. Sonya and Alex Perrotti, who started Coyote Family Farm in Penngrove, California, in 2014, are just one example.
Image by Loren Hansen / mbg Contributor
"Our first year, we didn't even ask for upfront payment from anybody," Sonya tells us—their first son was born the same week that their first farm share deliveries dropped! "We just wanted to start using CSA as a model to grow organically as a very small farm."
Besides the challenge of nurturing the health of their land's soil for the health of their harvest, farm life involves "making choices that allow us to be financially sustainable. When I came into farming," Perrotti shared earlier this year, "I was more interested in doing the 'right thing'—making our farm harmonious with nature and feeding our community. But if we can't pay our bills, the people who are working on the farm with us, or ourselves, then that's not sustainable."
After the last six months of uncertainty, Perrotti has learned that doing "the right thing" and making a living are inseparable. "It wouldn't be my business if it didn't have my values embedded in it. Not so that I can advertise the farm's values but so that I am living my life in alignment," she told us in September.
Over on the East Coast, Larmer described the steep challenges facing local farmers: "Most of the small farmers in the Hudson Valley can't afford to own their own land, are working at or below the poverty line, 80 or more hours a week during the height of the season, and all that is really alienating."
That was back in March. Since then, thankfully, the demand for CSA has increased dramatically. According to Larmer, "While farmers are missing the opportunity to connect in person with customers and each other, CSA farmers in particular have actually seen unprecedented demand for CSA, and many are operating larger programs or running wait-lists for the first time. This incredible support is keeping them all afloat during these challenging times."
Carrie Sedlak, director of the FairShare CSA Coalition in Madison, Wisconsin, agrees, sharing "The COVID-19 crisis has quickly brought the 'returning to our roots' theme to bear. Consumers have flocked to CSA as their source for safe, reliable, and nutritious food, and CSA sales are stronger than ever. We have only unofficial data as we don't survey our farmers until the end of the year," she shares. "That being said, based on ongoing communications with our farmers, we believe that all (or at least 90%) of our farms sold out this year...or in some cases, sold even more than the number of shares they were originally intending to provide in 2020. Compare this to roughly 60% of our farms selling out in recent years."
When consumers become citizens of the world: "It's not just about a purchase."
"The Davines partnership is a tangible example of a large, for-profit company taking the concept of social and environmental responsibility very seriously," says Sedlak on the Beauty, From the Ground Up initiative. "Davines thinks critically about where and how their ingredients are sourced. They understand the challenges that sustainable small-scale producers face, and they put their ideas, energy, creativity, and financial backing into building and supporting an agricultural landscape where farmers are paid a fair price and where consumers are truly connected to where and how their food is grown."
Could such a landscape become our reality? In a year of upheaval, the silver lining is that reality may have, in fact, been fast-tracked. Sedlak said, "As larger food and manufacturing chains have broken down at different junctures and left certain products hard or impossible to find, CSA has thrived. CSA consumers have a direct and reliable connection with their farmer."
That's the beautiful, meaningful thing about CSA. At Coyote Family Farm, Perrotti tells us that it's the "directness of the relationships" that's so beneficial on both sides. "I don't meet all of our customers, but even over email I get to hear directly what they enjoy and what excites them. Having that relationship and seeing people come back is really motivating for us."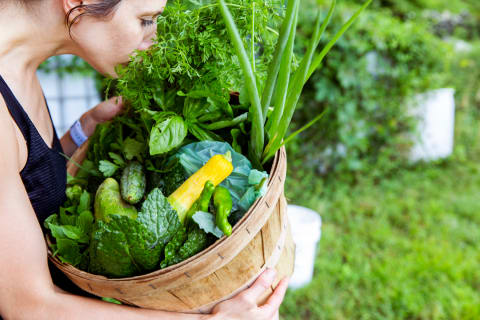 Image by Eva Deitch / mbg Contributor
Larmer explains it this way: "When you go into a direct relationship with the farmer where you're investing in their harvest for the season and sharing the bounty of that harvest with them, there's much more than an economic transaction taking place. It's not just about a purchase. I do think it's these on-the-ground, grassroots relationships that arise through commerce that will make more lasting and stronger change up the line in our economy at the macro level."
"The pandemic has highlighted many of the injustices and weaknesses in our society at large, and the food system is no exception." Larmer shared, "It is now clearer to people than ever that the most resilient and reliable food system is one that is built on hyperlocal relationships and connections that do not rely on consolidated, elongated supply chains."
Coming full circle. 
Earlier this year, the staff at Triple Crown Salon participated in Davines' Beauty, From the Ground Up campaign to spread the word and get their clients excited and involved, too. "This is something we naturally want to talk about," said Speth. "There's no other beauty brand out there that's doing what Davines is doing on the scale that they're doing it, and we really wanted to be a part of that. We love that funds raised here in our salon in New York City are helping out CSAs around the country."
During the campaign period, Speth says that almost all of Triple Crown's clients offered a donation after talking with her staff about sustainable farming. "A lot of people don't know about Davines as a company—many don't even know that there's such a thing as sustainable beauty products or anything like that," she says, "until they're sitting in my chair and they say, 'Oh, this smells so good, what is it?'"

Krista Soriano
Senior Branded Content Editor
Krista Soriano is the Senior Branded Content Editor at mindbodygreen. She holds a B.A. in journalism with a minor in communications from Messiah College, graduating summa cum laude. She has written and edited lifestyle content for over 15 magazines and websites, including ELLE, Esquire, Good Housekeeping, Cosmopolitan, Marie Claire, Women's Health, Men's Health, Runner's World, and DuJour. At mbg, Soriano helps our partners—which include non-profits and Fortune 500 companies—tell their stories, covering everything from the future of regenerative agriculture, ethical banking, and the endocannabinoid system. She lives in New York.