Close Banner
Advertisement
This ad is displayed using third party content and we do not control its accessibility features.
paid content
 for

We're Still In Awe Of These 7 Thought-Provoking Quotes From Our Women's Health Event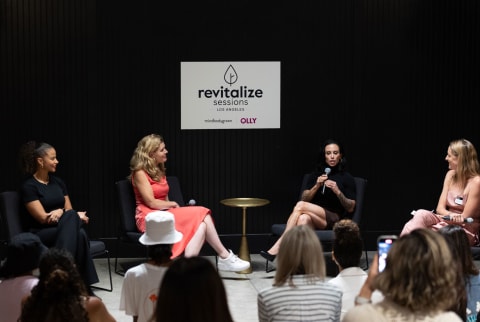 Image by Emmanuel Akinnitire / Contributor
"It's wildly magical that we all landed here," said meditation teacher Meg Monahan as she kicked off our most recent Revitalize Sessions event in Los Angeles. And she was right—there was something special about that evening, and everyone in the room could feel it.
In partnership with OLLY, we created these Revitalize Sessions to take a down-to-earth look at what it means for women to prioritize well-being throughout all seasons of life. For a few cozy hours, on a beautiful September night, health and wellness leaders found their paths merged in one place. And after some much-needed connection, we took our seats for the anticipated women's health panel with mindbodygreen's co-CEO Colleen Wachob; Gabrielle Lyon, D.O.; OLLY CEO Hanneke Willenborg; and Denise Vasi.
When four inspirational women come together to talk strength training, nutrition, personal growth, sexual health, and beyond, you're going to get a lot of quotes to save for later. Here were the ones that lit a fire in us:
"I really love the idea of synchronicity. Meaningful coincidences. I want to put out there for all of you that tonight could change your life. Something could change the trajectory of our life or our health or how we feel in our heart." —Meg Monahan
Meditation teacher Meg Monahan opened our evening with deep presence, reminding us that within every moment lives the potential for our lives to be forever changed. Whether it's learning something new or stumbling upon a chance encounter—it only takes a moment for the narrative of our lives to change course.
"What's really important to me is looking at health holistically. I feel better in my head when I feel better in my body, and I feel better in my body when I feel better in my head." —Hanneke Willenborg, CEO of OLLY
It was a breath of fresh air to hear from Hanneke Willenborg, CEO of OLLY. From how she parents to how she runs a company, her holistic ethos inspires. According to Hanneke, we can't be well when we can't be real. And that's why OLLY products support women's real needs—just take a look at their Happy Hoo-Ha or Lovin' Libido supplements.* OLLY is breaking down stigmas by talking about women's sexual well-being and vaginal health out loud… And we're listening.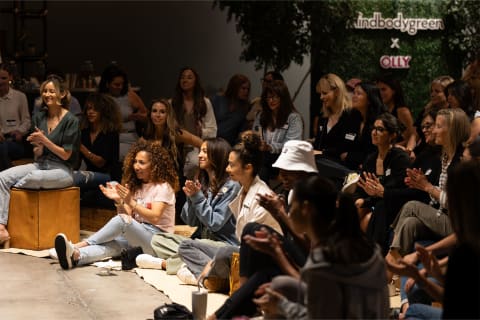 Image by Emmanuel Akinnitire / Contributor
"Breathing tools can be so much more effective when you've taken a moment to allow your vagus nerve to receive that breathwork practice." —Gwen Dittmar
By now we all know the transformative power of breathwork—which was why we brought in Gwen Dittmar to guide our attendees through some breathing. But she also gave us a tip for taking our breathwork to the next level: by priming the vagus nerve first. And how? Bring your pointer finger to the back of your ear, and your middle finger to your tragus (the knob of cartilage at the opening of your ear) and rub in circles. If you're feeling calm and a little sleepy, it's working.
"Muscle is everything… My advice to you would be to start to build that bank [of muscle]. It's an outcome you're looking for. And who you have to become to get that result—the discipline, the resilience, the habits you have to develop—will move you forward through your whole life." — Gabrielle Lyon, D.O.
Building muscle isn't just about being physically strong, although (as functional medicine expert Gabrielle Lyon, D.O., shared) that certainly comes with its advantages. The journey of making deposits into our "muscle bank," so to speak, also cultivates an invaluable sense of adaptation and resilience. Strength training has always been perceived as masculine, but Gabrielle is paving a new road, and the women at our event were on board.
"If you schedule your time with yourself, you will get time with yourself." —Denise Vasi
According to Denise Vasi, founder of Maed, she's something of a poster child for getting all the things done—from working out to motherhood to running a business. And her secret is simple but powerful: scheduling. She spends 30 minutes at the beginning and end of each day identifying her top priorities. Another simple tip? She puts her phone on focus, reminding us that it's not normal to be fielding texts and calls all day.
"I don't think anyone here should set goals. I think that you should all set standards. Standards for yourself, how you show up, and how you execute. A goal is nebulous, a standard is something you will always become." —Gabrielle Lyon, D.O.
"I look at a growth mindset maybe slightly differently. I ask myself at the end of the day—did I laugh, did I learn something new, and did I help somebody?" —Hanneke Willenborg, CEO of OLLY
There are a lot of ways to invoke a growth mindset, but Hanneke's three questions beckon authenticity. After all—what is growth if we aren't laughing, learning, and living in service of one another? Not only does Hanneke guide her own family with these questions, "It's how I lead at OLLY," she said. "Let's laugh, let's learn something new, and let's help each other… Because that creates the atmosphere of true innovation, creativity, and boldness."
*These statements have not been evaluated by the Food and Drug Administration. This product is not intended to diagnose, treat, cure, or prevent any disease.
More On This Topic
more Health
Advertisement
This ad is displayed using third party content and we do not control its accessibility features.
Advertisement
This ad is displayed using third party content and we do not control its accessibility features.