3 Wellness & Beauty Tips From A Holistic Esthetician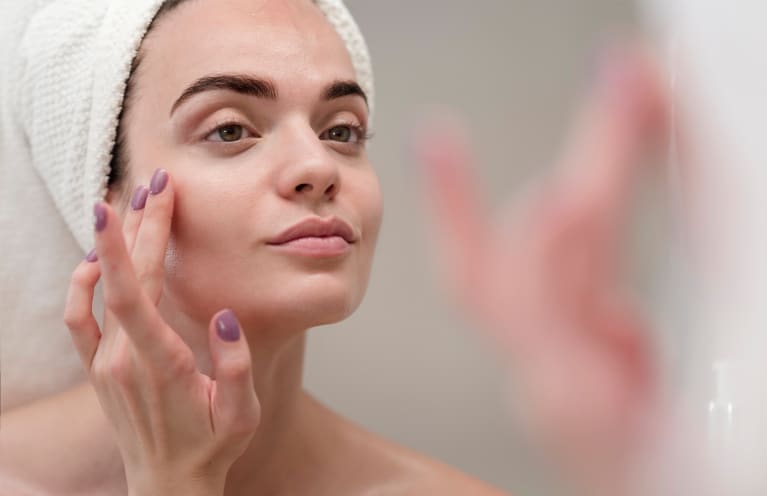 This article was produced to support the mindbodygreen supplements+ line. Our supplements adhere to the highest standards of ingredients and quality. We hope you enjoy these products, for more information
click here
.
Holistic esthetician Britta Plug has amassed a following for a gentle, thoughtful, and sensitive approach to skin care. If you check out her social channels, she's regularly talking about caring for your skin with love, doing techniques with intention, and not taking yourself to task if you can't do it perfectly.
And in this episode of Clean Beauty School, she brings that tender flare (and even kinder voice) to your ears. The episode is mainly centered on the lymph system, and how you can care for it via your skin care rituals, but we also talk about her habits. "I've always been interested in how you approach your health affects your beauty but also how you treat your face affects the entire body," she says.
Here, three things she does daily—or almost every day.
Much of Plug's practice is focused around the lymphatic system, not just because she's aware of how much it can help the appearance of the skin and face—but because of her own health journey. "There are so many things that can contribute to lymphatic stagnation or inflammation in the body, from muscle tension to our nervous system and stress," she says. "With myself, I have a chronic illness and autoimmune disease, so I am always working on my lymph flow."
How she does this changes depending on her daily schedule, but she says she loves facial cupping, gua sha, or massage. And if she needs to just do something quick? She does a quick two-point ritual: One just above the collarbone and one below the ear, behind the jawline. These happen to be two of the body's major lymph centers.
"If you can feel right above your collarbone, there's that beautiful little dip out toward the head of the shoulders. Place all your fingers in that nice dip, and you are going to hit the spot. With a light touch, simply start massaging in small outward circles," she says. "Then move up the neck behind the angle of the jaw. Massage that area for a great lymph flow."
As a holistic practitioner, she often looks to lifestyle to address her skin concerns, too. Lately, Plug has been following The Bean Protocol. "It's played a big role in my personal healing journey," she says, noting especially for hormonal acne.
"The bile in the liver excretes excess hormones, which go into the digestive tract where ideally we have plenty of soluble fiber—like beans, psyllium husk, steel-cut oats—that binds with this," she explains about the eating plan. "These absorb the excess hormones, then eliminate them from the body. If we don't have enough soluble fiber in the digestive tract, we actually reabsorb them in the body."
We're always fans of a less-is-more skin care philosophy. And we think just about anyone could follow her a.m. ritual. "I do a little rinse with water. If I'm feeling inspired, I might actually cleanse, but mostly just water is fine," she says. "Then I spritz on a tonic and apply an oil." Done! If you're in the market for a toner or face oil, her brand Wildling's makes sophisticated options. Or check out some of our other toner and oil recommendations.