Escape To The Hudson Valley For Luscious Landscapes, Bespoke Design & Farm-To-Table Dining

Editorial Operations Manager
By Emily Kelleher
Editorial Operations Manager
Emily Kelleher is the editorial operations manager at mindbodygreen. Her work has appeared in Shape, Well + Good, Greatist, Romper, Fatherly, and more.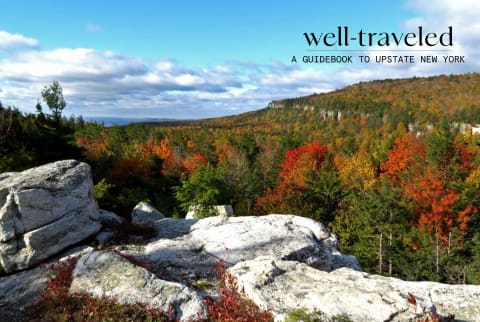 August 23, 2023
We carefully vet all products and services featured on mindbodygreen using our
commerce guidelines.
Our selections are never influenced by the commissions earned from our links.
Travel can restore your well-being. We're here to help you on that journey with
Well-Traveled
, a go-to destination for travel recommendations and tips.
For as long as New York City has been a bustling metropolis, New Yorkers have been looking for places to escape to. The Hudson Valley, with its proximity, natural beauty, and decidedly unrushed pace of life, is a long-standing favorite. The region, which spans 150 miles from Westchester to Albany, has always had breathtaking fall foliage and plentiful hiking trails. In more recent years, it's emerged as a hot spot for design and a leader in the farm-to-table food movement. Antiques and artisan goods abound, while restaurants take advantage of the region's abundant farms, offering seasonal menus shaped by local ingredients.
Whether you're there to scale mountains, hang out in microbreweries and bookstores, or shop for bespoke furniture, the Hudson Valley has something for everyone.

Wildflower Farms, Auberge Resorts Collection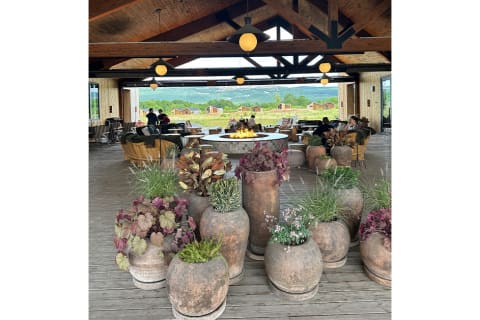 Just 90 minutes outside of Manhattan, Wildflower Farms, the newest property in the Auberge Resorts Collection, may as well be in another world for all the serenity and seclusion it offers. Guests are introduced to the beauty of the surrounding area via the open-air lobby, which perfectly frames the stunning Shawnagunk Ridge on the horizon.
Free-standing cabins are scattered throughout the 140-acre property, which is integrated so carefully into the landscape that you feel entirely at one with nature, even as a nightly turndown service reminds you that you're far from camping. The property is selectively mowed, so even the walk from the lobby to the rooms, down a path winding through a field of wildflowers and knee-high grasses, feels immersive. Walking trails peek out from beside cabins, inviting guests to explore the area further.
Those who prefer their exercise indoors can visit the fully outfitted gym or participate in one daily complimentary yoga, Pilates, and breathwork class. At the namesake farm, guests can sample sweet and spicy radishes and collect eggs for their omelets. Other activities are abundant: take a guided forest immersion walk, try your hand at making a mandala from foraged fauna, or pick produce on the farm for a private cooking class with the executive chef. Indoor and outdoor pools, a botany-inspired spa, and seasonally inspired restaurant are the cherries on top.
Price point: $$$$
Area: Gardiner, NY
Amenities: Spa, indoor and outdoor pools, fitness center, fitness classes, restaurant, access to hiking trails, kids club
Editors Note:
Wildflower is a
Fine Hotels + Resorts
property, meaning Amex platinum card holders can enjoy extra perks during their stay (think room upgrades, complimentary breakfast, a $100 property credit, and early check-in & late checkout.)
The Maker Hotel
This boutique hotel is all style—dark woods, leather sofas, antique light fixtures, and built-in bookcases abound. Located on Hudson's main drag, Warren Street, it's the perfect jumping-off point for window shopping or a trip to the farmers market down the road.
It features only 11 rooms, designed with painstaking attention to detail. Each of the four suites is an architectural and design marvel revolving around a central theme—a 1940s architect's studio, a late 19th-century garden pavilion, a bohemian artist's hideaway, and a writer's room complete with a curated library. The lobby is tucked away in an all-day cafe, while brunch and dinner are served in the glass conservatory (weekends only).
Plus, they have one of the best drink spots in town—more on that later.
Mohonk Mountain House
Founded in 1869, this upstate institution remains a go-to for families seeking an adventure-filled getaway. Far more than a place to sleep, Mohonk offers families a summer-camp-like experience with their all-inclusive programming. There's hardly an activity you can't do on the property, which features lake access, a golf course, hiking trails, an indoor pool, and horse stables to boot. Complimentary activities include rock climbing, guided hikes, kayaking, paddle boarding, canoeing, plus ice skating, snow tubing, and snowshoeing in the winter. Each stay also includes three meals a day, plus tea time. Once you've tired yourself out in the great outdoors, unwind at the full-service spa. Did I mention it's set in a Victorian castle? Rooms are decorated accordingly: elegant and old-timey.
Price point: $$$$
Area: New Paltz, NY
Amenities: 3 meals daily, indoor pool, spa, lake access, golf, on-site hiking trails, a host of seasonal sports and outdoor activities, evening entertainment, babysitting services, horseback riding
Book now: https://www.mohonk.com/
A Note on Traveling for Good
While comfortable beds and a convenient location may be top of mind, more and more travelers are seeking out hotels that put sustainability and social impact first. Luckily, Amex makes it easy to find hotels that do good with their Stay With Purpose initiative, a directory of properties that prioritize conservation and community building. Across the United States, Europe, and even Japan, stay-with-purpose hotels are investing in biodiversity initiatives, educating guests about local history, and offering opportunities to contribute to conservation efforts. All hotels are part of Amex's broader fine hotels and resorts collection, a curated selection of high-end hotels where Amex platinum cardholders enjoy extra perks like late checkout, room upgrades, and extra loyalty points.

1.
Hike around the Minnewaska State Park preserve
Located on the Shawangunk Mountain ridge, Minnewaska State Park is home to three lakes, dozens of waterfalls, and 50 miles of hiking trails through hardwood forests and mountainous terrain. Hike, bike, swim, or even camp among the sweeping vistas. For a beginner option, try the Lake Minnewaska Loop Trail, which offers dramatic cliff views and beach access. Sam's Point Road Loop is a bit of a longer trek that ends at a dramatic rock ledge with panoramic views of the surrounding area. More advanced hikers can opt for the popular Gertrude's Nose trail, which winds through a range of terrain and ends at a dramatic nose-shaped cliff.
2.
Window shop on Warren Street
Serious shoppers could spend an entire day sifting through the antiques and artisan goods that line Hudson's main street (been there), but even non-shoppers will enjoy moseying down Warren, where window shopping is practically a sport and great coffee and cocktails are never more than a block away. A few favorites:
3.
Get a drink at the Maker lounge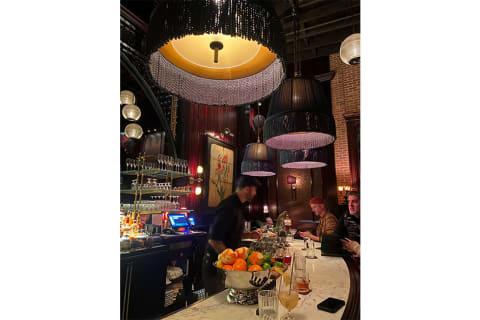 This decadently decorated hideout serves craft cocktails and small plates inside a converted 19th-century carriage house. An understated entrance gives way to a room rich with dark wood, deep velvet armchairs, leather-lined walls, and roaring fireplaces. The cocktail list is similarly styled, featuring ingredients like wild thyme liqueur, heirloom crème de flora, pink peppercorn, and palo santo.
4.
Visit Wallkill View Farm & Market
Owned by the family of one of mindbodygreen's own, this third-generation farm has everything you could want in each season: flowers and gardening supplies in the spring; corn, tomatoes, and strawberries in the summer; pumpkin picking and corn mazes in the fall; and wreaths and poinsettias come winter. The bakery and specialty food store are a bonus. Don't miss the apple cider doughnuts.
5.
Wander around the Kingston farmers market
The largest of its kind in the area, Kingston's farmers market operates year-round. It features more than 70 vendors spanning produce, meat, cheese, bread, alcohol, and artisan products, many of which have justice-minded missions related to food sovereignty, animal welfare, regenerative farming, and education. Live music is a plus.
6.
Visit the Storm King Art Center
At this 500-acre outdoor museum, the natural landscape is as much a piece of artwork as the large-scale sculptures. The rolling hills, meadows, and wetlands that make up the property were carefully designed by the late landscape architect William A. Rutherford. Installations are largely site-specific, made to frame the surrounding vistas so that they become part of the piece rather than just background. Walking and tram tours are available daily.
7.
Sample local wine & spirits
New York may not be known for its winery culture, but fertile farmland gives way to fruitful vineyards nonetheless. In fact, it's here where America's oldest continuously operating winery, Brotherhood Winery, opened in 1839. The Shawangunk Wine Trail offers a directory of wineries, cideries, and distilleries. Sip cider while taking in views of the Shawagunk Ridge at Angry Orchard, learn about the history of winemaking at Brotherhood Winery, or catch a concert at City Winery's Hudson Valley outpost.
Feast & Floret
Feast & Floret serves cozy, modern Italian food inside yet another former carriage house and blacksmith shop. Tables are scattered throughout a maze of rooms with roaring fireplaces and local dried flowers cascading about the walls. A garden out front allows diners to eat under the seclusion of twinkle-light-illuminated foliage. But ambience aside, vegetable-forward Italian fare stands on its own.
Many (if not most) ingredients are sourced from local farms, bakers, and cheesemongers. Homemade pasta and classic mains (with a modern touch) like chicken Milanese are go-to's, while a selection of inspired vegetable dishes (wood-fired radishes, delicata squash with mint & harissa) make a case for shared plates. Don't miss the grilled flatbread.
Silvia
This family-owned restaurant offers up sophisticated food made with a farm-to-table ethos. Ingredients are not only locally sourced when possible but sustainably grown, largely organic, and entirely GMO- and additive-free. The open kitchen with its signature wood-fired grill turns out entrees ranging from a braised spring vegetable plate to smoked duck breast. An inspired cocktail menu is just the cherry on top.
The Culinary Institute Of America
The Hudson Valley is home to the Culinary Institute of America, where aspiring chefs cut their teeth. Visitors can reap the benefits at one of three CIA student-run restaurants, where fine dining comes at a fraction of the price. American Bounty serves modern American food based on seasonal and local ingredients. The Bocuse Restaurant serves contemporary and innovative French food inspired by Paul Bocuse, the so-called father of modern French cooking. Ristorante Caterina de' Medici serves regional Italian in a Tuscan-style villa overlooking the Hudson River.
Blue Hill at Stone Barns
The concept of farm-to-table dining reaches its peak at Blue Hill, the restaurant at Stone Barns Center for Food & Agriculture, a nonprofit farm, education, and research center dedicated to ecological innovation. The 20- to 40-course tasting is served throughout the grounds—a meal that starts at a table may later move to the herb garden, kitchen, or even the manure shed. This serves to break up the 5- to 6-hour seating and allows guests to learn about the property's unique farming practices, like specialized wheat strains grown for the bakery. The menu is always evolving and tailored to a given guest's interests but leans vegetable forward. Past offerings include fennel sausage with pickled fern fronds, cantaloupe tears, and marinated tomatoes with burrata ice cream.
Price point: $$$$ ($348-$398 without drinks)
Area: Pocantico Hills
Dietary considerations: tasting menu, can be adjusted with advance notice
Setting: Formal
Menu & info: https://www.bluehillfarm.com/faq

French Garden Clogs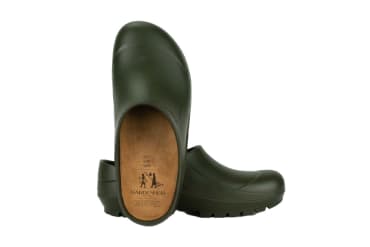 Pros
Waterproof
Reasonable price point
I spotted these on several well dressed women at Wildflower Farms and have nurtured a growing appreciation for clogs ever since. Made in France of 100% recyclable plastic, these slip-on shoes will keep your feet dry as you wander a garden or forage for dinner.
Picnic Blanket Tote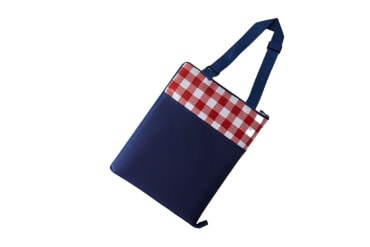 Picnicking has never been easier than with this washable, waterproof checked picnic blanket that folds up into a tote bag. Pack it with your favorite local goodies and sling it over your shoulder on the way out, and then shake it out at your destination and watch it transform into seating space for all.
Advertisement
This ad is displayed using third party content and we do not control its accessibility features.
Levi's Overalls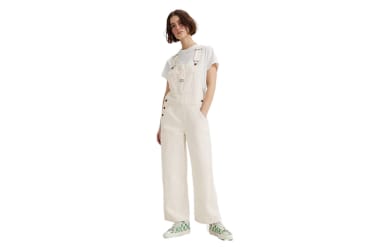 Pros
Comfortable
Suit a range of weather conditions
The vibe of the Hudson Valley is farmer chic, and no item of clothing represents that better than overalls. They're incredibly versatile, and therefore the perfect thing to pack on vacation. They're seasonally appropriate from April-November and can take you from the farmers market to the fields.

Along the Hudson River, in the shadow of the Catskill Mountains, the Hudson Valley is rich with rolling hills, gleaming lakes, and fields of wildflowers. Conditions that long ago established the region as a farming hub make it a modern destination for hiking, camping, and farm-to-fork dining. An artisan sensibility pervades the place—you'll find great antiques shopping and plenty of handmade goods, plus custom furniture and vintage clothes. Whether you're here to try an extreme sport or just find some peace and quiet, a trip to the Hudson Valley is always a restorative one.
Meet The Experts
Emily Kelleher
is the editorial operations manager at mindbodygreen. Her work has appeared in Shape, Well + Good, Greatist, Romper, Fatherly, and more.