Weekly Horoscope: Here's What's In Store For The First Week Of 2019
mbg Contributors
By The AstroTwins
mbg Contributors
Ophira and Tali Edut, known as the AstroTwins, are professional astrologers based out of New York and Seattle. Their work has been featured in The New York Times, Elle Magazine, Vogue and Good Morning America and they are the authors AstroStyle, Love Zodiac, Shoestrology, and Momstrology.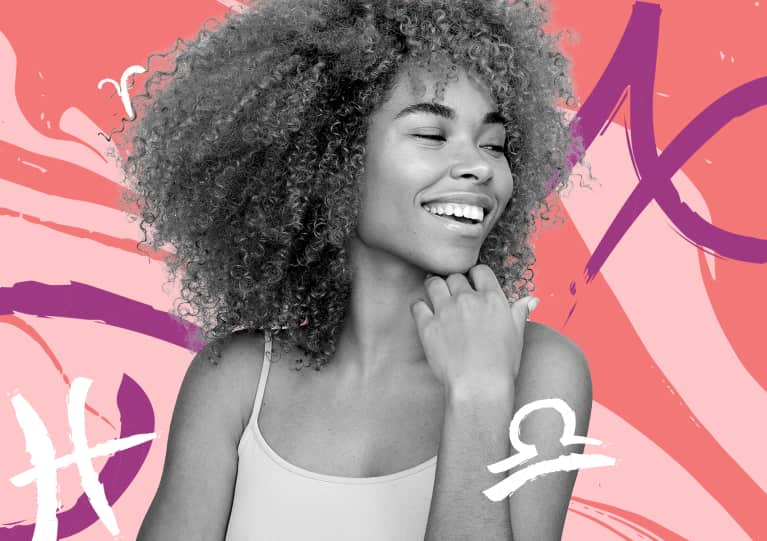 This week's horoscope from the AstroTwins explains why you should be finishing out the year getting really reflective and spending your New Year's Day cozying up to a divination deck.
On Monday, the moon and Mars will conspire to make us extra sentimental—until 9:20 EDT.
New Year's Eve is off to a dreamy and sentimental start, so break out the tissues this Monday, December 31. Reminiscing about the events of 2018 could arouse strong emotions, from sadness to warm-fuzzy sentimentality. We can thank the Scorpio moon for this soul-deep influence, and also provocateur Mars, who's rounding out his final few hours in touchy-feely Pisces.
But get all the nostalgic stuff out of the way before 9:20 p.m. EDT! That's when Mars turns into a celestial sparkplug, rocketing out of Pisces' underground well and into his home sign of Aries until February 14. Talk about starting the new year off with a serious fireworks display! The final hours of 2018 could be as colorful as the ROYGBIV rainbow (with a few neon splashes thrown in just 'cause). And get ready for some serious momentum for those Q1 goals! As the clock strikes 12, celebrate your individuality and independent spirit. Then, think about how you can bring your most powerful personal strengths to the community as you enter the "come together" vibes of a Universal "3" Year in numerology! (2+0+1+9=12, 1+2=3).
On Tuesday, Scorpio vibes will invite us to get a little spiritual.
New Year's Day could be outright alchemical thanks to a rare conjunction between the moon and Venus—both in Scorpio. Still figuring out your resolutions? This dynamic duet brings penetrating insights, extreme willpower, and the energy to act upon our deepest convictions. With both planets in esoteric Scorpio, the magic might best be mined by going deeper into the hidden realms.
Pick a meaningful book and open to a 'random' page. Read the words as if they were a special message written just for you.
How about this for an NYD ritual? Gather with one or two of your closest (and, ideally, witchy or "woo-woo") confidantes. Draw a card from a divination deck and reflect aloud about its meaning. What does the symbol say about something you're leaving behind in 2018...or what you might want to manifest in 2019? You might even try a little bibliomancy. Pick a meaningful book and open to a "random" page. Read the words as if they were a special message written just for you.
You might want to wait until Saturday to finalize your resolutions for the year.
If your resolutions aren't crystal clear in the early part of the week, just wait until Saturday, January 6. The inaugural new moon of 2019 lands in goal-obsessed Capricorn—and better yet, it's a turbocharged solar eclipse, the first in this sign since 2011. Like a strong tail wind, this lunar lift will buoy our stalled ambitions into action. Since Capricorn is the sign of structure, this could be the beginning of a powerful planning phase, one that bears fruit by the corresponding lunar (full moon) eclipse on July 16...or 2019's second solar eclipse in Capricorn on December 26. Since eclipses are known for revealing surprises, be open to unexpected plot twists, swift and sudden upgrades, and unconventional solutions that emerge out of thin air.
On Sunday, Uranus goes direct, and it'll remind us to hold dear our values.
There's one more exciting shake-up this week! On Sunday, January 6, revolutionary Uranus wakes up from a five-month retrograde that began in Taurus on August 7, then retreated back into Aries on November 6. With the planet of electricity in snooze mode, some people may have experienced a personal power outage. Now, the current starts crackling again. Let yourself be the "live wire" you were born to be, especially with amped-up Mars buzzing alongside Uranus in Aries until February 14!
High-minded Uranus taps us into our ideals so we can keep the world on the right side of progress. But it can also be a shock jock, rocking the boat for rebellion's sake instead of an actual cause. We've seen plenty of proof of this planet's revolutionary powers since March 11, 2011, when Uranus first entered the Ram's realm. From Occupy Wall Street to Black Lives Matter to the Women's March and #TimesUp and increased awareness around trans rights, voices rose in the name of justice and inclusion. On March 6, 2019, Uranus will exit Aries for good (well, another 80 years), and settle into Taurus until April 25, 2026. Before then, put sharp focus on your beliefs and ideals. As the saying goes, "S/he who stands for nothing falls for everything."
Looking for an in-depth look into what astrology says about your year ahead? Check out the AstroTwins' 2019 Horoscope Guide (Psst...mbg readers get 20 percent off with the code MBG!).