Get Ready, Because The Last Week Of 2018 Will Be A Roller Coaster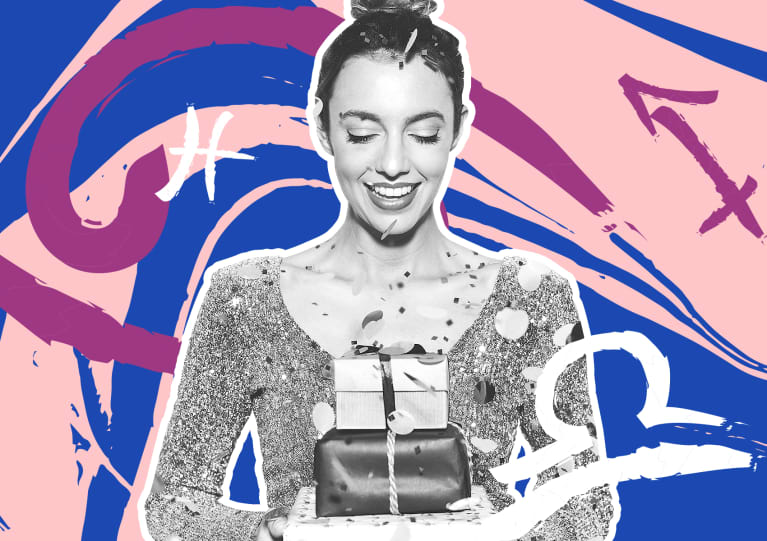 On Monday, Neptune squares Mercury, and it'll speak to our soft, emotional sides.
This Monday, December 24, head-in-the-clouds Neptune muffles logical Mercury's input levels as the two lock into a dynamic square. This compassionate combo could turn events into pure poetry. Raise a touching toast, even if you scrawl it impromptu-style on the back of a cocktail napkin. There won't be a dry eye under the tree. Hearts and hearths will be open, even beyond what would ordinarily be deemed "capacity." On that note, if you don't want to wake up with a vulnerability hangover, know when to cut yourself off…from cups of cheer AND oversharing about personal matters in a crowd of people. Call in some of Mercury's snappy wit to balance out the weepy confessionals. Did you leave gift and grocery shopping to the last minute? If so, this transit won't be quite so friendly. The most important details can slip one's mind when Mercury is at foggy Neptune's mercy. Make a list and check it THRICE, then have someone else look it over for you, just for good measure. If you can't remember whether you promised to bring a pinot noir or pumpkin pie to dinner, don't guess—send a text. You might discover that you were actually assigned to mashed potato duty. Um, oops!
On Tuesday, Jupiter and Leo will conspire to make Christmas extra jolly.
Christmas Day—Tuesday—will find everyone in their jolliest spirits as the moon and jovial Jupiter sync up in festive, flamboyant Leo. Snap plenty of "unboxing" selfies or turn the whole affair into an extended video (whether for YouTube or just your private collection). Even if you stay in PJs all day, break out the "good fleece" or maybe something cut from silk and trimmed with lace. This frisky mashup could bring some hotter-than-expected romantic energy to the day—Santa, baby! It might be hard to stay gathered around the Yuletide ALL day, as restless Jupiter calls revelers out to mingle and play. The one thing to beware of is inflaming any pre-existing dramatic conditions. Let the goodwill keep flowing, and don't take advantage of the "opportunity" to bring up a conflict. Feelings could go from serene to scathing in 0.2 seconds.
On Saturday, a Mars-Chiron merger will make it difficult to set and stick to boundaries.
Saturday arrives with a bizarre cosmic mashup. Energizer Mars and galactic guru Chiron will meet at the same degree of soulful, escapist Pisces just past the stroke of midnight this December 29, which could be delightful AND dodgy at the same time. If you have tickets to a live show or DJ set, the Mars-Chiron merger will be sublime. Lose yourself in a reverie of music and dance, which are both Piscean passions. But go easy on those passed flutes of pre-NYE bubbly because this transit will NOT be helpful with boundary-setting. Mars and Chiron are planets prone to excess, and in "no limits" Pisces, it's best to just say "no" to anything that feels dangerous or too far out of your comfort zone.
For many, Friday could drive up some serious emotions. 2018 has been a year of highs and lows, and the idea of ringing it out at a rager might feel like overload. If so, retreat into nature (especially near water) with friends—that rustic Airbnb by the rushing river might be the perfect place to find your center before you return for the fireworks, champagne, and confetti showers. But then again, staying on holiday through December 31 might by pure restoration. If you live in a city and need the hybrid chill-social vibe, see if any yoga studios are offering a candlelight class or meditation; or, host a vision-boarding party for a group of close friends. Communing soulfully is another great way to release the year—but don't be surprised if a living room dance party erupts when everyone's done collaging.