paid content
 for

We Found The Perfect Coffee Creamer. Here Are 4 Creative Ways To Use It
Image by Picnik / Contributor
July 28, 2021
As human beings, we thrive on rituals. Ever wondered why that is? Science tells us that ritualization is an evolutionary behavior that developed to help us maintain the activities that kept us safe. And while survival is *thankfully* seldom at risk in our modern lives, we still lean upon rituals for a sense of deep comfort and well-being.
But not all rituals are created equal—some matter more than others. We've all heard the wisdom: Win the morning, win the day... Well, we're big believers that solid morning routines are doorways to our best selves (and fun fact: Research even proves they're connected to higher income). And what might a solid routine look like? Meditation, a nutritious breakfast, and a cold shower are all expected—but there's one element you might not guess, and that's coffee creamer.
The coffee creamer routine.
After much experimentation over the years, we've finally found the perfect coffee creamer, and it has become a nonnegotiable part of our morning routine because a swirl of the brand-new Picnik Oat and Collagen Creamer is about more than its creamy vanilla flavor. This sunrise sidekick also has an adaptogenic blend for focus and clarity, MCT oil for an early-bird brain boost, and grass-fed collagen for healthy hair, skin, and nails.
Making the most out of our morning means optimizing every little aspect—and especially the everyday things, like a splash of creamer. Picnik creamers are a better opportunity waiting to happen: Why not load up on nutrients and adaptogens to start the day on top? And surprisingly, we're not just talking about coffee. We're also fans of using Picnik creamers in other recipes, so we can really incorporate the healthy ingredients and benefits into our routine! We'll show you our ways:
Picnik Vanilla Oat Adaptogen Creamer
This dairy-free creamer gives you an extra boost of mental stamina and alertness. It has superstar adaptogens like lion's mane, cordyceps, eleuthero, and ashwagandha, plus functional amino acids like L-tyrosine and L-theanine. On top of all that, it contains grass-fed collagen mixed into a dreamy vanilla oat milk base.
Boost your oatmeal with adaptogens.
We hear "Make it a great day," but how? The answer: nutrients. First, that means a splash of the Picnik Oat and Collagen Creamer in our pour-over coffee (or however you jive with java). Then it's a hearty meal, like oats, to kick-start our metabolism and fuel our body. To upgrade your oatmeal, top it with a generous pour of the Oat and Collagen Creamer. The upgrade comes from the 1,500 mg of adaptogens that you get with each serving of this creamer, including amino acid L-tyrosine for alertness, L-theanine for calm energy, a blend of mushrooms for brain health, eleuthero for immunity, and ashwagandha for stress management.* We've reinvented the breakfast of champions, and this is it.
Image by Nadine Greeff / Stocksy
Use coffee creamer as a milk alternative in your pancakes or waffles.
Next time you whip up some pancake or waffle batter for a classic breakfast spread, swap out the water or milk for coffee creamer. The Picnik Plant-Based Creamer provides nutritious creaminess for better taste and texture. Made from cashew and coconut cream, this creamer adds a serving of MCT Oil to your flapjacks for a little extra satiation (it's also known to boost brain clarity1). And while we love this creamer for our morning favorites, it can really be used as a dairy alternative in any baking recipe that calls for milk or water. Whether it's cookies or cakes, this creamer brings the richness but without the artificial sweeteners. For even more healthy fats in your recipes, swap for the Picnik Keto Creamer instead. With grass-fed butter and MCT oil, it's a natural boost of flavor (and energy).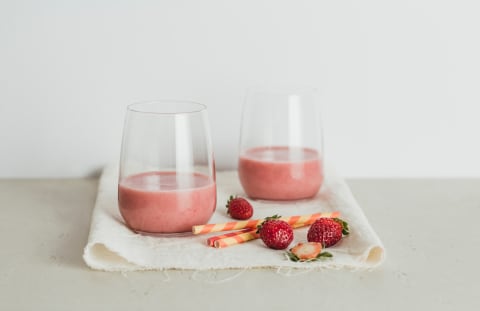 Image by Tatjana Zlatkovic / Stocksy
Give your smoothie creamier consistency.
The key to a perfect smoothie is consistency, and that really comes down to the liquid you choose. Using coffee creamer instead of water or juice makes your smoothie creamier (duh), but the Picnik Vanilla Oat Adaptogen Creamer also provides an effortless adaptogenic boost, plus MCT oil and grass-fed collagen. You could add all those ingredients individually to your smoothie... Or you could use a splash of coffee creamer and get to winning your day. For a more neutral flavor in your smoothies but similar benefits, try the Picnik Collagen Creamer... Its unsweetened coconut cream (plus MCT oil) puts the smooth right in your smoothie. And let us help you with this killer Mango Green Smoothie recipe:
Make your savory recipes richer (and healthier).
If you're catching on: Coffee creamer is surprisingly versatile—even in savory recipes. Next time you whip up eggs for a scramble or omelet, use the Picnik Plant-Based Creamer instead of milk. Because it's unflavored, it simply adds healthy fats and creaminess to your eggs. P.S.: We can't help but share that this creamer is also perfect to make soups taste creamier, without the dairy. For the days you just want to keep it simpler with more plants—this creamer is your flexitarian friend!
The bottom line.
There are a lot of coffee creamers out there... To us, the perfect one inspires our day through amazing taste and abundant nutrition. With its all-star team of adaptogenic and supplementary ingredients, the new Picnik Oat and Collagen Creamer is worth waking up for. And the choices we make in the morning set the tone for how the rest of our day unfolds. To start winning your mornings, craft a ritual that nourishes your mind, body, and spirit—down to the smallest swirls of intentions.
Find your new favorite Picnik product at a local Sprouts, Whole Foods Market, or Kroger! Or snag your next swirl of creamer online at www.picnikshop.com and Amazon.
*These statements have not been evaluated by the Food and Drug Administration. This product is not intended to diagnose, treat, cure, or prevent any disease.
Devon Barrow
Branded Content Editor
Devon Barrow is a Branded Content Editor at mindbodygreen. She received her degree from the University of Colorado. When she's away from her desk, Devon is teaching yoga, writing poetry, meditating, and traveling the world. She's based in Boulder, Colorado.
Devon's first book, Earth Women, is coming soon. To learn more, join the mailing list, and receive updates, head to www.devonbarrowwriting.com.