Just When You Thought You'd Tried Them All: Here's A New Kale Salad To Try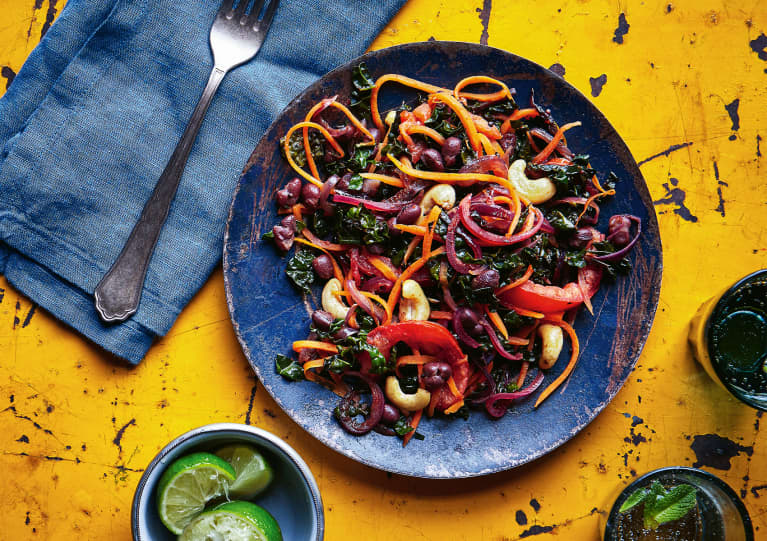 This article was produced to support the mindbodygreen supplements+ line. Our supplements adhere to the highest standards of ingredients and quality. We hope you enjoy these products, for more information
click here
.
We've become old pros at mixing up a perfect kale salad. After all, the dark leafy green is great for digestion, filled with antioxidants, and even has more calcium than milk. It also comes in many varieties, each with its own nuance of flavor and ideal use. At this point, you might not think there's much new to try in the world of kale salads—but let us introduce you to our latest favorite.
This fresh take on our go-to lunch option comes from Chetna Makan's upcoming cookbook: Chetna's 30 Minute Indian. It calls for cavolo nero, a variety of kale from Tuscany that has a slightly tangier flavor than some other varieties. But the real star of this salad isn't the kale—it's the artful blend of ingredients. "All the different textures and flavors from the kale, carrots, beans, and cashew nuts come together really well here with the addition of a little spice," writes Makan in the introduction to the recipe.
The nutrient-dense beans in this salad, adzuki beans, are the perfect balance to finely chopped kale. Also sometimes known as red bean or red mung bean, they're packed with nutrients like fiber and protein and actually also contain nearly 30 types of antioxidants. While the recipe calls for sunflower oil, we recommend opting for an alternative healthy cooking oil, if possible.
Cashew nuts add crunch and a little more protein, and carrots, red onion, and tons of spices make this a super flavorful alternative to a simpler salad. "This is one of those recipes that you can serve warm with rice and dal," Makan writes, "or at room temperature as a salad with some bread, and also as part of a barbecue spread."
Kale, Carrot & Bean Salad (Kale, Gajar, Sem Salad)
2 tablespoons sunflower oil
1 teaspoon black mustard seeds
2 red onions, thinly sliced
7 ounces cavolo nero, finely chopped
2 carrots, cut into matchsticks
¾ teaspoon salt
1 teaspoon chili powder
1 teaspoon chaat masala
1 tomato, thinly sliced
1 14-ounce can adzuki beans, drained and rinsed
15 to 20 cashew nuts
Juice of 1 lime
Heat the oil in a pan and add the mustard seeds. Once they start to sizzle, add the onions and cook over medium to low heat for 5 minutes until they start to soften.
Stir in the cavolo nero, carrots, salt, and ground spices, then cover and cook over medium to low heat for 8 minutes.
Add the tomato, beans, and cashew nuts, and mix well, then cover again and cook over medium to low heat for another 8 minutes.
Add the lime juice and mix well, then serve.