paid content
 for

Upgrade Your Lunch With This Mouthwatering Pear, Tempeh & Arugula Sandwich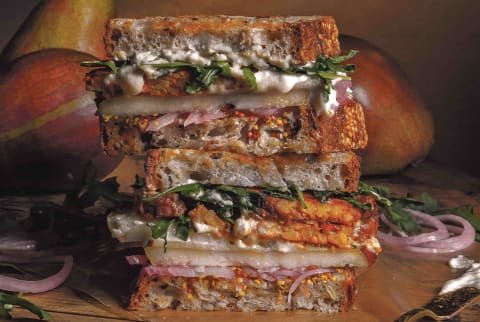 Image by Penguin Random House / Contributor
November 10, 2021
There's a big misconception out there that being vegan automatically makes you a healthier person. But we're here to tell you that it's not that simple. Just because you've cut animal products out of your diet doesn't mean that the foods you're consuming aren't filled with byproducts, fake flavors, and too much sugar. We're also here to tell you that eating less meat, saving the planet, and cooking at home doesn't have to be boring or expensive. Done right, veganism can be a healthier, cheaper, environmentally friendlier, and tastier way to nourish your body.
Brave New Meal, written by the New York Times bestselling authors of the Bad Manners cookbook series, not only brings delicious creativity to vegan eating but also teaches you how to cook with healthy, whole-food ingredients on a budget. The Pear, Tempeh & Arugula Sandwich recipe below is just one of the many drool-worthy dishes from Brave New Meal that make eating vegan not just different but better. For even more next-level recipes, purchase your own copy of the book here.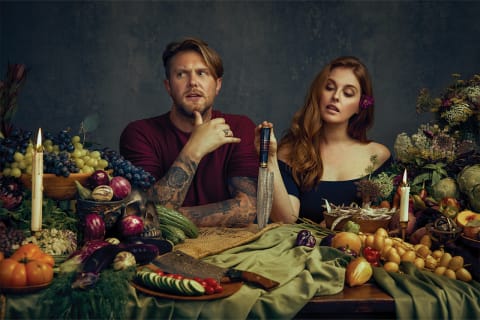 Image by Penguin Random House / Contributor
Pear, Tempeh & Arugula Sandwich
Ingredients
2 tablespoons olive oil, plus more as needed
8 slices whole-grain or sourdough bread
Whole-grain or regular Dijon mustard
1 batch Pickled Red Onions (recipe follows) or red onion, sliced into rounds
2 red Anjou or Bosc pears, sliced
1 batch cashew cheese sauce (recipe follows)
2 cups arugula (or spinach/mixed greens of choice)
1 batch of Smoky Tempeh Slices (recipe follows)
Method
In a large skillet or frying pan, warm up the olive oil over medium heat. Add the slices of bread, making sure they all get a little oil on them, and toast them on both sides until they're golden brown. You might need to do this in batches depending on the size of your pan, and in that case, you'll need some more oil.
Once the bread is toasted, it's time to build the sammie. On one slice of toasted bread, spread a good helping of mustard, then pile on the pickled red onions. Add the pear slices and make sure that this all seems to be at an even level. Don't make this messier than it needs to be. On the other slice of toasted bread, smear a good helping of the cashew cheese, then add a cup of the arugula, then a couple of slices of the tempeh. Press this slice on top of the other slice, and cut the sandwich in half while pressing. Now enjoy the best sammie you've had in a long time.
Cashew Cheese Sauce
Ingredients
1 cup cashews
2 cups vegetable broth
2 tablespoons olive oil
2 tablespoons tapioca flour/starch or all-purpose flour
1 tablespoon nutritional yeast (nooch)
1 tablespoon fresh lemon juice
1 teaspoon garlic powder
1 teaspoon onion powder
1 teaspoon salt
Method
In a bowl, soak the cashews in hot water for 15 minutes. Drain the cashews and throw out the nut bathwater.
Transfer the cashews to a blender, add the rest of the ingredients, and blend until smooth. See? This is super easy.
Transfer to a medium saucepan and cook over medium heat, stirring until the sauce has thickened up how you want it. Want something looser to drizzle over pizzas? Cook for 4 to 5 minutes. Want something thicker to have on sandwiches? Cook for 6 to 7 minutes. Your cheese, your rules.
Smoky Tempeh Slices 
Makes enough for 4 sandwiches
Ingredients
8 ounces tempeh
1 cup vegetable broth or water
¼ cup soy sauce or tamari
2 tablespoons fresh lemon juice
1 tablespoon pure maple syrup or other syrupy sweetener
1 tablespoon smoked paprika
4 garlic cloves, thickly sliced
2 teaspoons liquid smoke
1 tablespoon olive oil
Method
Slice the tempeh into planks about ¼ inch thick and 2 inches long. No need to measure it out; just eyeball it.
In a saucepan, stir together the broth, soy sauce, lemon juice, maple syrup, paprika, garlic, and liquid smoke, and bring to a simmer over medium-low heat. Add the tempeh and gently stir them around. They won't all be covered; just make it work the best you can. Simmer everything together for about 30 seconds.
Remove from the heat and pour it all into a shallow dish like a pie pan or something. Cover that up and stick it in the fridge to marinate for at least 4 hours and up to 8 hours. Yeah, plan ahead.
When you're ready to fry up your tempeh, in a large skillet or wok, heat up the oil over medium heat. Lay the tempeh slices down in one layer (reserve the marinade), and cook them until the tempeh starts to brown, 2 to 3 minutes on each side. When it starts to look a little dry in there or the tempeh feels like it might be sticking, just add a couple of spoonfuls of the marinade.
Once the tempeh is browned on both sides, you are ready to make a badass sandwich.
Quick-Pickled Red Onions 
Makes 1 packed 12-ounce jar
Ingredients
½ cup rice vinegar
½ cup apple cider vinegar
½ cup water
1 teaspoon salt
Pinch of cane sugar
1 large red onion, thinly sliced into rings
Method
In a small saucepan, combine both vinegars, the water, salt, and sugar, and bring to a boil.
Stack all the sliced onions in a 12-ounce glass jar, one that's OK to take some heat and has a lid. Once the vinegar is simmering, remove from the heat and pour it over the onions, making sure they're all covered. Let it cool on the counter for a couple of minutes, then toss on the lid and stick it in the fridge.
Serve after 30 minutes, or let them hang out in there until they're all the way chilled. Eat within 2 weeks.

Ryan Brady
Ryan Brady is a Freelance Writer at mindbodygreen. She received her B.A. in Visual Arts from Yale University and her M.A. in Clinical Psychology with concentration in Spirituality and Mind-Body Practice, from Columbia University.
Ryan is passionate about holistic health, fitness, and spiritually-centered living. She loves using her knowledge and personal experience to help others improve their well-being. She brings this passion to her writing, as well as to her work at the wellness centers she owns in Atlanta, GA. When she's not working, Ryan can be found traveling, spoiling her dog, or experimenting with gluten free, dairy free baking.