paid content
 for

The Ultimate Gift Guide For Dads Looking To Upgrade Their Wellness
NASM Certified Personal Trainer
By Matt Scheetz, NASM-CPT
NASM Certified Personal Trainer
Matt Scheetz is a brand strategist at mindbodygreen and a NASM-certified personal trainer.
Image by Tanya Yatsenko / Stocksy
June 3, 2021
Let's face it—shopping for Dad is hard. The man already has practically everything he needs, and anything he does still need, he'd rather buy himself. That's why he has you—to show him all the stuff he doesn't think he needs (but actually does).
So this Father's Day, skip the ties (he has plenty), skip the new sweatpants (he'll never give up that pair he's been wearing since 1988), and skip the cologne (see previous, but probably closer to 1978). This year, get him something that will take his wellness routine to the next level. Here are some of our favorite gifts for any dad looking to get just a little healthier every day.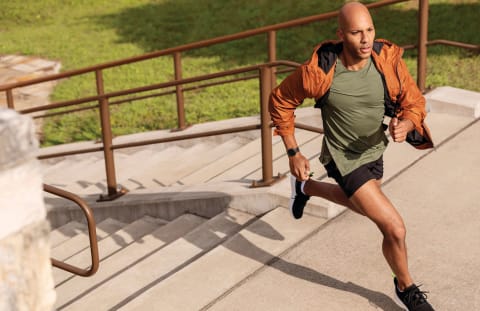 Image by Fitbit / Contributor
For the dad who's got aches and pains.
Maybe he's a former triathlete still nursing that nagging injury. Maybe he's a weekend warrior and needs to recover after a hard workout. Maybe he's just...old. Whatever the case, a Theragun mini portable massager is a surefire way to let your dad know that you care about his well-being and want him to experience that sense of quality relief wherever he goes. Compact enough to slip into his jacket pocket, powerful enough to relieve even the most persistent muscle cramps, this small-but-mighty device is perfect for dads of all shapes, sizes, and mile times.
For the dad who just started a mindfulness practice.
Regardless of where your dad stands on the whole "wellness" thing, one thing is for certain: An active routine should be essential. Support his active lifestyle by getting him a Fitbit Charge 4. With a built-in GPS and 24/7 heart rate tracker, the Charge 4 packs powerful wellness tools into a comfortable wristband that will let Dad take his goals even further. Not to mention—it comes with three free months of Fitbit Premium, an enhanced service that will transform his data into actionable insights to kick his wellness journey into high gear.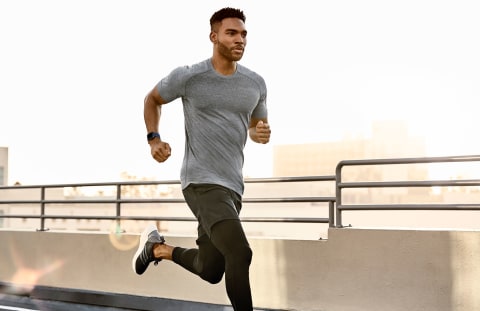 Image by Fitbit / Contributor
And for the dad looking to go even deeper into his health and wellness, get him a Fitbit Sense. With advanced tools for full mind-body wellness, Sense can help dad focus on all the factors that contribute to his overall well-being. Not only does it keep tabs on his heart health (something every dad should keep top of mind) and other important metrics like nightly skin temperature variation, but it also helps him manage stress with an EDA Scan app and soothing mindfulness experiences.
For the dad who loves to cook (but needs some inspo).
For many dads (mine included), the item in their kitchen that gets the most use is the microwave. Make this the year he takes his culinary prowess to the next level by thinking outside the [frozen lasagna] box. With a subscription to Home Chef, your dad will receive all the fresh ingredients he needs to make restaurant-quality, chef-level recipes from home. Not only does Home Chef make healthy eating more accessible, but it saves Dad time by letting him skip the hassle of going to the grocery store, finding new recipes, and meal planning.
For the dad trying to reduce his carbon footprint.
If your dad is relatively new to the whole "going green" thing, it'd be hard to convince him to completely give up his love for beef burgers and start composting every single item in his kitchen (though that shouldn't stop you from trying). To make this lifestyle just a little more within reach, get him a Hydro Flask Growler. Made with 18/8 food-grade stainless steel and with a double wall to maximize insulation while preventing condensation, this thing will keep his beer cold, his coffee hot, and his carbon footprint steady. But it's also a gift to the community—Hydro Flask's charitable arm lets you allocate a portion of the flask's cost to the charity of your choice.
For the dad who's a literary scholar.

Matt Scheetz, NASM-CPT
NASM Certified Personal Trainer
Matt Scheetz is a brand strategist at mindbodygreen. He's a NASM-certified personal trainer, so he's usually the person everyone comes to when they need a new workout routine. He's usually at the gym before the sun rises, which makes sense since his favorite hobby is eating things that make it necessary to be at the gym before the sun rises.