paid content
 for

The Gift Guide For Mindful Moms: 6 Unique Ideas She'll Love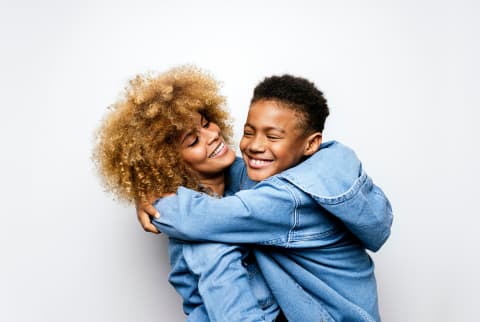 Image by Santi Nuñez / Stocksy
April 27, 2021
Parenting: the job that asks us to bring it all to the table. And not the kind that ends at 5 p.m. every day or guarantees a lunch hour. Running a family is a literal full-time gig, and that's why we're open to all the help we can get.
Many moms have found that help by practicing mindfulness—and naturally, we're all about that. As they say, mommin' ain't easy. The lack of "me-time," constant busyness, and round-the-clock nurturing are all demanding on mind, body, and soul. But practicing mindfulness helps moms keep that cup full as they take on the day. We all know those mamas who take their mindfulness practice seriously (or aspire to), so we've compiled some unique gifts ideas to support that journey, just in time for Mother's Day:
1.
Gift her peace of mind with an aromatherapy diffuser.
Practicing mindfulness is all about staying connected to the body, and stimulating our senses is a simple way to do that. Every mom will swoon over the Vitruvi Stone Diffuser—which doubles as a piece of ceramic decor while misting the entire house with soothing aromas for peace of mind. For busy moms, it's the little things that matter: like a deep breath of freshly scented air.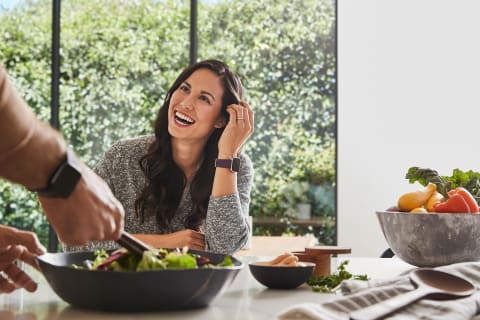 Image by Fitbit / Contributor
2.
Support her health and wellness with a smartwatch.
Hard as moms may try, they can't do everything. Fitbit Sense is the sidekick every mom needs to stay in tune with their wellness, even (and especially) while running around. Sense is the world's first smartwatch with an EDA (electrodermal activity) sensor, meaning moms can now measure and understand their body's unique response to stress. Feedback like heart rate and skin temperature variation helps moms know when their bodies are craving some R&R. Moms can get even more out of their data with Fitbit Premium, an enhanced service that transforms data into personalized insights to help them make even smarter choices for their health. Enjoy a digital dashboard for tracking personal goals and unlimited access to fitness classes, guided mindfulness sessions, nutrition inspiration, and more. With other mindfulness-promoting features, like sleep tracking and mood logging, Fitbit Sense is the tool that empowers moms to stay on top of their well-being.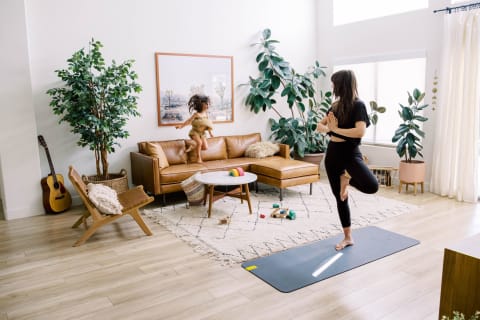 Image by mindbodygreen / Contributor
3.
Spoil her with the luxury of a linen meditation cushion.
Does the mom in your life have a comforting nook in the house, just for their mindfulness practices? It's important for every mom to create a quiet, intentional space where they can take a few deep breaths and catch some moments of meditation. This linen meditation cushion can convert any place in the house into a sacred space and gives moms the literal support they need to keep practicing.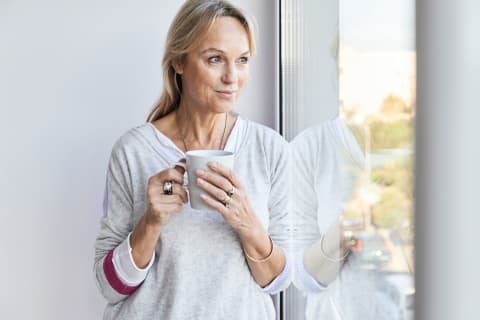 Image by Ivan Gener / Stocksy
4.
Fill their cup with an electric tea kettle.
Mindful moments and a warm cup of tea go hand-in-hand. Every mom will appreciate the peaceful aesthetics of the Fellow Stagg Electric Kettle, which also happens to be perfect for pour-over coffee on the days when mom needs a little extra push. With temperature control, an LCD screen, and a stopwatch—this minimalist kettle is a perfect reminder to push pause.
5.
Help her help the planet with eco-friendly gear.
Mindfulness means being more aware of ourselves, as well as the larger world around us. Going eco-friendly doesn't only do good, it feels good, which is why moms will appreciate some eco-friendly goodies. Moms can stay organized and green by swapping out the plastic wrap for biodegradable Bee's Wrap. And to support her sustainable endeavors on the go, gift her this swanky Tulz to Reduce Trave Zero Waste Kit. There's nothing like gifting moms and the planet, all in one fell swoop.
6.
Encourage healthy habits with a new journal.
Every busy mom fantasizes about having the time to sit with a journal and jot some thoughts down, but where does that time come from? With The Five-Minute Journal, mamas can develop a short and sweet routine to tap into gratitude, check in with themselves, and set an intention. This journal was created based on the science of positive psychology to infuse happiness into the day—in other words, she wants it!
Devon Barrow
Branded Content Editor
Devon Barrow is a Branded Content Editor at mindbodygreen. She received her degree from the University of Colorado. When she's away from her desk, Devon is teaching yoga, writing poetry, meditating, and traveling the world. She's based in Boulder, Colorado.
Devon's first book, Earth Women, is coming soon. To learn more, join the mailing list, and receive updates, head to www.devonbarrowwriting.com.