paid content
 for

Turns Out Your Cells Can Get Stressed Too. Here's What To Do About It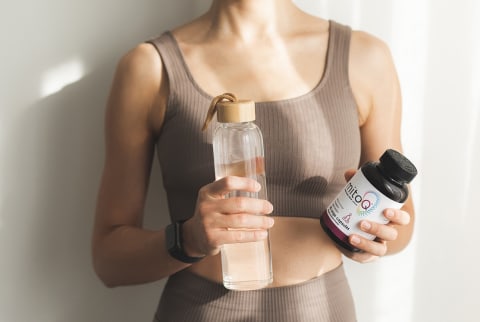 Image by MitoQ / Contributor
November 9, 2021
As modern humans, we're all too familiar with the day-to-day experience of stress. As soon as our heart's racing and our mind's running a mile a minute—it's time to implement the ol' stress management routine (which hopefully, we all have). But do we know that even our cells experience stress and that cellular stress affects energy levels, mental well-being, sleep, and beyond? What's the routine for that?
Advertisement
This ad is displayed using third party content and we do not control its accessibility features.
Let's start at the beginning: cellular stress.
We think of stress as "too much to do, too little time," but for our cells, it's different. According to Mark Menolascino, M.D., integrative and functional medicine physician, "Cell stress is when your cells are being negatively impacted by external and internal factors, which compromises their ability to function efficiently." And considering we're made almost entirely of cells, which ensure the function of our heart, brain, lungs, muscles, and more, we want them on their game. But like everything in life, our cells face obstacles that cause them stress.
"Many of these [causes] are uncontrollable, such as age and environment," Menolascino said. "But plenty are within our control such as diet, exercise, and sleep. The biggest and most common contributors to cell stress are free radicals, which increase with age, poor lifestyle choices, and some health issues."
Making friends with mitochondria.
In order to do something about this cellular stress, we need to first understand where it's all going down: our mitochondria. Think of mitochondria as cellular batteries or powerhouses providing the energy needed for our entire body to function. When our cells are stressed, this energy system is compromised. But when they get the help of targeted antioxidant support like MitoQ's advanced cell health molecule, mitochondria can be the key to our very best health.*
According to Menolascino, "Stress at the cellular level is really all about these mitochondria and how they utilize food sources for energy to help the cells respond" to potential challenges (aka, stressors) like free radicals. He described that as our mitochondria generate cellular energy, they also generate free radicals. When free radicals accumulate1, they can induce oxidative stress (much like an apple browning as it's exposed to oxygen), which is the biggest contributor to cell stress. Oxidative stress can accelerate the aging process and affect our health trajectory2—in other words, we want to show free radicals the door, and that's where antioxidants come in.*
"Antioxidants are the sponges that mop up these excess free radicals so that you have optimal energy production without the free radical side effect,"* said Menolascino. But, "our body's levels of naturally occurring antioxidants, which help to control free radicals, decrease as we age," he described. Plus, "Regular antioxidants are very inefficient because of their low bioavailability and inability to effectively get into mitochondria."
Advertisement
This ad is displayed using third party content and we do not control its accessibility features.
Enter: MitoQ
Luckily, the breakthrough MitoQ molecule (the central ingredient in the MitoQ supplement) has been developed to support cellular health.* "MitoQ has a miniaturized molecular structure, is water-soluble, and has a positive charge, which allows it to be actively drawn inside the negatively charged mitochondria," Menolascino explained. "This provides fuel inside our cell powerhouses and helps control free radicals to combat cell stress."* And if all of this is triggering memories of high school biology tests, simply think of MitoQ as a next-level antioxidant supplement for mitochondrial support, promoting overall cellular health, resilience, and vitality.*
Healthy cells: What we're aiming for.
When it comes to our wellness routines, mitochondria isn't a word we use every day. But perhaps it should be. "Everyone should know that every cell in your body has an energy factory known as mitochondria. And one of our goals to lead a healthy, long life is to be in love with our mitochondria." (And who doesn't love a love story?) When our mitochondria can do their job effectively, with less pesky free radicals interfering, we can enjoy the benefits of healthy cells. Here's what that looks like, according to Menolascino:
"As a physician and scientist, it is very easy for me to see signs of unhealthy cells because I look at blood tests on a daily basis: the inflammatory markers, levels of toxicity, free radical damage. However, more effectively, I can estimate how healthy your cells are by what I hear in your lifestyle patterns: how your energy is on a daily basis, your sexual desire and function, your activity level, your sleep patterns, your mood and happiness level, your social activities and relationships—as all of these work together in this beautiful system known as the human."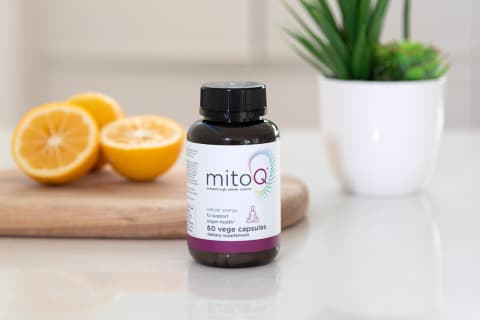 Image by MitoQ / Contributor
Advertisement
This ad is displayed using third party content and we do not control its accessibility features.
Stress less, down to our cells.
For our mind, stress looks like an impossibly long to-do list or overflowing laundry basket. But for our cells? It's those free radicals that increase with age, suboptimal lifestyle choices, and certain health issues. In either case, it's time to kick stress to the curb. And we can promote our overall well-being by better understanding the role of our mitochondria and making healthy lifestyle choices. And that can be as simple as making MitoQ a daily habit:
"I've chosen MitoQ as my go-to mitochondrial support because of its ability to be highly absorbent into the mitochondria to improve energy efficiency for every cell in the body,"* said Menolascino. "I take MitoQ every morning and notice a marked benefit in my daily energy. I miss it when I don't take it."*
While MitoQ supports mental focus, healthy aging, and cellular energy levels, there are additional things we can do to keep our cells in tiptop shape.* And according to Menolascino, that looks like choosing clean, organic food sources, drinking clean water, and breathing clean air. For so long our stress management routine has looked like meditation, yoga, and time management... But now that we've added MitoQ to the mix? We really have a chance at that stressless lifestyle, down to our cells.*
*These statements have not been evaluated by the Food and Drug Administration. This product is not intended to diagnose, treat, cure, or prevent any disease.
Advertisement
This ad is displayed using third party content and we do not control its accessibility features.
Devon Barrow
Branded Content Editor
Devon Barrow is a Branded Content Editor at mindbodygreen. She received her degree from the University of Colorado. When she's away from her desk, Devon is teaching yoga, writing poetry, meditating, and traveling the world. She's based in Boulder, Colorado.
Devon's first book, Earth Women, is coming soon. To learn more, join the mailing list, and receive updates, head to www.devonbarrowwriting.com.