Estrogen-Testosterone Imbalance? Here Are The Supplements & Testing Men Need
Triple board certified OB/GYN
By Anna Cabeca, D.O.
Triple board certified OB/GYN
Dr. Anna Cabeca is a menopause and sexual health expert currently working in Georgia. She received her doctor of osteopathic medicine in gynecology and obstetrics from the Emory University School of Medicine.
Medical review by
Sheeva Talebian, M.D.
Reproductive Endocrinologist
Sheeva Talebian, M.D., is a board-certified reproductive endocrinologist. She graduated from Columbia University and obtained her medical degree from Mount Sinai School of Medicine.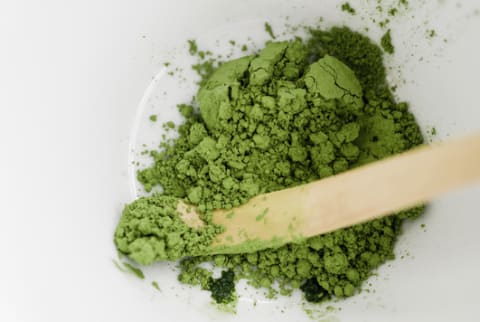 Last updated on January 16, 2020
In over two decades of medical practice, I've come to realize that the majority my patients' complaints stem from issues that are within their control—meaning diet and lifestyle changes can help them greatly. And that goes for hormonal imbalances, like low testosterone and high estrogen, as well. In previous articles I've outlined what men can do to address this common issue, including eating lots of healthy fats, HIIT exercises, and controlling stress. Once the easy stuff has been taken care of, it's time to tackle testing, bioidentical hormones, and supplements that can also help with low T.
Advertisement
This ad is displayed using third party content and we do not control its accessibility features.
Testing for low testosterone.
A diagnosis of low testosterone is typically made if a man's free testosterone hormone level is below 300 ng/dL. But as a doctor specializing in sexual health, I typically consider optimized male testosterone levels somewhere between 600 to 800 ng/dL—rarely above or below those numbers. The tests that I routinely recommend to my male clients can be found in this test panel and include biomarkers associated with testosterone, free and total (this includes sex-hormone binding globulin [SHBG]), estradiol, estrogen (total and serum), cortisol, DHEAs, thyroid-stimulating hormone (TSH), hemoglobin A1C, and vitamin D.
Testing is the only way you can validate a low-T diagnosis and measure treatment progress. I always say, "Test, don't guess!" Your doctor may "suspect" you have hormone imbalances by your symptoms, but you should ask that they do testing to confirm unhealthy levels. Testing also ensures your doctor rules out other issues that may simply have similar symptoms. With your test results in hand, your physician can best determine what the optimal levels are for you and determine the best course of treatment.
One biomarker isn't always enough.
It's also important to do a variety of tests so your doctor can get the full picture of your health. One or two markers don't always make for an accurate diagnosis. Oftentimes, as you work to adjust one biomarker you may unknowingly affect other biomarkers. So comprehensive testing, with monitoring and retesting, is very important as we talk about working to adjust men's (or women's) sexual hormones.
Your doctor should also monitor your levels as you follow through on your treatment plan, even if it just includes diet and lifestyle changes. You also need to be aware when you've exceeded a healthy range! Too much testosterone can be a problem, too. It isn't healthy, and I've also seen it result in behavioral issues with some men.
Advertisement
This ad is displayed using third party content and we do not control its accessibility features.
Supplements for better testosterone health.
I always say: Do the easy stuff first! Changing your diet and lifestyle is a great start to ensure optimal hormonal health. There are also a number of supplements that I often discuss with my male clients. Talk with your doctor about what might be best for you.
1. Optimize vitamin D levels.
When you get tested, your doctor will see if you require supplementation. I try and have clients maintain a serum blood level between 50 and 80 ng/mL. Studies have shown that men with lower levels of vitamin D had lower levels of testosterone. If a man tests below my preferred range, I typically recommend 5,000 IUs a day until the levels improve. Vitamin D3 supplements are widely available (best is to get one that contains vitamin K as well, as that allows for greater absorption), and you can also bump up your sunlight exposure. I find, and studies confirm this, that many men are deficient in vitamin D and it is a huge issue relating to testosterone levels.
Advertisement
This ad is displayed using third party content and we do not control its accessibility features.
2. Consume plenty of zinc.
Zinc is so important relating to hormone balance and many other functions (fertility, immunity, and insulin sensitivity to name just a few), as well as dopamine production—which helps support mood, drive, and interest. Many men, especially over the age of 60, have low zinc levels. A great start is to eat more foods containing zinc like oysters, fermented foods, and proteins (preferably grass-fed beef and wild-caught salmon). I often recommend 50 to 60 mg daily if taking as a supplement.
3. Beef up adrenal support.
We know stress generates too much cortisol and shuts down sexual hormones since our bodies go into a "fight or flight" mode. Supplements that nourish our adrenals are key to correcting those imbalances. A few recommendations that I have include adrenal adaptogens such as maca, ashwagandha, Siberian ginseng, and rhodiola. Adaptogens are a great way to restore adrenal glands, balance hormones, and detoxify. Supplementing with 25 to 50 mg of DHEA, and a high-quality multivitamin with bioavailable B vitamins and high dose vitamin C can also be helpful. It's important to eat a diet high in quality omega-3s like salmon, oysters, and sardines. I suggest 2,000 to 6,000 mg per day of carnitine to improve energy production and mitochondrial function.
Advertisement
This ad is displayed using third party content and we do not control its accessibility features.
4. More fiber.
To reduce excess estrogens and weight gain (since fat stores estrogen), I suggest increasing fiber to assist with detox, as well as bumping up nutrients known to be good estrogen detoxifiers like methylated B12, betaine, choline, and methylated folate. These types of nutrients are referred to as methyl donors and help with estrogen metabolism and detoxification.
5. Other supplements to discuss with your doctor.
A little goes a long way for men, but clinically many men do well with 5 to 10 mg of a topical progesterone cream at bedtime, again, only under your doctor's supervision. Arginine is important for nitric oxide (NO) production1 and should be taken twice daily. I've also been recommending Testoplex™ for years. It's Xymogen's formulation—featuring mungbean sprout powder—to address healthy testosterone levels and provide support for libido and overall vitality.
Advertisement
This ad is displayed using third party content and we do not control its accessibility features.
Bioidentical hormones for testosterone health.
Over the years I have successfully treated many men with low T. My treatment of choice often includes a combination of bioidentical hormones. Bioidentical hormones are made from natural compounds and are identical to our body's own natural hormones, which mean they are more easily metabolized and utilized by the body without the negative side effects often associated with synthetic hormones. There are prescription-based bioidentical hormones that are FDA approved. Testosterone hormone replacement therapy can consist of creams, gels, pellets (inserted under the skin), injections, and oral tablets. Men need to be cautious with creams and gels as contact with children or partners can result in them absorbing the testosterone.
It's important to note: taking any kind of exogenous Testosterone supplement can decrease natural testosterone production, leading to lower sperm counts and eventually zero sperm production2. Sheeva Talebian, M.D. said "men who are trying to conceive who have low T...need to boost natural T with supplements, and if that does not work, with meds." Always talk to your doctor to decide which treatment is best for you.
Learn more about the symptoms of high estrogen and low testosterone here, plus, how to balance them naturally.