This Vegan Shiitake Ramen Supports Your Brain Health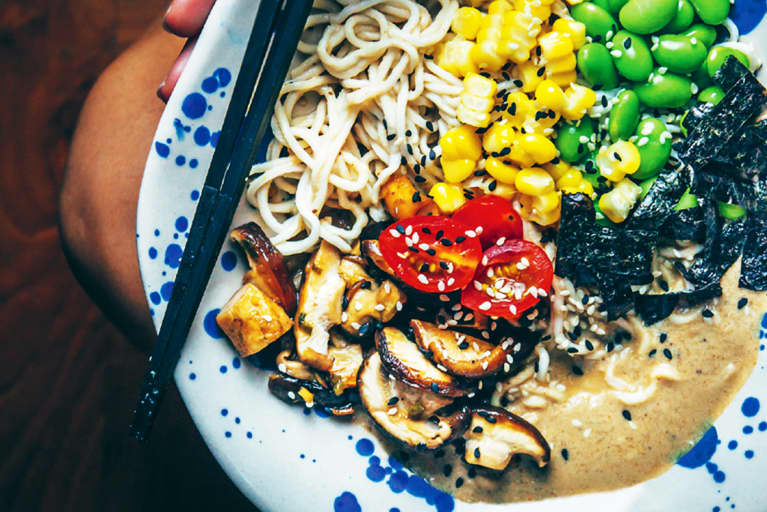 Our editors have independently chosen the products listed on this page. If you purchase something mentioned in this article, we may
earn a small commission
.
Sasha Gill is a vegan food blogger, a medical student at Oxford University, and the author of the new cookbook East Meets Vegan. Growing up in Singapore, Sasha Gill was surrounded by what she calls "a melting pot of cultures," which she says influenced a rich and diverse cuisine. After leaving for boarding school when she was 16, she decided to become a vegan but was not ready to leave behind her favorite traditional dishes from India, Thailand, Singapore and Malaysia, China, and Japan. Over the past few years, she's found innovative ways to recreate classic dishes using plant-based ingredients while maintaining their integrity.
Gill still wanted to eat Japanese classics like tonkotsu ramen broth, which traditionally is made from pork marrow or pork bone and can take more than 12 hours to cook. She set out to develop a recipe that held its bold staple flavors and took less time to make. Her vegan ramen recipe includes ingredients like shiitake mushrooms, high in B vitamins, known to support healthy brain and adrenal functioning, as well as ginger, associated with anti-inflammatory and anti-aging benefits.
Customize your ramen to your liking with toppings like scallions, nori, sesame seeds, and edamame. The options are endless, and with some extra time on your hands, you can get creative!
Shiitake "Tonkotsu" Ramen
1 teaspoon vegetable oil
2 garlic cloves, finely chopped
1 inch (2.5 cm) ginger, finely chopped
2 shallots, finely chopped
1 scallion, sliced
1 tablespoon plus 1 teaspoon sesame seeds
1 tablespoon plus 1 teaspoon miso paste (gluten-free miso paste is optional)
¼ cup (60 ml) hot water
1 recipe Dashi
½ teaspoon sriracha
2 teaspoons nutritional yeast
¼ teaspoon salt
Pinch of white pepper
½ teaspoon sesame oil
1 cup (250 ml) soy milk
2 nests (3.5 ounces/100 g) dried whole wheat noodles (buckwheat or rice noodles are optional)
1 teaspoon vegetable oil
1 cm ginger, finely chopped
1 scallion, sliced
1½ cups (100 g) sliced fresh shiitake mushrooms
2 teaspoons light soy sauce
1 teaspoon rice vinegar
1 teaspoon maple syrup
¼ teaspoon liquid smoke (or smoked paprika)
sliced scallions
shredded nori
black and white sesame seeds
halved baby roma (plum) tomatoes
cooked edamame and sweet corn kernels
First make the broth. Heat the oil in a large saucepan over medium heat and fry the garlic, ginger, and shallots until the shallots are translucent, about 4 minutes. Stir in the scallion and sesame seeds and fry for another minute. In a small bowl, dissolve the miso paste in the hot water until smooth. Add this to the pan, along with the dashi. Bring to a boil, then carefully pour into a blender. Add the sriracha, nutritional yeast, salt, pepper, and sesame oil, then blend until smooth. Return the broth to the saucepan and cover.
Cook your noodles according to the package instructions. Meanwhile, heat the oil in a nonstick frying pan over medium-high heat and fry the ginger and scallion until fragrant, about 2 minutes, stirring constantly to keep the ginger from burning. Add the mushrooms and fry until they begin to shrink, about 3 minutes. Pour in the soy sauce, vinegar, maple syrup, and liquid smoke and bring to a boil, then simmer until the mushrooms are soft and caramelized, 5 to 7 minutes.
Just before you are ready to serve, bring your broth back to a boil. In a separate pan (or in the microwave) bring the soy milk to a boil, then pour it into the broth and stir well. (Heating the soy milk beforehand keeps it from curdling when it's added to the hot broth.)
To serve, divide the noodles and mushrooms between two bowls. Pour some broth into each bowl, then add your chosen toppings and eat immediately, while the soup is piping hot and the mushrooms are still warm.