Close Banner
Advertisement
This ad is displayed using third party content and we do not control its accessibility features.
paid content
 for

This Sustainable Clothing Brand Is About To Transform Your Closet This Spring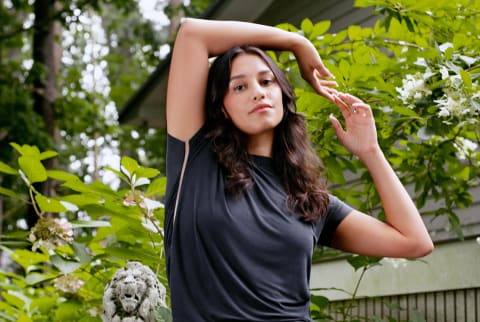 Image by KADA / Contributor
Spring is all about rebirth and regeneration. It's the perfect time to hit the refresh button on everything—from our homes to our routines to our wardrobes. As we reemerge from winter hibernation, our focus shifts from nesting and self-care to cultivating a lifestyle that makes us and the planet happier. And one of the first things on the spring refresh list is often our closets.
With Marie Kondo streaming in the background, it's time to settle in and reevaluate what brings us joy. While fashion is typically about looking our best, it's also about feeling our best—which includes feeling good about the brand story. That's why we're clearing out the dead weight and introducing more sustainably produced brands to our wardrobes. And the first one we're shopping is KADA, a new womenswear brand offering responsibly designed essentials with a modern edge.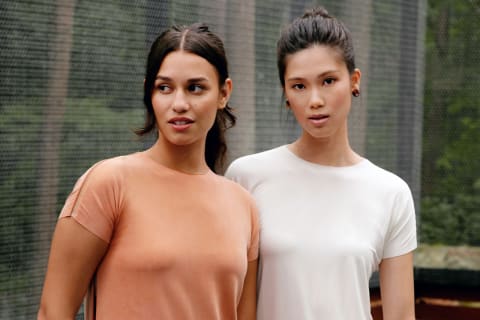 Image by KADA / Contributor
Fashion with a purpose.  
The sustainable and ethical fashion market is only expected to keep growing. But fashion that considers sustainable design practices, as well as diverse body types? That's harder to come by. Founder Kassia Davis spent years wondering how fashion could better serve the needs of real women in a sustainable way—and from there, the idea for KADA was born.
Each Silhouette in the KADA collection is cut from the same core block, which uses less fabric and less water—plus reduces waste in the development process. By focusing on timeless designs that are fit-tested and preapproved by their community, KADA is able to only produce items they know shoppers will love, cutting down on overproduction. They also carefully vet the sustainable mills and factories they source their fabrics from, ensuring a carbon footprint that's as small as possible, every step of the way.
Out with the old, in with the new.
Once you've donated or resold the things that no longer suit you, the fun part begins. You get to reward yourself by decorating the empty hangers and open shelves with a few new pieces to help you kick off your spring in style. But before you add to cart, think about what future you might prefer: a trendy outfit that will probably be out of style come next spring or a timeless piece that you'll never get tired of? We'll let you decide.
When it comes to building a wardrobe, our No. 1 piece of advice is to start with foundational items. KADA's collection is made up of lasting staples that will evolve with your style over time. Their versatile designs are subtly edgy and can be accessorized to fit any occasion. Check them out for yourselves, but here are the pieces at the top of our spring shopping list:
Shop These Must-Have Looks:
Ready, set, refresh. 
When it comes to the annual closet clean-out, it can be difficult to decipher what goes and what stays. A good rule of thumb is, if you haven't worn it in the last six months, you probably don't love it. Your wardrobe should be full of items that bring you joy– from how it looks to how it feels to where it came from. And while the seasons may come and go, there's nothing like a new piece of clothing that's timeless to give your closet life again.
For a limited time, the mbg community can receive 15% off their online order with KADA. Use code MBG15 at checkout.

Ryan Brady
Ryan Brady is a Freelance Writer at mindbodygreen. She received her B.A. in Visual Arts from Yale University and her M.A. in Clinical Psychology with concentration in Spirituality and Mind-Body Practice, from Columbia University.
Ryan is passionate about holistic health, fitness, and spiritually-centered living. She loves using her knowledge and personal experience to help others improve their well-being. She brings this passion to her writing, as well as to her work at the wellness centers she owns in Atlanta, GA. When she's not working, Ryan can be found traveling, spoiling her dog, or experimenting with gluten free, dairy free baking.